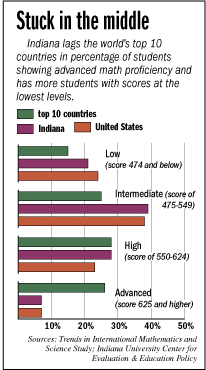 In the same year the Legislature passed a set of sweeping reforms to improve Indiana's public schools, Indiana's eighth-graders were scoring No. 7 in the world on an international math test.
Hoosier eighth-graders also ranked No. 9 in the world on science knowledge on the 2011 Trends in International Mathematics and Science Study, or TIMSS. Both rankings exceeded the United States average.
Those startling findings come from an Indiana University analysis of the TIMSS results. The international test was taken by students in 42 nations.
The results suggest to the IU researchers that Indiana's public schools and teachers have been doing far better work than they've been given credit for by Indiana's political leaders. It also suggests that Hoosier students are an asset to be touted in economic development efforts.
"State lawmakers and educators can use this information to show that Indiana students are globally competitive in the fields of math and science," IU researchers David Rutkowski, Leslie Rutkowski and Justin Wild wrote in their March report. "This evidence suggests that Indiana's future work force is well positioned to be a leader in a high-tech global economy."
It was a perceived lack of global competitiveness that drove former Gov. Mitch Daniels to champion an overhaul of Indiana's public schools in 2011. The legislation restricted teachers' collective bargaining rights, instituted a system of performance-based pay for teachers and principals, added avenues for launching charter schools, and created the nation's most expansive program of taxpayer-funded vouchers for private schools.
"If Indiana is going to stall out in trying to become the state of opportunity in jobs and growth, it's going to be because we don't have a superior education system," Daniels said in 2010.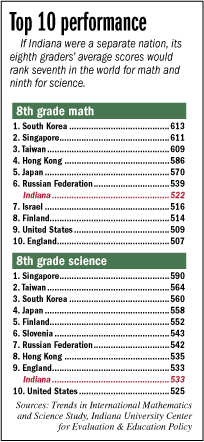 Since the TIMSS tests were first given in 1999, Indiana's scores have held steady in science and improved in math, while the state's overall ranking has improved.
"We've been trying to bill it as the Indiana miracle," said Leslie Rutkowski, an IU education professor.
Only nine U.S. states had enough students take the TIMSS test to allow their scores to be broken out. Indiana ranked behind Massachusetts and Minnesota, ahead of Alabama and California, and roughly even with Connecticut, Colorado and North Carolina.
Where Indiana struggles is in getting students to the advanced level of achievement in math and science. The top 10 nations in the world had nearly four times as many students reach that highest category than did Indiana and the rest of the United States.•
Please enable JavaScript to view this content.