Despite the blunt title (a quote from one of his five children), no new ground is broken in Jim Gaffigan's book, "Dad is Fat" (Crown Archetype). And that's OK. The collection of humorous essays on parenting from the most popular Indiana-born comedian since David Letterman has all the upsides and downsides of the comedian-writes-a-quickie-book genre.
Let's take care of the negative first. Much of the book feels like hastily written down, half-thought-out, sometimes redundant anecdotes fleshed out with punch lines that often seem airlifted in from stand-up routines.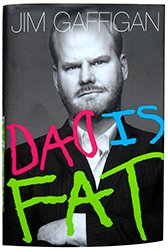 Fathering five kids isn't easy — especially with "no training, skills or instincts." (IBJ Photo/ Perry Reichanadter)
That's not out of character for the genre—or for Gaffigan, who has built a persona out of sloth. Still, a little extra effort would have made a much stronger book. Few of the pieces run more than a few pages, making the chapters in Bill Cosby's "Fatherhood" seem like James Michener tomes.
On the positive side, though, the Chesterton native is very funny. Anyone who has seen Gaffigan's stand-up act (whether live at the Murat or elsewhere or on frequent cable specials) knows the pale-faced comic and Hot Pocket-mocker is adept at the blindsiding punch line. In "Dad is Fat," you don't have to go far before stumbling onto a gem.
On living in New York City with five kids: "…our apartment is essentially a nonmovable clown car…"
On public rest rooms: "The only thing about the New York City park bathroom that is unlike a crime scene is that crime scenes will eventually be cleaned up."
On zoos: "…when children see animals in zoos, it makes them want ice cream."
On "Five Little Monkeys": "I'd think that after the second little monkey jumped off the bed and bumped its head, the doctor who the mama called would have been tempted to call Children's Services."
On home birthing: "Their first reaction always seems to be: 'Oh, you had your baby at home. Yeah, we were going to do that, too, but we wanted our baby to live.'"
On birthday parties: "Birthday parties trickle in and take over like an infestation of termites eating away at your Saturdays."
If you've smiled at any of the above (as I did), then "Dad is Fat" should be a fun intermezzo in your summer reading pile. And one you'll likely be quoting to your spouse, your older kids or anyone else within earshot.
____________
Dance Kaleidoscope closed its season with "Barefoot Renegades" (May 16-19), a refreshing program that stood out from the rest of the season by not being focused on a single musical genre (earlier in the year, we saw sets inspired by the Beatles, Sinatra and Piaf).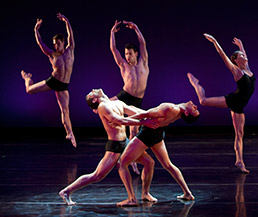 Same-sex pairings dominated Dance Kaleidoscope's "Les Noces" set to music by Stravinsky. The new piece capped DK's 2012/13 season. (Photo courtesy of Crowe's Eye Photography)
Two of the four pieces in "Barefoot Renegades" were revivals of previous DK work. 2011's duet from "Electric Counterpoint" held up better than 2008's "Afternoon of a Faun." The former featured the solid twosome of Jillian Godwin and Timothy June, who infused refreshing personality into an evening more about group-focused pieces.
"Barefoot Renegades" kicked off with "Nine," with guest choreographer and Delphi native Brock Clawson re-creating a 2008 piece he did with another company. Strikingly designed (kudos to lighting designer Laura E. Glover and costumer Cheryl Sparks), it featured music by Thomas Newman originally composed for the film "Little Children."
A childlike sense of yearning infused the work, with the ensemble frequently looking up into the rafters in search of something to give meaning to their abstract existence. In Clawson's hypnotic groupings, individuals replicated the work of duos—with larger groups in between—accentuating the isolation of the individuals and building to an obvious but satisfying conclusion.
In hindsight, "Nine"—with its quest for individual meaning—proved a smart opener for a show that ended with David Hochoy's world premiere "Les Noces," in which discovery, connectivity and love lead to marriage. A tame work, it seemed to ask the dancers to hold back on creating individual personalities in favor of a universality that made the piece more passive than passionate. Perhaps that was deemed necessary to avoid alienating more conservative audience members.
Whatever the case, Igor Stravinsky's brittle music accentuated the challenges of connectivity but was less effective in conveying joy. Still, with its same-sex pairings, the piece effectively accentuated the physical strength and grace of the entire company.•
__________
This column appears weekly. Send information on upcoming arts and entertainment events to lharry@ibj.com.
 
Please enable JavaScript to view this content.