Just south of Westfield's massive work-in-progress youth sports megaplex, across a stretch of 186th Street that didn't exist six months ago, lies a $225 million field of dreams.
Developer Steve Henke's vision for Grand Park Village is indeed grand: a 20-acre lake surrounded by an East Coast-style boardwalk lined with restaurants and shops. He sees a carousel at one end of the lake and a Ferris wheel at the other— with a beach, mini marina and watering hole in between.
"Westfield is now in the entertainment business," Henke said, referring to the 400-acre Grand Park Sports Campus project he is overseeing across the street." That's our industry, and it means this whole area is ripe for commercial development."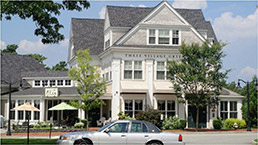 Real estate experts say the village will likely have to prove its popularity before attracting retail and restaurants such as this rendering envisions. (Rendering courtesy of Henke Development Group)
Henke Development's plans for the 220-acre Grand Park Village mixed-use project, approved by the Westfield City Council late last year, call for more than 1,000 attached housing units, plus plenty of office and commercial space.
But Henke expects the hospitality-focused Lake Village at its core to come together first as the traveling hordes begin showing up for baseball and soccer tournaments on Grand Park's athletic fields.
Youth sports are big business nationally, and Westfield's $42 million complex just west of U.S. 31 is an attempt to capture a slice of that pie.
When it opens next spring, the publicly funded sports campus will be the largest of its kind in the United States, featuring 26 baseball diamonds and 31 soccer fields. Private users are planning indoor soccer and baseball facilities, making the park more of a year-round draw.
Early tournament registrations already have caused officials to nearly double first-year visitor projections to 400,000, said Westfield Mayor Andy Cook, a key architect of the city's sports campus economic development strategy.
"The idea is that if we as a city invest public money in creating an environment conducive to doing business, the private sector will invest in our city," Cook said, likening it to the financial incentives other communities dangle to attract companies. "We're going about it differently."
And the gamble is already paying off, he said. Carmel-based Mainstreet Property Group is wrapping up construction of a $16 million rehabilitation and senior-care facility on seven acres in Grand Park Village. Wellbrooke of Westfield is set to open in July.
Company CEO Zeke Turner said the location was perfect for Mainstreet, which wants its facilities to be a "vibrant part of society." Residents of the 67,000-square-foot Wellbrooke community—which looks more like a ski lodge than an assisted-living facility—will benefit from their proximity to Grand Park, he said, and any other Village businesses that come along.
"We're on a little bit of an island now," Turner said. "But as a visionary company, sometimes you have to go out a little bit on a limb. A couple years from now, people are going to be sitting there on the lake, with the Monon behind them, and grandchildren running all over the place."
A planned extension of the Monon Trail north to 191st Street will cut through Grand Park Village, Henke said, giving rise to the idea of a bicycle hub along the recreational path. He said he already has heard from local bike shops interested in running sales and rental operations there.
Henke, 62, is a development veteran whose resume includes The Bridgewater golf community along Gray Road in Westfield and the burgeoning Bridgewater Marketplace retail center nearby, which is anchored by a Walgreens drugstore. (More notably, it's also home to popular restaurant The Local Eatery & Pub.)
Construction on Throgmartin-Henke Development's Bridgewater neighborhoods started in 2002; 400 high-end homes are in place, and another 129 are in the works.
Henke also is the patriarch of a youth sports family—and a former president of both the Carmel Dads Club and the Indiana University Varsity Club—who has visited dozens of venues nationwide.
Traveling teams often bring families along for the ride, he said, and frequently have hours to kill between games. It's also not unusual for tournaments to be held on multiple fields miles apart, and for hotels to be even farther away.
All of which spells opportunity to Henke.
"They're looking for activities, entertainment," he said. "Families will be able to walk over to Grand Park Village—and we'll have fun transportation, like pedal taxis and shuttles—to play mini golf or go bowling or get something to eat."
So which comes first, the soccer moms or the mini golf? Score one for the sports fans.
Major retailers are unlikely to commit to the Village project until they can see actual attendance figures for Grand Park, said local broker Ross Reller of Colliers International.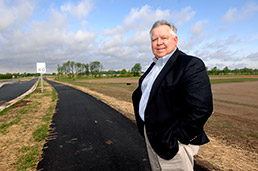 Developer Steve Henke's Grand Park Sports Campus, across the road from his planned Grand Park Village, has the beginnings of roads and ball fields a year before its opening.(IBJ photo/Perry Reichanadter)
"They want to see real numbers: rooftops, traffic counts, population density," he said. "Nobody wants to be a pioneer."
Although Henke said he has been talking with local business owners who are interested in the project, he expects it to take at least 10 years to fully develop the site.
Infrastructure work is under way and construction is likely to begin by the end of the year, but he doesn't expect retail development to gain momentum until after the sports complex opens.
The state's traffic-snarling overhaul of nearby U.S. 31 would be an additional obstacle, except for one thing: Highway contractors are expected to dig most of Grand Park Village's lake in exchange for the dirt they need to build new overpasses and interchanges.
Scotty's Brewhouse founder Scott Wise, who is always scouting sites for his Indianapolis-based family of restaurants, said he's intrigued by the prospects at Grand Park Village given its location near an attraction in a growing community.
"It has great potential if it's done right, if it's done well," Wise said, adding that he is considering the site as he weighs possible Hamilton County outlets for his growing chain.
Westfield doesn't have a direct stake in the mixed-use project—its investment is across the street, the mayor said—but development at Grand Park Village will help diversify the city's largely residential tax base, lessening the burden on homeowners.
"That's why we're doing Grand Park," Cook said.
Henke hopes residents also frequent Lake Village retailers, describing them as an amenity for the community, too.
"Where else in Westfield can you eat at a restaurant overlooking a lake?" he asked.•
Please enable JavaScript to view this content.