The Indianapolis Indians have released a request for proposals for an advertising agency of record. The team's annual ad spend is about $900,000.
Indianapolis-based Hirons & Co. has held the contract for 10 years. But earlier this year, the Indians decided it was time to see if Hirons or another agency had new ideas.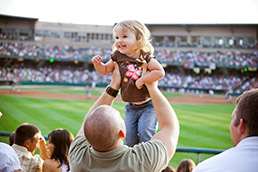 The Indians' regular-season attendance last year averaged 8,501 over 70 games. (IBJ file photo)
Hirons said it "respectfully declined" to submit a proposal, said Cal Burleson, vice president and general manager of the team.
Hirons executives told employees that its current contract with the Indians, which expires at the end of the season, restricted the agency from working with other sports-related entities in the area.
The agency has been in initial talks with unnamed sports organizations over the last several months.
Hirons executive Mike Murphy said the agency had had a good relationship with the Indians. He said the RFP should generate a good deal of interest in the advertising community.
Amanda Bray, senior marketing and communications manager for the Indians, said proposals for ad agency of record will be due in mid-June. The team plans to narrow its choices to three to five by the end of July and hopes to select an agency by the end of the season.
The main goal for an agency will be to put butts in the seats at Victory Field for the Pittsburgh Pirates affiliate.
In 2012, the Indians' regular-season attendance was 595,043, or an average of 8,501 over 70 games. In 2008, before the recession, the team drew 606,155 fans to 72 games.•
Please enable JavaScript to view this content.