A national developer that completed the tallest residential high rise in the country two years ago could soon put its stamp on the Indianapolis skyline.
Cleveland-based Forest City Enterprises Inc., developer of the 76-story New York by Gehry in New York City, is teaming with Keystone Group in its bid to redevelop a prime piece of downtown real estate where Market Square Arena once stood.

Ozdemir
Though Keystone is the lead developer on the project, bringing a publicly traded company to the table with assets of $10.6 billion is making local competitors take notice. Local real estate observers believe the Keystone-Forest City team is behind a 52-story proposal for the site, the tallest city officials are considering.
"Traditionally, we haven't seen a lot of out-of-town developers," said John B. Cumming, senior vice president of development for Buckingham Cos. "If you have quality out-of-town developers coming in, that's a good commentary on the market."
Cumming and others say Indianapolis has failed to attract attention from outside developers, particularly in the downtown area, because there wasn't enough housing to support larger mixed-use developments. But that's changing as the number of residential units continues to increase.
Founded in 1920 by Polish immigrants, Forest City began as a retailer selling materials to contractors. About a decade later, it purchased its first lots for commercial development and bought its first apartment building.
Forest City went public in 1960 and began to expand across the country, ultimately building a reputation for complex urban developments. A few of its more well-known projects include The New York Times Building in Times Square and Barclays Center in Brooklyn, which opened in September.
Forest City earned $36.4 million on revenue of $1.3 billion in the company's most recent fiscal year.
So how did Keystone, a prominent local developer in its own right, wind up partnering with a major national corporation?
Scottsdale, Ariz.-based Hunt Construction Group, which has a strong presence in Indianapolis, serves as a contractor for both Keystone and Forest City. Joining forces on a project as influential to the city as the MSA site seemed logical, Keystone CEO Ersal Ozdemir said while attending the ICSC convention in Las Vegas.
Hunt made the introduction, and Ozdemir said there's a chance the two will partner on more projects in the future.
"We felt like we needed someone out of state to do something different," he said. "We felt like if this project gets to [at least] eight to 10 stories, it would be nice to have Hunt involved, and Hunt has a strong relationship with Forest City."
The city last month received the bids from six teams, all proposing mixed-use projects ranging in size from eight to 52 stories. City officials remain mum on details of each proposal, but are conducting interviews in an effort to make a selection.
Ozdemir declined to say whether his team submitted the 52-story proposal.
"We have flexibility; we can go short or mid-range," he said, careful not to tip his hand.
Forest City did not have a rendering of its MSA proposal at the company's booth in Las Vegas.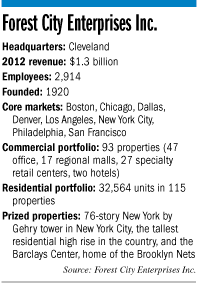 If the 52-story proposal were to be selected, it would be the tallest tower in the city.
Also vying for the MSA project: Buckingham and Kite Realty Group, Browning Investments and The Whitsett Group, Flaherty & Collins Properties, Milhaus Development and REI Real Estate Services LLC, and Barrett & Stokely Inc. and Ryan Companies US Inc.
Minneapolis-based Ryan also is considered a national developer but on a much smaller scale than Forest City, whose CEO, David J. LaRue, won election by ICSC directors in Las Vegas to serve as the association's chairman for the next year.
Because Forest City is not the lead developer on the proposal, a company spokesman declined to comment, saying via email that it's too early in the process.
But the company's participation was not lost on retail brokers attending the ICSC convention, especially with more developments like the MSA proposal sprouting up downtown.
"Now, with more mixed-use projects being built, you see more people interested in Indianapolis," said Scot Courtney, president and director of retail services for the local office of Lee & Associates. "It's stable, and it's growing. That's good for making an investment."
Other major mixed-use projects downtown include Buckingham's CityWay, where 150 more apartments will hit the market this summer as part of a second phase, and Milhaus' Artistry, set to open in August with 256 units.
And Flaherty & Collins is developing an $85 million mixed-use project at Capitol Avenue and Michigan Street called Block 400. The development plan, which incorporates a Marsh grocery store, calls for almost 500 apartments.
Rebecca Wells, vice president of capital markets for the Indianapolis office of the Jones Lang LaSalle brokerage, wouldn't be surprised if more outside developers begin to enter the local market.
"As time goes on, investors will be increasingly optimistic about the prospects in Indianapolis," she said.
Local real estate experts say the city is wise to call for apartments rather than condominiums this time around, because securing financing for condo projects is still too dicey.•
Please enable JavaScript to view this content.