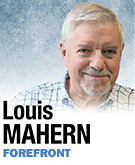 A typical $110,000 Colts suite comes with 20 tickets for 10 games—a per-ticket cost of $550. Mayor Ballard's suite comes with at least 30 tickets.
Ballard also gets a suite at Bankers Life Fieldhouse with 20 tickets for every Pacers and Fever game,12 for every other event, and four courtside seats, compliments of the Pacers.
While he frequently doles out the tickets to charities, he gets the political credit that comes with such largess. He may use the tickets for contributors and cronies.
Since 2008, Ballard has received nearly $1 million in free sports tickets. Shouldn't he have to report somewhere that he received those tickets as well as their value?
He accepts free memberships at Highland and Woodstock country clubs worth $5,000 to $7,000 a year each. He admits to the memberships on an addendum to his Economic Interest filing, but without any dollar value.
Ballard has gone on multiple foreign trips that in aggregate cost hundreds of thousands of dollars and have been funded by a secretive group of private donors that most likely includes individuals and organizations with business ties to the city. These gifts appear nowhere on his filing.
City-County Council President Maggie Lewis is the council's appointment to the Capital Improvement Board. As such, she receives $11,000 a year in free Colts tickets in the CIB suite at Lucas Oil Stadium. She also has access to free Pacers tickets and free tickets to any event at Bankers Life, including concerts and performances like Disney on Ice and Paul McCartney.
Nowhere on her economic interest filings are these gifts divulged.
The council has a number of appointments to boards of municipal corporations like the CIB, library, IndyGo, and Health and Hospital Corp. The council keeps the CIB appointment for itself, usually its president. Appointments to the other boards are for mere mortals.
Apparently, the prospect of waived library late fees, a free bus pass or gratis appendectomy doesn't hold the charms of luxuriating in a Colts suite with complimentary food and beverage or getting down at Bankers Life.
As a CIB member, Lewis votes on tax increases, budget proposals and Pacers bailouts. She is then expected to keep an open mind on these very issues when they come before the council. How is this not a conflict?
Lewis is executive director of Dove House, a social service provider to previously incarcerated women dealing with addiction. In the past four years, Dove House has received more than $400,000 in grants from the city. Thus, her salary is somewhat dependent on the city's grant.
I don't doubt that Dove House does good work. But presiding over the city's fiscal body while a recipient of a city grant compromises Lewis' independence. None of this is reported on her Economic Interest filing.
Is it any wonder she agreed so quickly to the mayor's $30 million budget cuts? Checks and balances have come to mean the mayor writes the checks and the council balances the ball on its collective nose like a trained seal.
Ballard can with the stroke of his pen enrich law firms, developers, architects and consulting engineers.
Lewis names committee chairpersons who serve at her pleasure. She assigns proposed ordinances to committees of her choice. She sets the agenda. A mere recusal when relevant votes come up does not cure the conflict.
Make no mistake: Ballard and Lewis are powerful officials whose friendship the Colts, Pacers and private contractors crave.
What are the gifts? What is their value? Who are the donors? Is it so hard?•
__________
Mahern has been an assistant to U.S. Rep. Andy Jacobs and U.S. Sen. Birch Bayh and served in the Indiana Senate. Send comments on this column to ibjedit@ibj.com.
Please enable JavaScript to view this content.