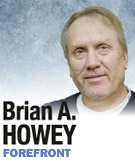 Last month, we learned that Gov. Mike Pence was in New York attending an Indiana economic development event in Yankee Stadium. Earlier, he had been at a Republican Governors Association conference in New Orleans. A few days later, he was in Maryland to keynote a national confab on school choice.
Governors travel out of state all the time. But this governor will be drawing scrutiny because he is a potential 2016 presidential contender. It was something he flirted with in 2012, opting out to pursue the governorship and get out of the way of Gov. Mitch Daniels, who was also considering a bid.
The difference between the two is that the Daniels family decided not to go forward after a public dalliance, while the Pence family will get on board at the beginning.
In 2012, President Obama was seeking re-election. In 2016, barring tragedy, the White House will be open; the Republican nomination, even more so.
Informed and reliable GOP insiders say a 2016 run is on the table.
Pence has an extraordinarily tight inner circle that includes first lady Karen Pence, Chief of Staff Bill Smith, Chris Crabtree and one of Pence's brothers. It is within that circle that any national-campaign decision will be made.
Pence will be walking a tightrope on a presidential run. He will have to begin to make forays into Iowa, New Hampshire and South Carolina beginning in early 2014, when he will be in the midst of a short, non-budgetary General Assembly session. He must prepare to tap into at least $1 billion. Having the Koch brothers, who financed two ad campaigns for the Pence tax-cut package through their Americans For Prosperity PAC, will be helpful.
Other signs of a Pence presidential run will find him raising money in the political financial hubs of New York, Washington, Chicago, South Florida and Texas.
The official gubernatorial schedule denotes travel aspects of his speech in Maryland. What most of us won't know is where the governor goes before and after, whom he meets with, and what potential IOUs he collects.
There was some speculation during the 2012 campaign that his "home" in McCordsville, when he owned a house in Columbus, was because of its proximity to Indianapolis Regional Airport at Mount Comfort, where he could make quick getaway flights to begin collecting IOUs across the nation.
An active governor running for president has its pitfalls. Louisiana Gov. Bobby Jindahl has had to cut back his out-of-state schedule because his home polling numbers began falling.
Several influential Republicans told me recently—on deep background—that they would be surprised if Pence doesn't mount a presidential campaign. Pence is burnishing his "executive cred" with a successful first legislative session where he got a partial income tax cut as part of a $1 billion tax cut package, most of it aimed at wealthier Hoosiers with a repeal of the inheritance tax, and reductions in corporate and financial institution taxes.
He has staked outlier positions on Medicaid expansion and pausing Common Core standard implementation, while potential 2016 rivals such as New Jersey Gov. Chris Christie opt in to those programs.
Thus, Pence could be better positioned with a base that tends to vote in GOP presidential primaries and who loathe anything to do with Obamacare and are skeptical of Common Core.
Yes, Pence is seriously pondering a presidential bid in 2016. And once you look in the mirror and see a president, it can be a hard notion to shake.•
__________
Howey is a third-generation Hoosier journalist who publishes Howey Politics Indiana. Send comments on this column to ibjedit@ibj.com.
Please enable JavaScript to view this content.