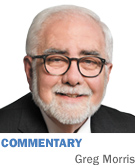 I think about quality and customer service a lot. I think about these things relative to how we operate at IBJ and also my experience as a customer doing business with other companies. It's no news flash that good customer service has become a lost art.
I wrote a column recently about the joys of selling a house and moving after 19 years at the same location. That process required me to touch every company I was doing business with and interact with some new providers. The contrast between receiving good and bad service among those companies was stark.
I could write an entire book about my experience with the cable company, but I won't bore you with all the details. I'll just say that, after more than 10 hours on the phone (mainly on hold), I still don't have all my problems resolved.
A major issue was that both my and my wife's email accounts were deleted in the transfer and the quest to reclaim our original email addresses has been elusive. After several days, we both got back up and running but we lost all our saved emails. Then, without warning, my wife's account was deleted a second time a week later. I still don't have that resolved because I don't have an hour or two to get on the phone and go through the process again.
Again, these experiences always bring me back to analyzing our procedures here at IBJ. I know we have issues that frustrate our customers on occasion. Most every company does. But we don't settle for thinking that we're doing the best we can. We constantly strive to improve. It's a full-time endeavor.
I'll give you a recent example that shows how we make decisions related to providing great customer service. We've been working hard on a brand-new, state-of-the-art website. I believe it will provide a user experience far superior to our current site. So naturally, we're excited and eager to bring it to you as soon as possible.
However, during the development process, one of our software programming vendors has been slower than we'd like in delivering a key component designed to ensure a smooth log-in process.
We've analyzed all our options. One is to program a work-around, but it would be clunky, take too many steps, and most likely be frustrating for our customers. So we're forced to be patient and delay our launch a few months. That costs time, and time is money. But, we're confident the wait will be worth it and we understand you get only one chance to make a good first impression.
I've certainly made my share of boneheaded customer-service moves that didn't work out as planned. Like last year, when I thought we could save money and still provide good service by eliminating a live person on the switchboard and going to a voice mail answering system full time. That was a disaster, and it lasted fewer than 30 days. The good news is, I realized the mistake and corrected it quickly.
We all make mistakes in our businesses. It's impossible to have a perfect track record. However, each customer is just that—a customer. Customers have choices about how and where to invest their money. If you want to keep your customers happy and earn new ones, you have to offer a quality product and provide great service every day, one individual customer at a time.
Writing this column made me look more closely at a few areas I know need attention here. In fact, I'm on it as you read this. Thank you for investing your time and money with IBJ. We sincerely appreciate your business and we'll continue to work hard to earn your trust.•
__________
Morris is publisher of IBJ. His column appears every other week. To comment on this column, send e-mail to gmorris@ibj.com.
Please enable JavaScript to view this content.