If ever a story deserved the "breaking news" chyron, it was word last month that a certain television station was hiring no fewer than eight people to produce a weekend morning newscast, starting in September.
That's because the station wasn't the usual suspect—WTHR-TV Channel 13, whose family owners have pockets deeper than the Marianas Trench. Rather, it was ratings laggard WRTV-TV Channel 6, which for years did things on the cheap under perennially penny-pinching previous owner McGraw-Hill.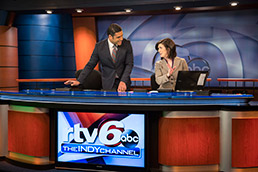 "Good Morning Indiana" anchors Marc Mullins and Beth Vaughn started in January. (IBJ photo/Aaron P. Bernstein)
But new owner E.W. Scripps Co. is not only expanding WRTV's hours of local news, but is adding more local sports content on secondary channel 6.2. Cincinnati-based Scripps also has been pumping money into the station's digital news platforms to reach a younger audience that doesn't watch as much TV news.
WRTV has recorded a tenfold increase in social media audience over the last year and often breaks news over its mobile apps and website.
"We find it hard to believe we've had so much engagement on social and digital media and it [won't transfer] over to TV" ratings, said Larry Blackerby, vice president and general manager at the station since Scripps bought it in 2011. "There are days when we are No. 2 at 5 p.m."
Turning around ratings at a station that hasn't dominated the local TV news market since the 1980s won't happen overnight. For years, WRTV kept a loyal audience with popular anchors such as Martha Weaver, Clyde Lee and Diane Willis.
But in recent years, the station made news for its instability. In 2010, the heavily promoted news anchor team of Todd Wallace and Trisha Shepherd was disbanded. The chemistry with viewers just wasn't there.
More recently, WRTV has shown share gains in the February-May period. The 6 p.m. news hosted by Ericka Flye and former Fox News network reporter Todd Connor was up 13 percent. The share of viewers watching the station at 11 p.m. soared 24 percent.

Blackerby
The station's new morning duo of Marc Mullins and Beth Vaughn didn't start until a few weeks before the period. But the station's early morning audience is up 11 percent.
"We are seeing some steady, positive share growth in the morning from February to May," said Paul Montgomery, director of audience development.
Long way up
On the other hand, WRTV has a much longer climb ahead if it wants to regain its place atop the ratings mountain.
In February, it was No. 4 in news ratings among the market's four TV news stations in virtually all time slots. At 6 p.m., for example, it had a share of 3.8 percent (the percentage of viewers actually watching television at a given time) compared with WXIN-TV Channel 59's 4.7 share.
WISH-TV Channel 8 had a 6.3 share, while WTHR dominated at 17.7.
Even WRTV's market-exclusive 7 p.m. newscast attracted a smaller audience than other stations' syndicated programming, with the exception of WXIN's reruns of "The Simpsons".

"My heart goes out to WRTV," said David Rust, a producer at Indiana University's Visual and Audio Services Department and a former reporter and cameraman in Indianapolis.
"WRTV has a history of maintaining a very capable news operation. The [reporters] have generally been highly experienced and more mature than some of the other stations, which benefits the stories they generate."
But ratings are ratings, and it's a whole other universe for WRTV than in the early 1980s, when its ratings were higher than the combined total of the competition.
It was the era of legends such as anchor Howard Caldwell and weatherman Bob McLain—the baritone whose dramatic hand movements over the weather map earned him the nickname "Swoop."
Such personalities enjoyed the kind of viewer affinity that Walter Cronkite commanded in network news.
WRTV also boldly pursued awkward topics such as racial attitudes and had a documentary unit focused on in-depth reporting, remembers Tom Cochrun, who'd later go on to become an investigative reporter and news anchor at rival WTHR.
"When I was a kid and in college, [WRTV was] sort of the only news source, at least in my family. They covered news in a serious way, with some depth. At least one or two generations looked in on them," Cochrun said.
"Channel 6, for so long, was the top dog," said Phil Bremen, an associate professor of telecommunications at Ball State University and a former WRTV reporter.
Fall from grace
The reasons for WRTV's slow fade are varied.
Cochrun recalls a deliberate effort by other stations, starting in the 1980s, to knock WRTV from the ratings mountaintop. Those efforts are still paying dividends for rivals to this day.
Somewhere around 1981, Cochrun was hired by the then-general manager of WTHR, Chris Duffy, to do hard-hitting investigative projects. WTHR was running in third place at the time. Management figured it had nothing to lose by appealing to higher-educated, more socially conscious viewers.
The strategy coincided with Indianapolis' downtown renaissance and a metro-area growth that brought a migration of people from outside the area. These newcomers sampled the local TV news offerings. They didn't grow up watching and didn't necessarily appreciate Howard Caldwell or Bob McLain or the other favorites of the locals. It helped other stations get a foothold, Bremen said.
Furthermore, WRTV owner McGraw-Hill, perhaps still best known as a textbook publisher, didn't put the kind of money into its station that rival owners put into theirs, Cochrun recalled.
"They really went a very cheap route. That was corporate ownership" to blame.
"I don't think McGraw-Hill's heart was ever in television," agreed Bremen.
It also hasn't helped in recent years that WRTV's network, ABC, had a lousy prime-time lineup.
That can be important because viewers watching a network show will often stay tuned afterward to watch the local affiliate's newscast.
"ABC's evening lineup hasn't done well in recent years," Rust noted.
Comeback plans
But WRTV has made a number of changes in recent years that management sees bearing fruit in market share and revenue.
Months before Scripps announced it was buying WRTV and eight other McGraw stations for $212 million, the station struck a deal with Hometown Sports Indiana to put local high school and college games on one of its secondary digital channels: Channel 6.2.
Last year, the HTSN channel began carrying Indianapolis Indians baseball games. It was a coup at a time Indianapolis rivals struggle to wring meaningful revenue out of their secondary channels, which usually carry reruns of old TV shows.
"We think there's great growth opportunity" with the channel, Blackerby said.
It's not clear how much revenue the HTSN channel generates for WRTV, or whether it helps draw more eyes to its TV news programming on Channel 6.
But the biggest dollar signs could be in the further development of the station's digital news product—that is delivered through its website, through social media mentions, and via news apps for mobile devices.
Parent Scripps brought some slick app software that also allows for video streaming.
"It's a revenue-generator for us and it's only going to get bigger," Blackerby said.
The talk around the station's 1330 N. Meridian St. offices sounds more like what you'd hear at a Web-based company. News Director Terri Cope-Walton and Director of New Media Glen Hale carry on about how, in a recent week, the station's site was the 19th-"most engaged" in the world, according to Web analytics firm Quintly. The big thing, said Cope-Walton, is "to get people talking" about WRTV.
Over the last year, WRTV's TheIndyChannel grew its fans on Facebook from 12,000 people to more than 108,000.
And WRTV often breaks news online rather than on its TV newscasts, including being first to report the death of former Indiana Gov. Otis Bowen.
"If we break it on the app [or] or on the website, it's a win for all of us," Cope-Walton said. "We're not just a TV station anymore."
Echoed Hale: "It's important to get people in the tent, no matter how you do that."
Dispensing more of its news digitally appears to be making a difference in the online universe. The tracking website Alexa recently ranked TheIndyChannel site at No. 8,911 in the country. If that doesn't sound impressive, consider that it was ahead of TV king WTHR, which was No. 10,037, and WISH-TV, which was No. 10,249.
Digital is key
Success in the digital domain is becoming a big deal for television stations. A new report by Pew Research Center's Project for Excellence in Journalism noted that local TV is finding itself "newly vulnerable" as local audiences were down for all key TV time slots in 2012.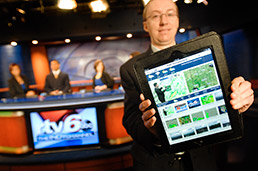 WRTV's director of new media, Glen Hale, said the station's news app is aimed at non-TV-watchers: "It's important to get people in the tent, no matter how you do that." (IBJ photo/Perry Reichanadter)
TV is still a leading source of news, but local TV viewership for those under age 30 has fallen from 42 percent in 2006 to 28 percent last year, Pew said.
Average revenue for stations during that period tumbled 36 percent.
"While many stations ramped up their digital news offerings in the past year, they are late to the digital game," the Pew report stated.
"Getting [content] out by any platform that you can is the new rule of survival. I see Channel 6 working really hard at that," Bremen said.
"For a long time, television was sitting pretty and sort of looking down its nose at [struggling] newspapers and didn't see the locomotive coming" its way, he said.
Besides gaining some ratings momentum earlier this year, WRTV got wind in its sails this month when it took home seven Emmy Awards, including best newscast at 11 p.m.
Blackerby, a 30-plus-year TV veteran and Indiana State University grad who returned to Indiana in 2011 from NBC affiliate KPRC in Houston, is confident new owner Scripps will continue to provide resources "to correct years of, I don't know … neglect" under McGraw-Hill.
"I think Channel 6 has a terrific opportunity now," said Cochrun, now an author who lives in California. "Scripps is Channel 6's best hope for the future."•
Please enable JavaScript to view this content.