In theory, history doesn't change. It just gets added to. And, each year, it seems, the creative minds at Conner Prairie Interactive History Park add something.
In recent years, the additions have been positive ones, offering enhancements to the visitor experience without compromising the museum's mission. This year is no different.
But I'll get to those new things in a minute.
First, I want to talk about Rounders.
No, not the poker movie. The Rounders I'm talking about is the baseball-like game that my family always gets happily pulled into whenever we visit Conner Prairie. It's not new. Far from it.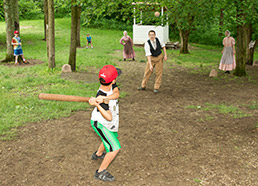 Outside, a pick-up game proves popular. (Photo courtesy of Moon & Star Photography)
Rounders, or some form of period bat-and-ball game, has been an option since our first visit to the park some 16 years ago. Played behind buildings or in open fields, these games have little structure—kids get added to team rosters when they show up and drift off when they (or their families) want to move on. But that lack of closure never gets in the way of the fun.
Here's how it works: A pitcher—or bowler—underhand tosses a leather-cased ball to the batter. After swatting at it, the batter runs, clockwise, to the bases—or posts (in reality, a trio of trees that happen to form a very lopsided diamond).
There are no walks or strike-outs in these games, so an ump would seem an unnecessary extra. And, as played here, you can throw the ball at the runner to get him out, which is particular fun when someone is trying to run in period costume.
There are no sign-ups for Rounders. And I don't think it's a scheduled event. Like the best elements at Conner Prairie, it's just something that seems to pop up and dissipate naturally. Inevitably, a game of Rounders fills a half hour or so. And I'm always glad it's part of the mix.
Now, about those new things for this season:
Inside the Welcome Center, hands-on activities have been enhanced over the last few years; the drab displays are long gone. Instead, parents of young children should be happy to see "TreeHouses: Look Who's Living in Trees!," a 2,000-square-foot exhibit parked here for the summer. There is actually information in the treehouses—facts about what animals live in trees and how they manage—plus artifacts, stereoscopic viewfinders, etc. Kids should be forgiven for treating the exhibit as playground equipment. After all, they're kids.
Also new to the Welcome Center are tables of wooden gadgets that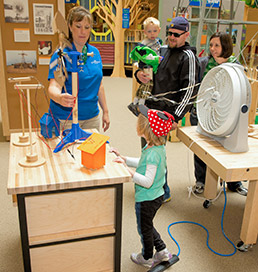 Inside the Welcome Center, visitors experiment. (Photo courtesy of Moon & Star Photography)
can be arranged into Rube Goldberg-style contraptions. You know the kind: Crank a handle that turns a gear that triggers the release of a pendulum that knocks over a slab. … There's also an electronic version, challenging visitors to create electrical circuits. Within minutes, total strangers are collaborating on building a working windmill while parents get itchy to maximize the Conner Prairie ticket price and get outside already.
The kids dragged away from the play (and, shhhh, learn) tables might resist Conner Prairie's new Nature Walk trail. Without costumed re-enactors or re-created period-authentic settings, visitors get a low-key reminder of the land that settlers found when they arrived here.
The trail begins between Prairietown and the 1863 Civil War Journey and threads through the woods, down a semi-steep incline, winds along a path at the rim of open fields, and ends with a covered lookout area. The journey there and back is only 2/3 of a mile, but the quiet time might be just what you need in the middle of a long Conner Prairie day.
Either that, or it could be a brutal slog with kids who keep asking if that's all there is, leading to a talk using phrases like "unplugging," "listening to nature," "You can have a juice box when we're done," and "OK, I'll carry you."•
__________
This column appears weekly. Send information on upcoming arts and entertainment events to lharry@ibj.com.
Please enable JavaScript to view this content.