During her college years, businesswoman and philanthropist Marianne Glick briefly considered majoring in theater. Instead, she studied education. But her flair for the dramatic persists, serving her well both professionally and in her numerous charitable endeavors.

"She's a force of inspiration," said Angela Dabney, senior vice president for resource development at the United Way of Central Indiana. "She absolutely does everything with her full heart and full passion, and it makes everybody around her want to do the same."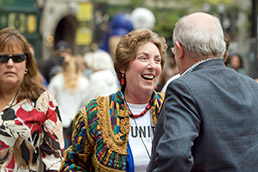 Marianne Glick wore her coat of many colors to United Way fundraisers in 2011, the year she chaired the fundraising campain. (Photo courtesy of United Way of Central Indiana)
Glick delivered her virtuoso performance as the 2011 chairwoman of the United Way of Central Indiana's fundraising campaign. For years, the organization struggled to crack the $40 million annual donation mark, always falling just short. Then came Glick. Saying she took the effort to a new level would be an understatement.

Glick personally called on more than 300 business leaders and attended innumerable fundraising kickoff events. And instead of wearing standard business attire, she usually showed up in a garish, multicolored coat she purchased at an Indianapolis Civic Theatre charity auction for $2,500. It was the same one the troupe used for its "Joseph and the Amazing Technicolor Dreamcoat" productions.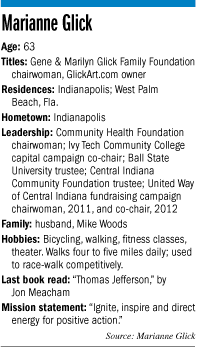 "I thought, 'Oh my God, I can use this coat, I can have a theme [for the campaign],'" said Glick, 63. "And so the theme, 'Dream big, give gleefully, live united,' came from that coat. I think it helped people imagine making dreams come true for everybody in the community."

Did it ever. Glick led United Way of Central Indiana to a record-breaking $40.8 million campaign in 2011. In 2012, she returned as co-chair and helped the organization collect more than $41 million.

Glick's decades-long devotion to community service has earned her the distinction of being the 20th recipient of IBJ's Michael A. Carroll Award, given annually to someone who has demonstrated the former deputy mayor's qualities of determination, humility and devotion to the community. Carroll was among six people killed when two small planes collided over southern Marion County on Sept. 11, 1992.

Glick's United Way efforts exemplified her all-in leadership style, which has left a big stamp on many of central Indiana's biggest educational and civic organizations. Her civic roles have ranged from serving as board member of the Community Health Foundation and co-chair of the Ivy Tech Community College capital campaign to serving as a trustee of Ball State University and of the Central Indiana Community Foundation.



Glick isn't one to bring a buttoned-down approach to such lofty responsibilities. During the United Way campaign, when she wasn't wearing her coat of many colors, she often sported audacious hats or a full-on Superwoman costume. Whatever it took to get people motivated.

"This is someone who didn't have to do this," Dabney said. "But she did it because that's who she is. She was willing to set that tone to raise people's spirits, get them thinking that way, by doing something that was fun and exciting and interesting. She had the courage to put herself out there, because that's how much she believes in this. And it made a difference."

From business to philanthropy

Glick began her business career with her father's business, the Gene B. Glick Co., which built and managed more than 100 apartment communities across 10 states. Marianne served as regional property manager, looking after about 2,500 central Indiana units.

In the early 1980s, she veered out on her own, starting a company that installed cable TV systems. She sold it a few years later to found Glick Training Associates, which trained managers and supervisors in a variety of industries.

Training seemed to be a good fit for Glick, given her knack for talking people into doing things. Once, she persuaded a business associate to try race walking in a restaurant parking lot.

The incident involved her longtime friend Dr. B.J. Bischoff, owner of the business training firm Performance Improvement Consulting. One night at dinner, the two discussed Glick's interest in professional race walking, something Bischoff couldn't quite fathom.

"After we had dinner, we went to the parking lot of the restaurant, took off our shoes and practiced race walking in the parking lot," Bischoff recalled. "So I started competing in race walking, too."

Though Glick wound down her corporate training business in 2010, she remains as busy as ever, if not more so. Her primary responsibilities are overseeing the donor-advised Glick Fund at the Central Indiana Community Foundation and the private Glick Foundation, which together disbursed more than $5 million in 2012 for causes ranging from Second Helpings to Big Brothers Big Sisters of Central Indiana to Indiana Repertory Theatre.

Her philanthropic roots go back to her parents, Gene and Marilyn Glick, who established the family's charitable-giving entities and poured tens of millions of dollars into various causes.

"My parents have always been really involved in the community," Glick said. "My mom served on boards, and so did my father. I would listen to them talk about that. It just seemed like something that you did."

In the mid-1980s, Glick became involved with the Women's Business Initiative, ultimately rising to its presidency. That role brought her to the attention of United Way of Central Indiana, where in 1990 she founded the United Way Women's Executive Leadership Series to train and position women for board service.

"It was at that point, once I started getting involved in United Way, that I really became passionate about giving back and working in the community," Glick said.

She advises those considering a similar track to pick a cause they feel strongly about. It makes all the difference. For her, it's been women's issues and helping the economically disadvantaged. Particularly kids.

"I got a lot of pleasure out of it," she said. "I think most of the groups I got involved with, I was able to use my skills in a way that I thought was adding value to the organization."

These days, instead of just raising money, she also hands it out.

"It's a big difference," Glick said. "I have said no to more organizations that have asked me to get involved in the last year or two than I have in the past, because I feel I can make more of an impact through our family's foundation than anything else I can do."

The family's two funds have slightly different focuses. The private foundation is still paying out long-term financial commitments for brick-and-mortar projects such as the Indiana University School of Medicine eye institute, the Children's Bureau's new headquarters and the Indianapolis Cultural Trail.

Funding new grants for the moment is falling mostly to the Glick Fund at the CICF, which pays out $2.5 million to $3 million annually, mostly for educational programs.

Helping kids

One of its biggest current projects is taking the Pro-100 initiative, a summer youth employment program Glick's father began 32 years ago, statewide. Glick is working to earn Pro-100 IRS not-for-profit status and to roll out the program (currently in Indianapolis and Muncie) across the state over the next five years.

"I've probably spent two or three hours a day doing something for that, to move it along," she said.

The private foundation's highest-profile gift was a $15 million contribution to the Indianapolis Cultural Trail, an effort spearheaded by Glick's parents. Marianne in May was on hand for the official opening of the project, formally known as the Indianapolis Cultural Trail: A Legacy of Gene & Marilyn Glick.

"It was somewhat bittersweet, because my mom passed away last year and my dad has Alzheimer's, so he's not able to understand what's happening," Glick said. "But I would say that that is one of the things my folks did that I think has had the greatest impact on our city, and will continue to have the greatest impact."

When Brian Payne, the trail's spiritual father and head of the CICF, talks about Marianne Glick, he punctuates his sentences with words like "energy" and "spirit." Sometimes a couple of times in the same sentence.

"She's someone that grabs your attention and gets you excited about things," Payne said. "What she did with the United Way campaign was, I thought, incredible. The energy and creativity she brought to that was really exciting to watch."

Glick, like her parents, also seemed to intuitively understand the potential of the Cultural Trail. Which many people didn't. The idea of linking the city's artistic assets via a walking/biking path seemed a bit "out there" to most.

"She understands creativity and innovation, which we presented the trail as being that to the community," Payne said. "She gets the creativity part and the activity part. I think her life seems to be about creativity and connectivity."

Perhaps Glick got the "creativity" part because she is a late-blooming artist—a surprising avocation for someone who acknowledges painting nothing beyond the occasional wall before the age of 55.

Her artistic career blossomed late in the last decade, when she and her husband, Mike Woods, owner of msWoods Real Estate LLC, started looking for art to hang in their then-new Florida home, where they live about half the year.

After Glick spent many sleepless nights buying things on eBay, she concluded she could paint the sort of bright, impressionistic pieces that interested her. She took classes in Indianapolis, and now her work sells through galleries and appears in juried shows.

"I think that's how I've done a lot of things in my life," Glick said. "Wondering if I could do it, then figuring out a way to make it happen. When you have your own business, many of the things you do, you've never done before. You just have to figure out how to accomplish it."•