It's been a few years since I've written a column on the Carmel gallery scene. Since then, the Carmel Arts & Design District Gallery Association has grown to represent nine galleries and, from what I'd heard, its annual Second Saturday gallery walk had grown into a popular social event.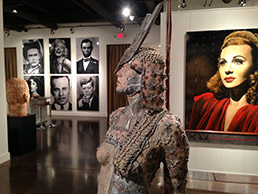 Evan Lurie Gallery's most recent show encompasses a wide range of works including a Samurai warrior. (Photos courtesy of Evan Lurie Gallery)
So I went. And wrote about it. And I thought I was done.
But before I filed the column, I had second thoughts. Something seemed familiar. And so I dug out a copy of the piece I wrote about Carmel a few years ago.
Surprise! My new piece was practically a carbon copy of the old, starting with my rather nasty digs at the J. Seward Johnson Jr. lowest-common-denominator sculptures that pop up awkwardly on nearly every block in and around Main Street. (You know the ones: lady with bag of groceries, guy with kid on shoulders, et al.)
To avoid redundancies, I scrapped that draft and started again, determined to avoid writing about the Seward eyesores that blight the district and trivialize Carmel's art landscape.
Instead, this time, I'll celebrate the spirit of the monthly Second Saturday event. At the June edition, blessed by beautiful weather, Carmel's Main Street felt like something out of a tourism brochure. And I mean that in a good way. Restaurant patios were filled with relaxed diners. Kids were enthusiastically participating in an art-centered scavenger hunt (including prizes from local businesses). An on-the-street caricaturist, Kim Graham, was offering free drawings that actually looked like their subjects. Young musicians from the Indianapolis Suzuki Academy and singers from the Midwest School of Voice stopped crowds on the sidewalk.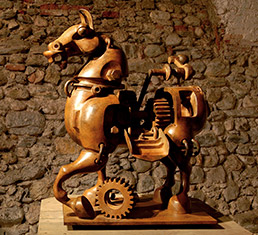 Alexandra De Lazareff's mechanized sculpture "Cyberdada."
And, most important, folks were browsing—with some actually buying—in the galleries. (A friend picked up a painting at the crowded Eye On Art Gallery, which seemed to be doing brisk business.)
With such an overall sense of relaxed down-home-ness, you'd swear the district actually grew organically.
Elevating the quality of the work on display in Carmel was the Evan Lurie Gallery. With a mission to make international art approachable and an awareness of what's trending, Lurie's shows tend to be big and bold. At this one (up through July's second Saturday), he's showcasing the colorful vertical, dripping stripes of Gian Garofalo and the painted glass of Eric Lee, both out of Chicago.
But Lurie's curatorial style is more akin to a big buffet than a small sampler platter. Garofalo's and Lee's works are in the company of other artists, none easily ignored. Don't be surprised if you leave his gallery feeling a bit bloated.
Jason Paul Bennett's holographic "Veridis Orchid."
He's made room for the large-scale work of three innovative photographers. Alex Guofeng Cao builds biggie-size celebrity portraits from tiny images of related stars (e.g., hundreds of JFKs forming a Marilyn Monroe while Elvis images become James Dean). The equally obsessive Jason Paul Bennett constructs holographic flowers from more than 100 images each. And Tom Leighton seamlessly mashes together seven cities into one urban streetscape in "The Parade."
And there's still room for a steampunk-ish mechanized lion, a Calder-influenced sculpture, a dignified female samurai warrior, an exquisite nude, portraits that seem built from shreds of basket-weaving wood remnants, comic-book-based lay-
ered glass works, and paintings enhanced by wearing 3D glasses. Plus, there's a wall of Theodore Gall's grim-faced but whimsical sculptures, whose facades lift to reveal a world of miniature activity.
The above might sound cluttered, but even with the always-welcome sound of the accomplished Tonos Triad playing live in the gallery, Lurie-land still feels spacious and inviting.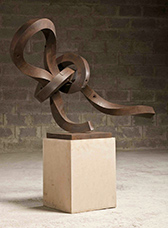 Alberto Cavlieri's "Skurge Dimidius,"
Oh, and here's a heads-up: Lurie hopes to launch an international art fair in central Indiana sometime in the next few years. It's to be an indoor event at which galleries and curators, not artists, bring work from around the world. Stay tuned.
And another heads-up: You can hear the Tonos Triad at Indy Reads Books on Mass Ave June 21. A new CD is on the way, too.
Now, about those street sculptures …•
__________
This column appears weekly. Send information on upcoming arts and entertainment events to lharry@ibj.com.
Please enable JavaScript to view this content.