You've had your tacos, burritos and quesadillas at fast-food joints and strip-center Mexican eateries. You've had your horizons expanded by more ambitious Mexican restaurants where guacamole is mixed tableside and the tortillas are made on premises. But there's a good chance you have yet to try Pambazos—unless you've ventured into the humble digs of Don Gusto P.J. (3960 S. Meridian St., 755-3175).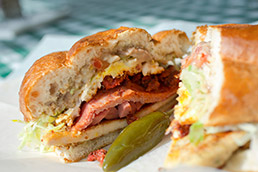 Pambazos are a Don Gusto P.J. specialty featuring bread dipped in red pepper sauce. (IBJ Photos/ Aaron P. Bernstein)
The 3-month-old eatery—actually a combination café and bakery in a former appliance repair shop—features counter service for its few tables but, be warned: Below the register is a dessert display that could well lead you to an unplanned purchase of Tres Leches Cake ($2.49); Flan Napolitano (who can resist for only $1.99?); Chocoflan cake ($2.75), offering the best of two distinct flavors; or a chocolate-dipped strawberry (75 cents) or three.
Beyond the treats and baked breads, Don Gusto P.J. offers Tacos ($1.50 each), Gorditas ($2.99) and Burritos ($4.99) for those looking for fresh-ingredient versions of familiar fare. There's also Huaraches ($4.99)—biggie-size corn tortillas hot from the grill with a you-pick-it selection of toppings (I went with Hawaiian pork, flavored with pineapple, and never looked back).
And an array of Tortas—Mexican sandwiches in seven versions. The Hawaiian ($5.99) features ham, pineapple, melted cheese, refried beans, avocado and more. Eggs and three meats find their way onto the Especial ($8.50) while the Pechuga Empanizada ($5.99) includes breaded chicken.
Then there are the Pambazos ($4.99), the kind of sandwiches Fred Flintstone might eat for lunch if Bedrock were south of the border. Here, the bread is the thing, with a loaf of Mexican white bread dipped in red pepper sauce and served dried.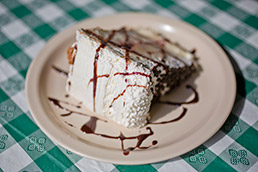 The modest eatery also serves as a bakery.
Yes, there's stuff inside it: chunks of potato, bits of chorizo sausage, lettuce, sour cream and a layer of refried beans spread like peanut butter, but it's the bread you'll remember as the key element in your lunch—especially when you find yourself passing on dinner. Mexican sodas are available to wash it down, but I recommend a cup of Watermelon Water ($1.25).
Of course, this being a bakery, you would be foolish not to try one of the aforementioned desserts.
Or, if there's no room, take a bag of baked goods to go.•
—Lou Harry
__________
 Third in a month-long series of D-restaurant reviews.   
Please enable JavaScript to view this content.