Who does the No. 1 Fortune 500 company call when its plans to build a superstore in Indiana are met by spooky locals wielding pitchforks?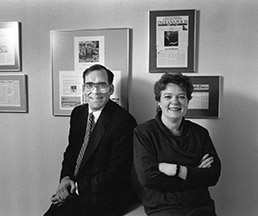 David and Marilyn Shank in the early 1990s ... (IBJ file photo)
Who do you call when your restaurant is shot up by hostage-taking robbers and a legion of TV reporters comes pounding on your door?

If there's something strange in your corporate neighborhood and it doesn't look good, business leaders often have called David and Marilyn Shank.

One could call them the rumor-busters, the masters of messaging, or the Ma and Pa of public relations. Whatever, but over the last 25 years the husband-wife duo has outlived a number of bigger and slicker competitors.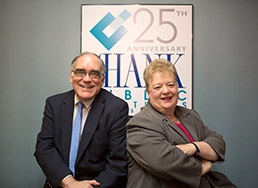 ... and today, have become an institution in local PR circles. (IBJ photo/Aaron P. Bernstein)
Staying small (four total employees, ranking them 18th on IBJ's list of PR firms) might have helped ensure their survival after the Great Recession decimated some bigger PR and advertising shops with large overhead. Longevity and the couple's role in coaching young PR people might be their most visible contribution over the years.

What's not so apparent is the behind-the-scenes work the couple in their early 60s uses to swat down rumors and spin a positive message in social media realms. For example, they've worked the past 13 years on behalf of Indianapolis Public Schools' capital improvement projects—among several school district clients statewide. They point to a 78-percent margin in school referenda passage.

When taxpayers object to a referendum that would raise taxes, it's not uncommon for heated debate to spin out of control on the Internet.



The Shanks will muster proponents to counter with responses in social media channels and sometimes post YouTube videos that elaborate on the actual intent of the referendum.

"It's like a political campaign when you do that. Social media can help corral rumors," said Marilyn Shank.

Same goes for when Wal-Mart proposes building a store in a community where some residents are concerned the store will wipe out local business.

Part of the Shanks' work for Wal-Mart entails conducting advanced research on communities that are potential candidates for stores. That included the Wal-Mart at Lafayette Road and Interstate 65. That corner of town has seen decades of decline, with the loss of several major retailers including anchors at Lafayette Square Mall.

Both Best Buy and Staples were planning to pull out of nearby stores on West 38th Street until Wal-Mart agreed to build its store a few years ago near I-65. Instead, they opened new stores in the area.

"It's one of the most fulfilling things … classic case," David Shank said of the economic development potential from such projects. With liturgical repetition, he starts throwing out millions-of-dollars numbers for how much Wal-Mart contributed to hunger-related not-for-profits statewide.

Denny's crisis

Perhaps the most challenging project for the Shanks over the last three decades was representing restaurant chain Denny's in 1994 after two drifters from Wyoming took hostages and shot up the chain's restaurant near Pendleton Pike. A man was killed and three were injured, including a 5-year-old boy.

Denny's couldn't get its own PR team into town fast enough, so the chain tapped the Shanks to show up at the scene that was overrun with cops and television reporters.

"That turned into a six-month adventure," David Shank recalled.

The chain's CEO later flew in to take questions. "Would the store be bulldozed?," reporters pressed.

"He said, 'I don't care about the store,'" but rather the victims, Shank said. "It was good to see a caring CEO."

Community support caused Denny's to rebuild the store and the Shanks sought to allay what could have been an awkward reopening.

"We had a 'thank you' grand opening for all the emergency responders" who'd been at the hostage scene months earlier, Shank recalled.

While there is abundant academic research on how to respond to crisis situations from a PR standpoint, "You really don't learn until you get there" and work it, Shank said.

The duo credit their early background in the news business. Both worked in broadcast news for a time. Marilyn, for instance, worked at three TV stations, including a community affairs and production role at WISH-TV Channel 8.

"We're adrenaline junkies," she said.

Humble beginnings

The two met at a teletype machine at WFIU-FM at Indiana University in Bloomington. It turned out they had what it took for marriage and to work together.

They decided to form their own business in the 1980s, not long after Carrier Corp., where David once headed its communications department, was acquired by United Technologies. Staying with the company might eventually require that he relocate, which was not appealing.

They launched the business in their basement, equipped with a Commodore 64 computer but without a formal business plan or much in the way of capital.

"I always tell students, 'Don't do it the way we did,'" Marilyn Shank said.

At first, they went from project to project, such as doing media kits for electronics firm Uniden. Their break came with a longer-term contract to do work for the state of Indiana during the launch of its First Steps program. Much of their branding for the program helping special-needs infants and toddlers remains the same today.

Like many PR firms, the Shanks lost some work during the Great Recession. They let go of two employees, and they gave up a portion of their office space in a commercial building at Interstate 465 and Crawfordsville Road. It could have been worse, given that some bigger shops didn't survive the downturn, including Hetrick Communications, for example.

The Shanks said they learned early on about the dangers of overhead. They also decided against creating positions such as full-time art director.

While their firm is tiny compared to, say, the 50-plus-employee Borshoff firm in Indianapolis, David and Marilyn are prominent fixtures in local PR circles.

When Sonja Popp-Stahly, now director of digital media communications at Eli Lilly and Co., moved to Indianapolis from New York City, it was the Shanks she often encountered at meetings of the local chapter of Public Relations Society of America.

David Shank, who has the prominent eyebrows of Bert the Muppet from the Bert and Ernie duo, often sits in the front row and isn't what you'd call shy about giving his thoughts.

"They seem to know everyone in town," said Popp-Stahly, who serves on the PRSA's national board. "I feel like the Shanks are almost legends in the Indianapolis public relations community."

Bob Gildea, a longtime local PR executive at Sease Gerig & Associates, said the Shanks have helped a number of people over the years to learn the ropes and to pursue continuing education.

Indeed, the Shanks at last count have employed more than 40 paid interns over the last 25 years. Those interns "learn one heck of a lot," said Richard Shoemaker, a professor in public relations at Ball State University.

Last year, in part for their efforts in helping the next generation advance in the profession, the Shanks' firm became the first PR firm in the country to receive Ball State University's Public Relations National Achievement Award.

In 2011, the Shanks' firm won PRSA's "Silver Anvil of Excellence," the big Kahuna for this industry, for work for client Japan-America Society of Indiana.•