"Avatar," the 2008 box office blockbuster, was a bloated bore. I could go into details, but let's just say I have no desire to see this "Ferngully"-on-steroids again, I'm not enthusiastic about its proposed sequels, and the idea that there will be an "Avatar" land in Disney's Animal Kingdom Florida park makes me question the decision-making in the mouse factory.
The reason I'm telling you this is not to establish any movie-snobbery cred or to convince you not to watch James Cameron's would-be epic (if you are one of the seven people who missed it).
Instead, I'm sharing my opinion of the film so that you understand I'm not a fan recalling a beloved movie when I say that "Avatar: The Exhibition," which runs through Sept. 22 at The Children's Museum of Indianapolis, is really, really cool.
Organized by Seattle's EMP Museum in partnership with Twentieth Century Fox and James Cameron's Lightstorm Entertainment, the exhibition features the requisite how-they-made-it videos and movie props—including an imposing 13-1/2-foot-tall Amplified Mobility Suit.
That's all fine for the grown-ups and older siblings, but I'm guessing most of the Children's Museum's core under-10 audience won't be terribly interested in those since—I hope—they haven't seen the violent film.
And, unlike the "Star Wars" saga, being celebrated in an exhibition over at the Indiana State Museum, "Avatar" does not have a universe of characters spun off into kid-friendly products. Ask a youngster to name the two robot supporting characters in "Star Wars." Then ask him to name any two characters in "Avatar." I'm not even sure if many adult fans of the film can do that.
What the exhibition does well is offer fun, interesting interactives that aren't dependent on prior exposure to "Avatar."
Let's start with the large display screen where, if you stand next to it, computer-generated woodsprites gravitate toward your shadow. Yes, it's fun to do. But it's even more of a kick watching kids watch other kids doing it, realize what's happening, and rush to the screen themselves. (And, yes, it's kind of like what the still-working-out-the-bugs Virginia Avenue
Cultural Trail art piece, "Swarm Street" promises to be. We're waiting …)
Then there are the neat-but-confusing-for-kids hand-held screens where, James Cameron-like, you play director and choose the angles you want to shoot while a scene is playing. There's also a table that shows the pros and cons of bioluminescence for sea creatures in the form of a game where your fish competes against others by turning on its glow to attract food. Careful, though: Leave it on too long and you get eaten by a larger fish.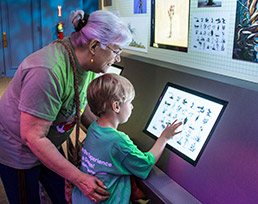 Kids construct original virtual plant life at the Children's Museum's "Avatar" exhibition. (Photo courtesy of The Children's Museum of Indianapolis)
Even better for the Children's Museum target audience are interactives where you get to design plants for an alien landscape, making selections not just of shape and color but also size. For even younger visitors, there are plastic plants that light up if the right orb is attached. Plus, of course, there's a dress-up area. It wouldn't be a Children's Museum exhibition without a dress-up area.
I suspect the most popular area is the one that requires a timed admission. It's where, one at a time, visitors are recorded while following verbal directions and light-up floor arrows. They are then turned into Na'vi (the native creatures in the film) through motion-capture animation.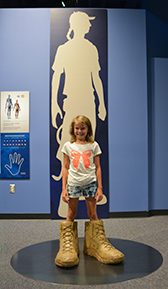 Climb into the boots of the 10-foot Na'vi. (Photo courtesy of The Children's Museum of Indianapolis)
After your visit, don't be surprised if your 6-year-old wants to see the movie. Just remember that, while the exhibition focuses on the natural world of Pandora, "Avatar" the movie has creature attacks; a non-graphic sex scene; some language you'd expect military folks to use; and some very intense, extensive battle scenes.
And, even with all that, it's boring.
Sorry, couldn't help it.
One final note: Congrats to the Children's Museum for not making attendees walk through a makeshift gift shop to leave the exhibition. Now that's groundbreaking.•
__________
This column appears weekly. Send information on upcoming arts and entertainment events to lharry@ibj.com.
Please enable JavaScript to view this content.