Walk down the Cultural Trail from downtown to Fountain Square—or vice versa—and you might mistakenly think the nondescript storefront of Rook (719 Virginia Ave, 759-5828), with its minimal signage, leads to a design firm, furniture shop or private club.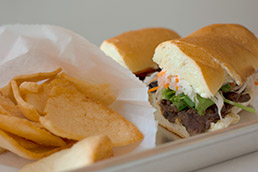 The selection—for sandwiches and condiments— is minimal at Rook sandwich shop on Virginia Avenue.(IBJ Photo/Aaron P. Bernstein)
In fact, the newcomer to the Hinge is a sandwich shop—a decidedly quirky one with downed power-line décor and a crow-motif dining room. Here, you order at a counter where Tom Waits, John Coltrane and Run DMC are celebrated. The menu: variations on the Vietnamese banh mi sandwich.
Rook, the latest from Siam Square and Black Market's Ed Rudisell, knows what it wants to do and does it with a single-mindedness that it's difficult not to admire. There's no compromise visible. No obvious effort to lure in the unadventurous. No menu selection to appease those who really were thinking of going to Subway for lunch. And if you're vegetarian, well, Rook gives you one and only one choice.
Its subs—each a pricy $8—are all adorned with pickled Korean radish and carrots, cilantro, mayonnaise and jalapenos. Want to dress your sandwich up further? There's a shelf of Sriracha sauce bottles.
Care is clearly taken in crafting the signature Rook, featuring slices of Vietnamese pork roll with a spread of chicken liver terrine. The Nighthawk—a name inspired by Waits' "Nighthawks at the Diner," perhaps?— barely contains its Thai sour sausage. The Corvus holds sliced smoked turkey breast (fine, but if you are here, why play it conservatively?). The Black Wing, which worked best for me, used peanut curry sauce to dress up its sliced steak, a combo that best showed off the aforementioned dressings. Others include Chinese BBQ Pork, Indian-spiced tofu and sardines—not in the same sandwich, of course.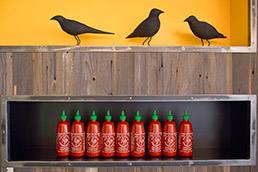 A crow motif roosts in the dining room. (IBJ Photo/Aaron P. Bernstein)
Your options are strictly limited for sides: Shrimp Chips or Pork Cracklings ($2.50). The latter, on our visit, were borderline inedible, fried to near teeth-cracking density without being worth the effort. The former were lighter with a pleasant shrimp flavor but not satisfying enough to justify the charge. Dessert? Even more esoteric: Macarons ($1.75 each) from Circle City Sweets in such surprising flavors as Wasabi, Lemongrass and Black Sesame.
For some, Rook will prove a refreshing change of pace. For others, the price (factoring in overpriced bottled beverages) might curtail it from becoming something to crow about.•
—Lou Harry
__________
First in a month-long series of game-piece restaurant reviews.
Please enable JavaScript to view this content.