Sitting amid expansive corn and bean fields, off a narrow two-lane country road that seems to meander in every direction, The Club at Putnam Park rises out of the ground.
Nestled 35 miles west of Indianapolis and near no other developments, the sprawling complex in Mount Meridian in Putnam County seems an odd place for a multimillion-dollar country-club-type facility.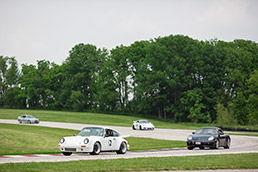 Members of The Club at Putnam Park hit speeds of up to 140 miles an hour. (IBJ photo/Aaron P. Bernstein)
But The Club is quickly becoming a place that attracts doctors and lawyers, business executives and successful entrepreneurs.
Members of this new establishment come not for golf, tennis or swimming—or even a quiet place to merely relax. Instead, it's their love of cars and need for speed that is pushing these weekend race warriors and gear heads to a place that sits on the edge of the middle of nowhere.
Members of The Club come from Indianapolis, Louisville, Cincinnati and points more distant for a chance to drive their car as fast as they can on Putnam Park's 1.8-mile serpentine road course, and afterward lounge in luxury with like-minded folks.

Diasio
For 22 years, this gem of a track has existed mainly for professional teams looking for a place to test and car clubs with enough members—and money—to rent the 202-acre facility.
But beyond the track and a scoring and timing tower, there was little other infrastructure—until last year. New-generation owner, Chris Diasio, 43, invested $2 million to construct 20 state-of-the art garages and a 3,600-square-foot clubhouse that—with travertine floors, seven flat-screen televisions, leather couches, high-end billiards, shuffleboard tables and a bar with granite countertops—looks like it belongs at the center of a posh golf course or resort.

"At first, this was a shot in the dark," Diasio said. "The day [in late 2011] I announced this, the stock market took a massive dive, and I said, 'What the hell did I just do?'"
"Now," he said, "it's turning out great."
Construction of the clubhouse was completed in March, and already Diasio has signed up 40 members.
Getting in isn't cheap. Individuals pay a three-year membership fee of $7,500 plus $5,000 in annual dues. A lifetime membership is available for a $30,000 membership fee plus $5,000 in annual dues, and a corporate membership is $50,000 plus $20,000 in annual dues.
Despite the considerable price tag, Diasio is way ahead of his business plan.
"I knew if I could attract 20 members, I'd break even," he said.
More construction planned
Emboldened by The Club's success, Diasio, who graduated from Ball State University with a finance major, is already planning the next phase, which includes the construction of five terrace garage suites.
The suites on the east end of the property will feature a 25-foot-by-50-foot garage (large enough for four cars and additional equipment and tools). Above is a 1,050-square-foot living area with kitchen, bar area, living room, full bathroom and optional bedroom. An outdoor deck will overlook the garage areas.
A smaller garage and suite combination will be available with enough room for two cars and additional equipment, plus a 600-square-foot living area overhead with an outdoor deck.
Above the living areas of both suite offerings will be a large observation deck offering views of the entire track.
Diasio estimates the garage suites will lease for $2,000 to $3,000 per month. Construction is set to begin later this summer and be complete by mid-2014. Diasio declined to divulge how much the suites will cost to build.
While some existing racing track clubs have used membership fees to finance infrastructure, Diasio said Putnam Park owners chose to self-finance The Club at Putnam Park.
"I didn't want to answer to anybody else," he said. "It gives me a lot more flexibility this way. I can make decisions based on what makes the members happy, not just on what makes money."
Rare facility
Diasio's bold move makes Putnam Park one of about 12 U.S. racing tracks that offer a country-club-style membership, said Tim Frost, a Chicago-based motorsports business consultant and publisher of the National Speedway Directory.
"This is a new model for tracks," Frost said. "There's a successful club in Joliet [Illinois], one in New York and a few others sprinkled on the East and West coasts, but not a whole lot more."
There are few such ventures in Europe or Asia that Frost is aware of and few of the existing U.S. clubs have the high-end offerings Putnam Park is offering, he said.
"They've done an awful lot out there," Frost said. "Before, it had this reputation as a little test track, and now it's just beautiful. They've made a bold move and it seems to be paying off."
Matt Priddy, an Indianapolis doctor and president of Precision Physicians on the city's north side, said one overarching reason drew him to become a member.
"It's a much different experience when you're on the track alone or with just a few other cars," said the 39-year-old who races around the track in a street-legal Porsche Boxter Spider. "It really allows you to test the limits of your car and driving abilities in a controlled environment."
In addition to access to the clubhouse and garage areas, members of The Club also get more than 140 days when the track is open to members only. Members also have an option to leave some of their equipment on site.
Bill Lehman, president of Indianapolis-based Millennium Sounds Inc., was considering joining Autobahn Country Club in Joliet when Diasio opened The Club at Putnam Park.
"Not only the track, but the clubhouse and garage areas, were just what I was looking for," said Lehman, who drives an Audi S4. "And Chris isn't done. He's going to keep making this place stand out from every other venue."
The benefits of the club for Lehman, 38, go beyond racing.
"I've just started to meet some of the other members, and they're our ideal customer," said Lehman, whose company designs and installs custom audio and video systems for business and residential applications.
Track founder still key adviser
Diasio's formation of The Club is a return of sorts to Putnam Park's roots.
In the mid 1980s, Chris' father, Richard Diasio, was constantly looking for a place to race his car—safely and legally.
The New Jersey transplant, who had become a big wheel in Indianapolis' Porsche car club, noticed that the facility then known as Indianapolis Raceway Park in Clermont was one of the few places locals could race legally and on a closed circuit.
So in 1991, he built Putnam Park. Pretty soon, professional teams—from IndyCar, GrandAm and NASCAR, among others—flocked to the facility for testing.
While amateur racers and car enthusiasts were always welcome, there were times booking track time wasn't all that easy.
While the track remains open for professional teams, Chris Diasio said the post-2007 economic swoon and changes in testing rules for race series have cut that business about 60 percent. Car-club rental continues to be a mainstay.
Chris Diasio became majority owner of Putnam Park in 2012, and now owns 92 percent of the facility. Richard Diasio and a silent partner own the remaining 8 percent, and Chris emphasized that his dad still serves as chairman of the overall facility and "is an important adviser."
Father and son agree that this facility is—and always has been—about serving racers of all types.
"This place is about the participants," Chris Diasio said. "That's the history of this place. That's what The Club is all about. I wanted to give car lovers and race enthusiasts the same experience as if they were on a professional team."•
Please enable JavaScript to view this content.