The state says a Hancock County junkyard has cleaned up its property after receiving citations for having too much … junk.
Fortville Auto Salvage has responded to orders from the Indiana Department of Environmental Management after inspectors wrote up the company for waste scattered around the property, a spokesman for the agency said Friday.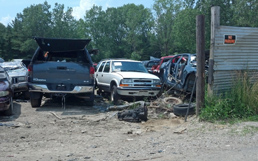 Fortville Salvage Yard is taking steps to handle environmental violations cited by the state. (IBJ Photo)
Findings in the routine IDEM inspection included automotive fluids, old tires, scrapped vehicles with aluminum cans and other household waste, engines and other car parts, broken glass and buckets of oil, according to a March 19 report.
Investigators noted that state law requires the owner of an "open dump" to control any nuisances and eliminate "any threat to human health or the environment." Agency spokesman Barry Sneed said the torn-up old cars on the property weren't so much a concern, but the household waste and dumped fluids were problems.
The violation notice is a bit of a rarity considering the handful of times IDEM has pursued violations at a small business that, in essence, handles junk. About a dozen businesses—out of thousands that IDEM has issued orders to in the past 20 years—identify themselves as "auto salvage" companies, according to state records.
Fortville Auto Salvage appears to have cleaned up a lot of its mess, inspectors determined during a May 29 follow-up visit, Sneed said.
"They're aggressively cleaning the place up and making amends to make it a really decent operation," he said.
The IDEM violations came amid an ongoing lawsuit that Hancock County's board of zoning appeals filed in January against the junkyard and its owner, Jeff Frazier.
Fortville Auto Salvage, located at 9972 N. 50 West in northern Hancock County, lies outside the 4,000-resident town, with a handful of houses nearby.
The business signed an agreement in 1997 saying it would not allow parking along the road, said Mike Dale, executive director of the Hancock County Plan Commission and Board of Zoning Appeals.
A neighbor complained last year that cars, both belonging to customers and to the salvage yard, were parking outside the business' fence, Dale said.
"We tried to get him to voluntarily comply with the commission, but he didn't," Dale said. "So we're pursuing legal action."
A Hancock County court originally scheduled a court date for April 9, but has continued the appearance four times—thrice by Fortville Auto Salvage's request and most recently by the county. The court has not rescheduled after canceling the most recent June 11 hearing, records show.
Attempts to reach Frazier and his attorney for comment were unsuccessful.
Please enable JavaScript to view this content.