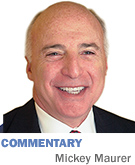 Blessed recently with the electrifying Indianapolis 500-mile race and the resurgence of the Indiana Pacers, our community is bursting with civic pride. I also am proud of the achievements of our athletes, but professional sports is not high on my list of civic pride motivators. Public safety and public education top the list and were the subjects of my two last columns. Over the next few weeks, this space will feature additional motivators.

No. 3 on my list is community leadership. Unlike the first two items, there is plenty we can be proud of here. With few exceptions, Indianapolis' political, philanthropic and volunteer leadership is superb.

Our long succession of outstanding mayors has included Rhodes Scholar and statesman Richard Lugar; Princeton Phi Beta Kappa William Hudnut; and prolific author and lecturer Steve Goldsmith, who is now sharing his considerable expertise at Harvard University.

A real, live rip-roaring Marine, Mayor Greg Ballard, has improved his report card considerably during his second term of office. Ballard's election makes Indianapolis the largest city in the United States with a Republican mayor. He faces challenges in the first two civic pride motivators about which I wrote, public safety and public education. If he can improve on these issues and avoid another scandal like the Indy Land Bank snafu, he will have a shot at a third term despite his probable opponent, shooting star Joe Hogsett. It is a win-win situation for Indianapolis.

The city's downtown skyline is a testimony to opportunity—opportunity to create fortunes. It also bears witness to an environment that fosters magnificent philanthropy. Notable examples include Sidney and Lois Eskenazi Hospital ($40 million), Eugene and Marilyn Glick Eye Institute ($30 million), and IU Simon Cancer Center ($50 million). Eskenazi, Glick and Simon all started their careers with less than a thin dime between them. Each has created enormous wealth and has shared that bounty with our community. And there are many others, including Bob McKinney, who has endowed and lent his name to the law school on the IUPUI campus.

The lifeblood of a business community lies within its entrepreneurs, the creators of jobs and wealth. They are the ones who give it back. Indianapolis can proudly point to new entrepreneurs Bill Oesterle (Angie's List), Scott Dorsey (ExactTarget), Ersal Ozdemir (Keystone Construction) and a host of others poised for great success and undoubtedly an escalating philanthropy.

Chief among our philanthropic foundations is the Lilly Endowment, which last year under the leadership of Chairman Thomas Lofton and President and CEO Clay Robbins, quietly pumped more than $70 million into a variety of local charitable institutions. Indy's debt to this organization is immeasurable.

The boards of our civic and charitable institutions are populated by a host of proud Hoosiers. It is no wonder Indianapolis has been referred to as the "City of Volunteers." Our training grounds—Lacy Leadership and the United Way—are perpetually educating and preparing the next generation waiting to take the baton.

A few weeks ago I wrote a column about the old Turks, city leaders of bygone decades. Venerable volunteers, including David Frick, Mike Alley, Katie Betley and Jim Morris, are gracefully giving way to able enthusiastic leaders John Thompson, Steve Walker, Todd Maurer and many others.

I was honored recently to address the annual meeting of the Johnson County Community Foundation at the Franklin High School Performing Arts Center. The auditorium was filled with high school scholarship winners, their parents and scores of businessmen and professionals who made that possible. Volunteerism, philanthropy and community pride are alive and well on our south side.

Am I bursting with civic pride? Yes, of course. And do I care about our professional sports? I'm a loyal fan. Professional sports support economic development and enrich our culture—important elements of civic pride, but would I rather brag about the quality of leadership in Indianapolis? Think about it.•

__________

Maurer is a shareholder in IBJ Corp., which owns Indianapolis Business Journal. His column appears every other week. To comment on this column, send e-mail to mmaurer@ibj.com.