Mitch Mitchell and his wife, Nickole, took two big chances on downtown in 2010 when they decided to salvage a dilapidated 1800s building and open a custom cake-making business, Sugar Coated Cakery.

Mitch, a Shelbyville native, wasn't alone in his belief that, even in a city better known for its horse-racing track and casino, people still enjoy a small-town atmosphere. Main Street Shelbyville counts 15 businesses that have opened downtown in the past three years, many owned and operated by locals.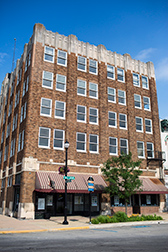 The First Methodist Building has a new owner, who plans a $3.5 million renovation. The art-deco-inspired building from the late 1920s has been vacant several years. (IBJ photo/Aaron P. Bernstein)
"It's just been a couple of years, but I really think we've seen a lot of improvement," he said.

Shelbyville's homegrown revival could gain serious momentum with redevelopment of the vacant First Methodist Building, one of the most prominent buildings on the circle. A California investor bought the five-story building in May and plans a $3.5 million renovation.

Purple Vetch Properties principal Mitch Genser envisions hub-style office space with a market or café on the ground floor and traditional offices in the remaining stories. He also is enthusiastic about turning the basement into a "maker space," where inventors and tinkerers could rent sophisticated equipment like 3D printers and laser cutters.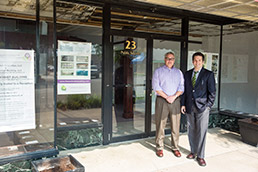 Shelbyville Mayor Tom DeBaun, left, here with Director of Redevelopment Rob Springer, said the city provided $60,000 for architecture and engineering studies of the First Methodist Building. (IBJ photo/Aaron P. Bernstein)
"My fantasy is having our own little maker fair in Shelbyville," Genser said. "The whole idea is to make it homegrown, make it Shelbyville-like."

Mayor Tom DeBaun said he's talking to developers about other opportunities downtown, but he declined to disclose the targeted sites.

"A lot of it has been local investment," DeBaun said of downtown's revitalization so far. "But now we're starting to see investment from outside."

The city began making streetscape improvements under DeBaun's predecessor, Scott Furgeson. And DeBaun, elected in 2011, has his own ideas about how to make downtown more attractive.

"No one has ever emphasized the connectivity to the river," he said, noting that the Big Blue River runs just a quarter-mile north of the circle under North Harrison Street, also known as State Road 9.

The city has commissioned a feasibility study for a three-mile walking and bike path, which would follow the river and connect several city parks and the county fairgrounds. DeBaun said he's also talking to landowners to procure a site near Harrison Street for a trailhead.

An avid cyclist, DeBaun said one of his favorite destinations is Franklin, which built a bike path near downtown along Young's Creek.


Shelbyville is competing with just about every city in Indiana to draw investment to its downtown, but it has a few advantages that might help overcome its largely rural surroundings.

The city receives about $3 million a year in tax revenue from the Indiana Grand casino. It costs the city about $1 million a year to support the casino with police and firefighting resources, DeBaun said, but there is still money left for infrastructure, such as a bike trail.

Shelbyville serves as a hub for auto-parts manufacturers, which have ramped up production and hiring since the end of the recession. That's led to a better-than-average unemployment rate—7.1 percent in May vs. 8.1 percent for Indiana as a whole—and seems to be translating to a strong pace for home sales, DeBaun said.

There was sheer luck behind finding a developer for the First Methodist Building, which has been vacant several years, suffered damage from holes in the roof, and was in foreclosure. City officials were familiar with Genser because last fall his firm bought the Shelby High Apartments.

Genser said he came across the Shelby High Apartments, a 49-unit complex in a 100-year-old school south of downtown, as he searched for property outside of but "within striking distance" of metro areas. He started making improvements to the complex and spending more time in town.

"People got that we were for real and we were going to be here and stick around," Genser said. "That, I believe, made a huge difference in our ability to work on the Methodist Building."

The city provided $60,000 for Purple Vetch's initial architecture and engineering studies, DeBaun said.

Purple Vetch bought the 23,000-square-foot building for $164,000 and plans to start renovations this fall, Genser said. At first, he thought it would be suitable for apartments, but officials at Main Street Shelbyville told him there was strong demand from very small firms for open-floor, collaborative office space.

Built in the late 1920s by the First Methodist Church, the art-deco-inspired building has always been used for retail and offices. Genser expects the "hub" will attract business owners who currently work from home. In addition, he said larger firms have expressed interest in leasing an entire floor.

"There's something very emotional about this building in this community," he said.

Purple Vetch, based in Santa Rosa, Calif., has no track record outside Shelbyville. A longtime real estate investor, Genser said he started the firm to fulfill a personal passion for working with historic buildings and, as he put it, making a difference.

Downtown Shelbyville is the kind of place he's always wanted to work, Genser said.

"It's a heck of a lot easier to make a difference in a community that is smaller and really ripe for that."•