City incentives and a strong apartment market suggest Flaherty & Collins' proposed $81 million, 28-story downtown apartment tower has a better chance of getting built than two previous attempts to redevelop the former site of Market Square Arena.
The apartment-and-retail development would be backed by a combination of public and private funds, with the city agreeing to contribute $17.8 million from a bond sale and land appraised at $5.6 million.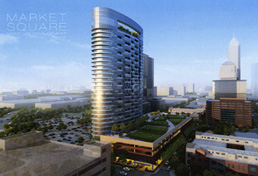 Construction on the 28-story tower is slated to begin next spring. (Flaherty & Collins Properties)
Deputy Mayor for Economic Development Deron Kintner said he believes real estate taxes on the $81 million project, estimated at $1.3 million per year, will be adequate to cover payments on the 25-year bond.
The deal is essentially tax-increment financing, but Kintner said it hasn't yet been decided whether to expand the downtown TIF district to encompass the site. By law, tax revenue can be captured outside a TIF district, as long as it benefits the district, he said.
The project and bond financing will need to be approved by both the Metropolitan Development Commission and City-County Council.  
The remainder would be financed by Flaherty & Collins, which requested the second-lowest amount of public incentives of five development teams vying to develop the nearly two-acre property. (Click here for images and details of the other teams' proposals.)
Flaherty & Collins CEO David Flaherty said the company is ready to line up financing to cover its portion of the project's cost.
"At 28 stories and 300 units, we know there's demand for that," Flaherty said following a Tuesday morning press conference at which city officials announced Flaherty & Collins would redevelop the site. "If you get beyond those things, there's a lot more risk involved."
The incentive package of $23.4 million represents about 28 percent of the project's cost. That's just about what the city spent on incentives for the $100 million Conrad Indianapolis, which opened in 2006.
Kintner said he viewed the deal as revenue-neutral on property taxes and a "good business decision" because, according to a city estimate, it will generate $500,000 a year in new income-tax revenue.
"Our future as a city is going to depend on our ability to attract new residents," Mayor Greg Ballard said at Tuesday's event.
Flaherty & Collins might use the city money on parking, but Kintner said how to allocate the money hasn't been hammered out.
The plan calls for 300 luxury apartments, 500 parking spaces and 43,600 square feet of ground-floor retail space. It would feature a rooftop pool, a green sky window on the tower roof, and apartments with floor-to-ceiling windows and panoramic views of the city renting for between $1,300 and $2,400 per month.
With an average unit size of 900 square feet, apartments will rent for at least $1.44 per square foot, higher than the downtown average of $1.25, an all-time high for downtown, said Sherry Seiwert, president of Indianapolis Downtown Inc.
Demand for downtown living is still high, despite an abundance of apartment projects under construction or in the works. Flaherty & Collins also is building the 500-unit Axis at Block 400, adjacent to its Cosmopolitan on the Canal project.
Seiwert said downtown's occupancy rate is 97 percent, with more than 60 percent of new downtown residents moving from either outside the state or county.
"For years we've had dollars leaving the county, and it's high time we reversed that," she said at the announcement.
Previous attempts to redevelop the property failed in 2004 and 2007, under former Mayor Bart Peterson.
The first attempt, which featured a proposal calling for condominiums instead of apartments, failed because the condo market wasn't robust enough to support pre-sales. The second fell victim to a slumping economy.
City officials decided to offer only the northern half of the arena site this time around, in hopes a first phase would help drive demand for a second one.
The proposals were reviewed by an advisory committee made up of Kintner, Director of Metropolitan Development Adam Thies, Indianapolis Downtown Inc. President Seiwert, City-County Councilor Vop Osili, who is an architect and represents that portion of downtown, and Tom McGowan, president of Kite Realty Group.
The team of Kite and Buckingham Cos. was one of the initial six bidders but pulled out of the deal, Kintner said.
Besides Flaherty & Collins, teams submitting bids were: Keystone Group and Cleveland-based Forest City Enterprises Inc.; Browning Investments and The Whitsett Group; Milhaus Development and REI Real Estate Services LLC; and Barrett & Stokely Inc. and Ryan Companies US Inc.
The Keystone/Forest City proposal called for a tower up to 52-stories tall. A scaled-down, 35-story version of the tower would have cost $118 million to build and required a city subsidy of about $19 million.
Kintner said they asked Keystone to scale down from 52 to 35 stories.
"We felt, and the advisory committee confirmed, that was too tall for this area," he said.
He also worried that having 450 apartments in one building would concentrate available property too much in one area, and that a project of that size might jeopardize plans to develop the remaining portion of the site.
Kintner said 250 to 300 apartments seemed most likely to be financed and absorbed the downtown market.
Flaherty & Collins' architect is the Chicago office of Baltimore-based RTKL, which has designed other buildings for the company. David Flaherty described the design as a "bold statement about Indianapolis being a progressive, forward thinking city."
The developer is slated to break ground next spring with completion by late 2015.
 
Please enable JavaScript to view this content.