Visit Indy isn't looking far to boost business for Indianapolis hotels and other attractions.
Capitalizing on the rising tendency of people to look for excursions closer to home—commonly called staycations—the city's tourism marketing arm launched a campaign last fall to entice in-state residents to spend their tourism dollars here.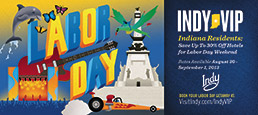 After promoting Indianapolis to in-state prospects for Father's Day and the Fourth of July, Visit Indy is turning its attention to attracting people for Labor Day.
(Photo Courtesy of Visit Indy)
Visit Indy tested the Indy VIP program from Thanksgiving to New Year's Day and expanded it this summer. Fueled by an $80,000 marketing spend, Visit Indy officials said the program rang up $425,000 in tourism spending last year with more expected this year.
"We're targeting this campaign during times when the city has attractions in place and activities going on, but [also] during times when there isn't a lot of convention activity and there are hotel vacancies," said Chris Gahl, Visit Indy vice president of marketing. "This industry is one of peaks and valleys, and we're targeting the valleys."
Armed with the positive feedback from last year's test, Visit Indy expanded the campaign this summer in connection with Father's Day, the Fourth of July and Labor Day.
Visit Indy also plans to target the Thanksgiving-through-New-Year's-Day stretch again.
Visit Indy will spend $200,000 to market Indy VIP this year, and Gahl said the agency projects the campaign will generate an economic impact in excess of $600,000.
"That's a significant impact," Gahl said, "especially at a time when the economy is still slowing tourism spending somewhat."
The money for the new program will come out of Visit Indy's $13.1 million operating budget, he said. In addition to the $200,000 spent marketing Indy VIP, Visit Indy will spend $1 million marketing summer attractions to out-of-state residents and $250,000 to corporate meeting and planning professionals.
The primary Indy VIP target markets are Indianapolis, Fort Wayne, Evansville, South Bend and Terre Haute.
A surprising number of people from around Marion County want to stay downtown and enjoy the activities there or in other parts of the city, Gahl said. Visitors from Indianapolis and Fort Wayne are generating the most traffic from the campaign.
The campaign includes online advertising—especially on local TV news websites and through Google Ad Words, direct postal mail, and email and statewide enter-to-win promotions. Much of the marketing campaign is aimed at driving traffic to a website designed for the Indy VIP initiative, which lists hotel and other discounts.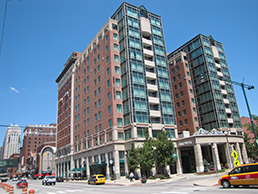 The Omni Severin Hotel is offering rooms during certain times at prices up to 60 percent off. (IBJ Photo/ Norm Heikens)
As part of the programs, more than 25 area hotels—including the vast majority of downtown hotels—have agreed to give Indiana residents 25-percent to 60-percent discounts on regular room rates plus in some cases free meals, parking and wireless access, Gahl said.
Officials for the Omni Severin Hotel at 40 W. Jackson Place were so excited to be part of the program that they offer rooms during the specified times at up to 60 percent off, plus free parking and breakfast.
"Lots of residents around the state and right in this area think downtown is too busy and hectic," said Stan Jacobs, director of sales and marketing for the 424-room Omni.
During non-peak times, Jacobs said, occupancy—even on weekends—can run just above 60 percent.
"There's a lot of incentive for hotels to be involved in this program," Jacobs said. "The shelf life of a hotel room is 24 hours. It's more perishable than any fruit or vegetable."
As part of the deal, the Omni is offering in-state residents a two-person room for one night, plus parking and breakfast, for $159. During the July 4 weekend, Jacob said, the Indy VIP program helped pump the Omni's occupancy above 80 percent.
"No, it's not as profitable as our regular room rate, but you're already incurring the costs of operating the hotel, anyway, so something is often better than nothing," Jacobs said.
Hotels aren't the only ones getting a boost from the program. The Children's Museum of Indianapolis officials are seeing increased visitors from almost every county outside Marion County this year, with visitors from some outlying counties up as much as 50 percent.
Visit Indy and area hoteliers are working with local attractions to offer more discounted package deals, particularly with the Children's Museum and the Indianapolis Zoo.
Other big draws for people taking advantage of Indy VIP are downtown restaurants and shopping, especially Circle Centre mall, Gahl said.
"The program is turning out to be a great marketing tool, not only for hotels, but the entire downtown," he said. "People come downtown, experience what we have to offer and they spread the word among their friends and associates. We also find these people can become repeat customers themselves."
Liping Cai, a professor in Purdue University's School of Hospitality Tourism and Management, said there are few similar programs in the country. Visit Indy's Gahl said a couple of cities in Florida are the only others he knows of with a program like this.
"It may be rare to see a convention and visitors bureau targeting its own residents, but it's smart business," Cai said. "It's a great way to get people to sample your product. It's also another way for cities like Indianapolis to compete with cities in neighboring states. Why let those dollars go to Chicago or Cincinnati if hotels and attractions in Indianapolis can somehow capture them?"
With high gas prices and a still-unsteady economy stagnating many breadwinners' pay, Cai said, "This is an especially good time for such a program."
Most of the people taking advantage of the program are within a three-hour drive of the city, downtown hoteliers said.
"Right now, we're getting a lot of adults between 25 and 50 years old, a lot of young families with children, too," Jacobs said. "This is a potentially huge market for us."
Jacobs said he'd like to see the campaign target more young couples.
"We think downtown has a lot of attractions for younger adults and couples, and that could be a big boost for the area," Jacobs said.
According to a recent study by Rockport Analytics, 22 million people visit Indianapolis annually, generating $4 billion in economic impact and supporting 75,000 full-time employment positions.•
Please enable JavaScript to view this content.