A pair of local real estate firms has teamed up for the first time, acquiring a 105,000-square-foot office building out of foreclosure near Carmel's North Meridian Street corridor.

REI Real Estate Services LLC and Perennial Investments say that together they'll invest about $1 million in hopes of getting the building at 550 Congressional Blvd. fully leased.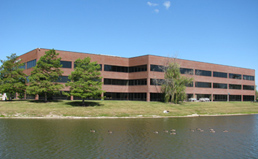 The new owners of 550 Congressional Blvd. plan to invest $1 million to make it more attractive to potential tenants and increase occupancy. (IBJ Photo)
Both firms are led by industry veterans—Mike Wells at REI and Gus Miller at Perennial—who see potential in the three-story structure that suffers a daunting, 60-percent vacancy rate.

The parties would not divulge terms of the transaction.

"When Gus approached me with the information that it would be auctioned off, I took a look at it," Wells said. "It's a good solid building; it's right in our neighborhood."

The building is near North Pennsylvania Street and East 116th Street within Meridian Technology Center, the same office park where REI has its headquarters.

Wells' familiarity with the building predates REI's time there. When he was working for Browning Investments in the 1980s, the developer built it for Chicago insurer CNA. It's changed hands a few times through the years and once was owned and occupied by Conseco Inc, now CNO Financial Group, which has its headquarters nearby.
St. Louis-based DHR International Inc., an executive recruiting firm that last owned the building, let it fall into foreclosure. Tenants include Peoples Bank, Quinlan Marketing Communications and Get Real Sport Sales.

Though the building's occupancy has fallen, it still has potential, said Dan Richardson, senior vice president for investment services at the CBRE brokerage. The brick exterior and large, rectangular floor plate are among the features that increase its attractiveness, he said.

"It's a good configuration and a good size available in a market that's continuing to tighten" Richardson said.
Transactions totaling more than 300,000 square feet have been consummated in the North Meridian corridor in recent months.

Businesses locating in the area include trucking and auto fleet insurer Baldwin & Lyons, which is moving from downtown, and Geico, which is launching an insurance service center. Baldwin is buying 111 Congressional Blvd., a 178,963-square-foot building, and Geico is leasing 109,000 square feet at 101 W. 103rd St.

In addition, San Diego-based wellness provider American Specialty Health Inc. plans to open an office in Carmel by March. Contractors have started renovating about 53,000 square feet of space in the four-story building at 12800 Hamilton Crossing Blvd., northwest of the intersection of Meridian and Carmel Drive.

The tightening of the Carmel office market bodes well for the building that REI and Perennial purchased, Miller of Perennial said.

"We have a large block of contiguous space," he said. "For a user that's looking for that kind of campus setting, that's where we think we have something to offer."

Meridian Corporate Plaza, just north of Interstate 465 between Meridian Street and College Avenue, is on the block and totals 329,546 square feet. But it's 92-percent leased.

REI Investments will manage 550 Congressional.

"It's just been ignored by its previous owners," Wells said. "It's nothing that a good makeover can't cure in a very short time."

REI also owns Meridian Crossing at 116th and Meridian streets; 11711 N. Pennsylvania, where it has its headquarters; 11911 N. Pennsylvania; and 701 and 801 Congressional.
Matt Langfeldt and Rich Forslund of Summit Realty Group are the building's listing agents.