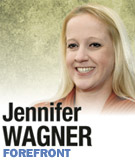 I never imagined I'd be writing this column, and I want to preface it with a blanket statement that will never change: I'm a proud Hoosier, and I love my hometown of Indianapolis.
That said, I've become a big proponent of people leaving Indiana to explore career opportunities elsewhere.
Here's why: I think many of them will come back, and they'll bring amazing experiences and ideas with them when they do.
Almost a decade ago, in what could be described as a contentious conversation, my now-sister-in-law told me I hadn't really seen the world because I'd never lived anywhere other than Indiana.
Not true, I countered, listing my experience living abroad in college and dozens of places I'd visited.
No, she said, not college or travel. Actually living as a grown-up in a place other than your home state.
As you can imagine, I took it personally, thought she was insulting Hoosiers. She might have been, but she also was right.
In early 2009, I was asked to move to Washington, D.C., to work for President Obama's administration. I wasn't looking for a job; the opportunity found me. And so my husband and I packed up all the belongings that would fit in 1,000 square feet, plus a small child, and make the trek.
Two years later, we came home, in large part because we knew we wanted to have another child, and we wanted a support network of family and friends nearby.
Those two years changed everything about our lives. (My husband also studied abroad in college and went to law school in D.C. but moved back to Indiana after graduation.)
We drove away from Washington with two things: validation and appreciation.
I've written before that our city and state sometimes suffer from a crisis of self-confidence. We're so darn nice, which means we don't reflexively tell people we're the best. We also don't like telling people who might not be the best that they could do better.
Go to a place like Washington or New York or Los Angeles or Chicago, and you'll find out pretty quickly if you've got what it takes to cut the mustard. There are so many people doing what you do that you'll be pushed harder to achieve more. Success gives you a strong sense of professional validation.
When you move hundreds of miles away from where you've always lived, you also realize how much you left behind.
Living in small quarters with small children provides great fodder for a sitcom. The first time you pay $8 for a beer makes you think twice about the value of hops and water. And talking by Skype, as it turns out, isn't as good as an impromptu pizza party on Friday night.
Over the past few months, I've had a number of friends and colleagues, primarily from the political world, ask me for advice on whether they should move out of state for new jobs.
Absolutely, I tell them. Go. Think of it like a professional Rumspringa. Embrace new challenges, meet new people, learn new things.
Whether they move back or not, I believe they'll find the same truths we did. And if they do move back, our city and state will be stronger than had they never left.•
__________
Wagner is a lifelong Indianapolis resident and founding principal of Mass Ave Public Relations, a local public relations and publicity firm. Send comments on this column to ibjedit@ibj.com.
Please enable JavaScript to view this content.