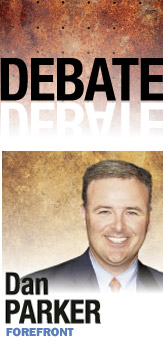 Question: Which presidential candidate will Hoosiers be most likely to support in the 2016 primary election?
Answer: If you're a Democrat looking ahead to 2016, there's only one name anyone wants to talk about: Hillary Clinton.
Clinton already has amassed hundreds of thousands of online supporters who are "Ready for Hillary," and it's clear Democrats nationwide are eager to embrace her in 2016.
She'd also be the clear front-runner in Indiana, though we have a bench of qualified Democratic candidates that includes Vice President Biden, U.S. Sen. Kirsten Gillibrand of New York and Maryland Gov. Martin O'Malley, whose family has roots in Allen County.
In my eight years as Indiana Democratic Party chairman, I learned a lot about Hoosier voters—and the candidates who impress them.
Hoosiers value experience, intelligence, loyalty and a genuine personality. They want honest candidates who engage in a direct conversation about our successes and our challenges.
Clinton embodies all those traits.
I have no doubt she would be the best candidate to maintain our diplomatic place in the world, continue our strong economic recovery, and pursue a balanced approach to fiscal discipline and responsibility.
I know she'd do these things because she's already done them—as first lady, U.S. senator and secretary of state.
Moreover, she would be an outward and visible sign of the American ideal that all men and women are created equal. As the father of a daughter in middle school, it's critical to me that she grows up knowing that opportunity knows no boundaries in these United States.
It's important to note that Clinton already has won statewide in Indiana.
In the 2008 primary, she defeated now-President Obama with almost 650,000 votes despite being outspent and starting the race behind. She traveled to all corners of our state and knows the fabric of the Hoosier state.
I had the opportunity to travel with her on many occasions during that campaign, and I can speak not just to her tough, smart approach to every situation, but also to her engaging warmth as a candidate and a person.
Clinton's first Indiana rally in 2008 was held in the Wigwam in Anderson, where she listened to Hoosier workers.
I also fondly recall an event at Ben Davis High School in Indianapolis where my son, who was 8, met her for the first time. I watched his face light up as she asked about the sports he played and his friends at school.
In 2016, he'll be eligible to cast his first presidential ballot. I hope he has the chance to vote for Hillary Clinton.
With the election of U.S. Sen. Joe Donnelly last year, Hoosier voters made it clear they want public servants who embrace a common sense agenda and will put an end to the partisan wars that have dominated Washington, crippling our government and its ability to help middle class Americans.
Hillary Clinton is that same brand of common-sense Democrat who solves tough problems, listens to all sides of an issue, and can navigate the most difficult situations with compassion and experience.
I don't know about you, but I'm more than ready for Hillary, and I believe Indiana voters are, too.
And, come January 2017, I hope we will be saying for the first time, "Madam President."•
__________
Parker is principal of 1816 Consulting Group. He is a former Indiana Democratic Party chairman and was state director for former U.S. Sen. Evan Bayh. Send comments on this column to ibjedit@ibj.com.
Please enable JavaScript to view this content.