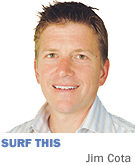 If you work at your desk, chances are good that you have several different things open on your computer competing for attention.
These might include email, a Web browser, your music player, etc., each of which can be either important or inconsequential, depending on the time of day and the immediate task at hand.
Then there are the things you need to keep an eye on—but not both eyes. In my world, that might be my email inbox, a report on how the servers are performing, or live statistics on sales conversions for key customers.
An ideal solution would be a customizable dashboard that could aggregate data from a variety of sources and display what you need quickly and (for the designer in all of us) beautifully.
You might have heard that a little company called Apple came along and built this amazing thing called the iPad. Suddenly, we had this beautiful device sitting on our desk, a second screen, perfectly suited for displaying the kind of information I'm talking about. But hardware needs software. Enter a software engineering firm called Panic that recently created Status Board ($10 in the iTunes store).
When you launch Status Board, the app walks you through a setup process asking a few simple questions. It provides prompts like, "For the next few pages, we'll ask you a few questions so that our team can build the perfect starter board for you." 
I love illusions like this, providing the impression that there are a bevy of programmers back in the office patiently awaiting your responses so they can get to work coding your specific solution. The reality, of course, is that all the work has already been done. In other words, your final solution will be great, but probably exactly the same as solutions built for other people.
Which, for the majority of us, is perfectly fine.
The starter board includes things like a clock, the weather, your Twitter feed, your events calendar (including birthdays), email account, RSS feeds, etc. When you drop each of these modules onto your screen, they expand to give you a variety of customization and display choices.
For example, the email module will allow you to show your inbox or how many messages you get per day or which days see the most email (among others). Likewise, the calendar module allows you to select which calendars to display and if you'd like it in a 'ticker' or list form. Each module can be added multiple times, with variations to the display, to suit a variety of purposes. For example, you could show the current weather conditions in multiple locations.
The Twitter integration also provides a wide variety of modes, including showing your feed, your tweets, mentions or a specific list. The overall effect is something that is readily understandable and imminently communicative.
By using one of the pro features, you either can integrate a module built by someone else or craft your own. Do you sell things online? Integrate Google Analytics to see what's happening on your site at any time. Run a sales team? Integrate current sales and compare them to your forecast in real time.
Own a retail store? Get sales figures directly from the cash register. Or maybe you have a nanny watching your kids? Display the most recent photo from the nanny cam. With a little programming skill, the sky's the limit to what you can access and have readily available.
One last thing: Now that you have your dashboard, you might find you'd like it to display on a larger screen. So Panic built in HDTV support so you can easily display your Status Board on any flat-screen TV.•
__________
Cota is president and co-founder of Rare Bird Inc., a marketing communications firm specializing in Internet application development. His column appears monthly. He can be reached at jim@rarebirdinc.com.
Please enable JavaScript to view this content.