Foreclosure proceedings for three buildings in Allison Pointe Park on the city's northeast side represent the latest twist in a lengthy saga involving the buildings and their complicated ownership structure.
Minneapolis-based U.S. Bank filed to foreclose on the buildings in Marion Superior Court late last month and is seeking a court-appointed receiver to manage them during the foreclosure process.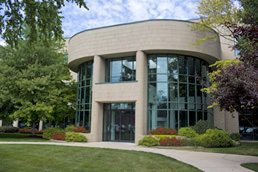 The Allison Pointe buildings were wrapped up in a complicated master-lease arrangement that.ended with fraud charges from federal prosecutors. (IBJ Photo)
The owners of the buildings, about three dozen entities and individuals, owe $16.6 million, or the entire balance of the loan they received in 2006 to purchase the properties, according to court documents.
The buildings have an ownership structure known as tenants in common, where ownership is divided up among multiple parties. A 2002 change in tax law made those investments particularly attractive in commercial transactions, particularly during the real estate boom.
The complicated deals, which can involve up to 35 investors each, often are used as part of a 1031 exchange. Such exchanges, named for a section of the Internal Revenue Service code, allow investors in revenue-producing real estate to defer taxes if they immediately apply sales proceeds into another property.
But investors in tenants-in-common properties often overpaid for their ownership interests, blinded by their desire to shelter taxable income from the IRS, said Ross Reller, director of land services for Colliers International's Indiana region.
"You get people motivated by greed who don't know each other," he said. "They're there simply because their accountant or lawyer was helping them shelter taxable gains."
The three buildings within Allison Pointe, which is at Allisonville Road and Interstate 465, range from 51,000 square feet to 88,000 square feet and were built in the mid-1980s. They are 47-percent to 92-percent occupied, according to Cassidy Turley statistics.
Troubles with the buildings' ownership surfaced in 2008, when Idaho real estate firm DBSI filed bankruptcy, IBJ reported then. The firm had paid $27 million two years earlier for the three buildings and sold fractional ownership of the office complex to 32 investors scattered across the country.
DBSI signed a master-lease that promised the investors an annual return that would rise each year. The company, in turn, agreed to sublease and manage the properties. Owners of Allison Pointe include investors in California, Utah, Missouri, Hawaii, Minnesota and Nevada, court records show.
Darrin Boyd, a broker at Cassidy Turley, recalled that he and broker Dave Moore were verbally hired by DBSI to list the buildings. But they turned down the opportunity after it became apparent that DBSI operated unlike other building owners, Boyd said.
"It was the only time that I passed on a piece of business that I was awarded," he said. "They seemed abnormal as an asset manager and an owner, how they wanted to compensate you and how their process worked."
Even so, Boyd said Allison Pointe is an attractive office park in a good location, now that the new interchange is finished at Interstate 465 and Allisonville Road.
The Allison Pointe deal was part of a nationwide buying binge for DBSI, which amassed a 250-property portfolio worth $2 billion and a staff of hundreds.
But the master leases became unprofitable when rents from tenants failed to generate enough revenue to pay expenses and sustain the guaranteed payments to investors, federal prosecutors allege in an April indictment of DBSI executives.
The four men were indicted in Idaho on charges of conspiracy to commit securities fraud, wire fraud, mail fraud, and interstate transportation of stolen property. They have pleaded not guilty.
Mark Maddox, an Indianapolis securities lawyer at Maddox Hargett & Caruso and former Indiana securities commissioner, has represented clients who feel they got cheated in tenants-in-common ownerships.
"You had too many investors paying too much money at the front end, because the appraisals weren't accurate," he said.
In Indianapolis, DBSI also owned an 83,653-square-foot office building at 6666 E. 75th St. near Binford Boulevard and Interstate 465, known as Heritage Park II. The lender filed to foreclose on the building in March 2011.
 
Please enable JavaScript to view this content.