The upcoming MotoGP motorcycle race could be the last at the Indianapolis Motor Speedway, as NASCAR officials lobby instead for a stand-alone race for a newly merged sports-car series.
NASCAR executive Jim France this summer approached Speedway officials about holding its sports-car event currently staged the same weekend as the Brickyard 400 as a stand-alone event, motorsports sources said.

Miles
Losing the MotoGP would be a big blow to the local economy, said Chris Gahl, spokesman for Visit Indy, the city's tourism arm.
"That event brings in an international and white-collar crowd," Gahl said, a crowd that spends easily in excess of $10 million.
But hosting a sports-car event could wind up a bigger coup for the city and Speedway than the marginally profitable MotoGP race, given that NASCAR recently rolled the American Le Mans Series into its Grand Am Series to form the United Sports Car Series that will kick off in 2014.
"With the merger, this series is one on the rise. It has really good, close racing, cool cars and heavy involvement from [car] manufacturers," said Zak Brown, founder of Just Marketing International, a Zionsville-based motorsports marketing firm that represents a number of the world's biggest motorsports sponsors. "You want to talk about a sought-after demographic—this series will have it."
High-end manufacturers such as Porsche, Ferrari, BMW and Mazda are expected to be involved in the merged series, NASCAR officials said, while the likes of Audi and Aston Martin are considering joining.
No consensus
Speedway and NASCAR officials want more of an endurance format, where sports cars race four to six hours or more at the IMS, but there's no consensus on how to make that happen. That move would be difficult if the race maintains its customary late-afternoon start on the Friday before the Sunday the Brickyard 400 is run.
Meanwhile, there appear to be opposing camps within the Speedway on whether to keep the motorcycle race.
While officials for Speedway parent Hulman & Co. have previously said the MotoGP event makes money, IMS President Doug Boles recently declined to comment on the event's financial status.
Speedway officials are not eager to tip their hand on MotoGP's future beyond this year, because knowing it is going away could put NASCAR in a better bargaining position.
Boles, however, told IBJ he hopes to announce a decision by the time the green flag drops on this year's race Aug. 18.
Mark Miles, CEO of Hulman & Co., has said he'll evaluate MotoGP's future shortly after this year's event concludes. While the IMS has a contract with MotoGP rights-holder Spain-based Dorna Sports through 2014, Speedway officials have a small window to opt out of the contract after this year's race.
Ticket sales down
Pre-race ticket sales don't bode well for the event's future. Attendance has been in decline, and Boles said "ticket sales are down fractionally this year." But he added that good weather could turn that around.
"We depend more on race day walk-up, or ride-up, traffic for this race than any other event we have," Boles said. "If the weather is good, people will ride in from up to several hours away for the race."
All indications are that Miles is ready to end the 6-year-old event. Several local business owners that have dealings with the track and MotoGP race said they've been told by Speedway officials to be ready for a change by late August.
Boles, though, is singing a different tune.
"We want to find a way to keep motorcycle racing at the venue," said Boles, who recently sat down with Dorna officials at their race in Laguna Seca, Calif.
But he also said, "We would love to have [United Sports Car] racing at the Indianapolis Motor Speedway." Having both MotoGP and sports cars might not be possible.
"If they're faced with an either/or scenario, it could be a very difficult decision," said Tim Frost, a Chicago-based motorsports business consultant.
Dorna usually announces its schedule for the upcoming MotoGP season in September or October. NASCAR plans to announce its 2014 United Sports Car Series schedule in October.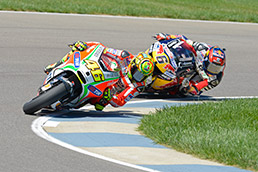 Attendance at the MotoGP race at Indianapolis has declined from 75,000 in 2008 to about 60,000 last year. (Photo courtesy of the Indianapolis Motor Speedway)
NASCAR officials declined to comment on the possibility of the Grand Am race's changing dates at the IMS.
"While Indianapolis remains a solid candidate to be part of the inaugural United Sports Car Racing season in 2014, the schedule is a work in progress," said NASCAR spokesman David Higdon.
MotoGP officials did not return calls seeking comment.
Not adding up
The Grand Am-American Le Mans merger means some tracks currently involved in sports car racing will be left out in the cold, and NASCAR could depart altogether if IMS doesn't seriously consider moving the event.
This year, the two sports-car series race at 17 tracks. Next year, the merged series will race at 12 tracks.
France told Speedway officials the Grand Am Series is being hindered not only by its Friday time slot, but also because it has a very different audience from the NASCAR Sprint Cup and Nationwide series run during the Brickyard 400 weekend.
"There is certainly some disconnect in the fan bases," Frost said. "With NASCAR putting its muscle behind it, I think Grand Am could make a go of it alone in Indy."
MotoGP came to Indianapolis in 2008. It was championed by then-track President Joie Chitwood. Miles, who was hired in December, recently conceded the margins on the event are perilously low.
In 2008, attendance was well over 75,000 for Sunday's main event, with the three-day total setting the high-water mark at 170,000, according to MotoGP officials. But attendance has slipped in most subsequent years, with last year's race at about 60,000 and for the three-day weekend at fewer than 150,000.
One of the big problems with the MotoGP race, Frost said, was the start of a third such U.S. race this year—at the new Circuit of the Americas in Austin, Texas.
"What that does is essentially take a big slice out of the money spent by manufacturers like Ducati, Honda and Suzuki in Indianapolis," Frost said.
Each of the major motorcycle companies spends about $1 million in corporate hospitality and marketing at the U.S. MotoGP events. Before the start of the Austin race, that money was divided between races in Indianapolis and at Laguna Seca.
"Now, that same pot of money is split three ways," Frost said.
Including a sanctioning fee that runs between $2 million and $3.5 million for the MotoGP race, motorsports business experts said the race costs the IMS $5 million to operate.
With little television revenue included in its MotoGP licensing agreement, IMS officials are forced to try to recoup their investment from ticket, hospitality, parking, concession and other miscellaneous revenue.
The sanctioning fee required by NASCAR for a sports car race would be considerably less. Experts peg it at about $500,000. All in all, Speedway officials could host a United Sports Car race for a little more than $1 million. While they'd likely get no TV money from the deal, Brown thinks the event could turn a tidy profit.
If the Speedway could sell 60,000 tickets for an average price of $50, that would mean $3 million in ticket revenue alone, and probably equate to another $1 million in parking and concession revenue, Frost said.
"Do the math," Brown said. "You can see this has the potential to be a solid money-maker for the track."•
 
Please enable JavaScript to view this content.