Even many people outside the public relations/branding/advertising industry have heard of Myra Borshoff Cook.
When an NFL team owner admitted to misusing prescription drugs years ago, the Grand Dame of Damage Control swooped in like an action figure to defend him.
Or when a company fought a legal battle over its stage collapsing and killing concert-goers, the Queen of Crisis Management set the record straight.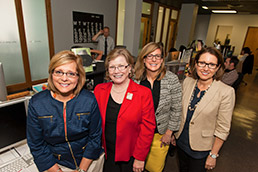 Borshoff's team of all-female principals includes Karen Alter, Myra Borshoff Cook, Jennifer Young Dzwonar and Susan F. Matthews. (IBJ photo/Eric Learned)
Not so visible is the metamorphosis of her 29-year-old firm, known as Borshoff, into the largest advertising agency in the city, with 53 employees and billings topping $42 million.
Many also don't realize that founding principal Cook, 65, and senior principal Erik Johnson, 62, sold their ownership interest in recent years to three top executives at the firm, all of them women.
When Johnson sold his stake—late last year—the firm became owned by principals Susan Matthews, Karen Alter and Jennifer Young Dzwonar. Cook and Johnson now work variable hours, on specific client projects.
"I really credit them for having a succession plan in place," said Vanessa Stiles, president of Victory Sun Inc., an Indianapolis-based advertising/PR firm specializing in events, and president-elect of the Public Relations Society of America Hoosier Chapter.
"I guess I don't see the gender side [of this]. I see the succession plan."
That women own a major advertising/PR firm and nobody bats an eye is progress.
Years ago, men dominated the ownership ranks of this industry while "at the 'doer' level, the industry was mostly women," Cook said.
"I don't think [ownership] is as uncommon now as it was in the 1970s," said Carol Clinkenbeard of IPREX, a worldwide consortium of communications firms to which Borshoff belongs.
She started rattling off women-owned member firms from Brazil to Estonia, although Clinkenbeard said she's of a "certain age" to remember the industry when it resembled the male-dominated world of the television series "Mad Men."
"They would say, 'Hey, call my girl.' I remember those days," Clinkenbeard said.
Talent pool
So does Cook.
In the 1970s, she was working at a bank that was overwhelmingly male-dominated. "It was painful at times, but it was really helpful to work with men—to be forceful but not intimidating."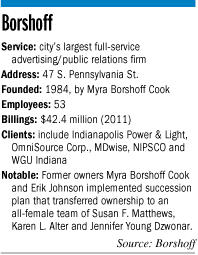 In the early 1980s, Cook left the bank to work for a small firm started by a friend. But seven months later, he told her he'd taken a job with one of their clients. Never aspiring to start her own firm, she did so nevertheless.
"All of this has just been a big surprise to me," she said. "I've been very fortunate to bring in and keep talented people" over the years.
Her first hire was Susan Matthews, the former director of publications at Tulane University and now Borshoff's managing principal.
Dzwonar joined the firm in 1994 and became a principal in 2007, having worked at other agencies that did work in government PR. That year, Alter joined Borshoff after working for a health care firm and as marketing manager at Indiana University Health.
"The value of different kinds of experience has helped us develop a very solid organization," Cook said.
Stability is key
She said she hasn't run into quite the issue with egos among women in upper management as she has with men. One needs more of an "ego-less'' sort of environment to succeed, she reckons.
"In my experience, it's easier for women [to do that] than it is for men," she added.
It matters because "it's a highly collaborative type of work that we do," Dzwonar said.
For the love of baseball, Old Spice and all things manly—surely the firm's longtime principal Johnson would disagree with this?
Johnson said he doesn't like to speak in generalities, but that he finds women in the industry often more organized and empathetic.
Both traits are "good for managing lots of people in an agency and good for understanding a client," Johnson opined.
The bottom line is that he and Cook passed the ownership baton to insiders, he said, which should help preserve operating philosophies and ensure some level of stability.
"It opens the door to longevity. The firm is growing from within versus being bought," Johnson said. "The ability to share ownership—that's a rarity."
Much of that growth has come in the advertising part of the business. Many communications firms have taken on more advertising work over the last decade as the result of economic uncertainty and because email and the Internet are now part of most marketing plans.
"We are really balanced now between public relations and advertising," Matthews said.
Evolving business
That switch in recent years wasn't easy for a number of traditional PR firms, including Borshoff.
"I think everyone around the table can remember we had a hard time recruiting advertising people," Borshoff said, with heads nodding.
"Recently, we've been able to attract some top advertising people," Alter said.
"We received 715 resumes last year," added Matthews, who points to the firm's rankings on lists of most-worker-friendly employers.
One of Borshoff's family-friendly programs is Bring Baby to Work, which aims to accommodate new parents.
"We'll have our 14th baby in January," Matthews said.
The firm also is big on assigning mentors to new employees, who, after their first 90 days, even get a partial peek at the firms' financials.
Among clients are Indianapolis Power & Light, WGU Indiana and, more recently, Northern Indiana Public Service Co.
Borshoff is about to launch an ad campaign for MDwise, an Indiana-based Medicaid health plan, aimed at getting people to enroll amid the rollout of the federal Affordable Care Act, best known as Obamacare.
As for the firm's namesake, Cook is not working as much as in the past. And she has passed along her expertise in crisis management to colleagues, who have created a team that works with clients on being proactive before problems flare up.
Even so, don't look for anyone to dethrone her as Queen of Crisis Management anytime soon.
"I [still] find it very satisfying," she said. "People are willing to accept someone's failing, if they acknowledge it."•
 
Please enable JavaScript to view this content.