Riding and imbibing on a so-called pedal pub seemed like the perfect way for employees of the local Fuzion marketing firm to unwind outside the office.
"You're working as a team because everyone has to pedal equally," said Account Manager Amanda Paddock, after an evening tour with her colleagues. "It was so fun."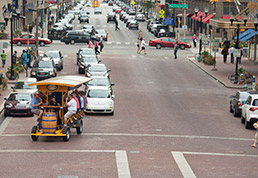 The Handle Bar can seat up to 16, including 10 pedalers and an employee who does the designated driving. (IBJ photo/Aaron P. Bernstein)
As Paddock and her crew dismounted the 16-seat quadracycle with the remnants of their Coors Light stock, another group waited with coolers in hand to amble on down the road for the next two-hour tour.
Meanwhile, taxicabs pulled up and whisked the Fuzion folks away.
"That's the best way to do it," said Steve Lindsay, 26, co-owner of The Handle Bar, referring to the risks of drinking and driving.
Booze and bicycling—in the most unconventional sense—is the thrust behind The Handle Bar, a local startup operated by Lindsay and his brother Brian.
In Indianapolis, it's the latest venture to provide alcohol-related excursions, following in the footsteps of others such as Indy Brew Bus and Indy Brewery Tours, which specifically cater to the craft-beer crowd.
Indy Brew Bus, for instance, takes riders to local microbreweries such as Sun King, Flat 12 and Fountain Square Brewery, where they can sample the suds or take a growler to go.
Megan Bulla, communications manager for the Indy 500 Festival, launched Indy Brew Bus with her husband, Andy, a physician's assistant, in March 2012. Business has been so good that they've expanded to two buses, each carrying 14 passengers.
Engineers by trade, the Lindsay brothers launched their four-wheel, 16-seat pedal pub over St. Patrick's Day weekend in March and since have added another, enabling them to give two downtown tours simultaneously.
The Handle Bar typically books 10 to 15 tours a week, shoving off for the streets of downtown from a warehouse on Virginia Avenue.
The bike-like devices generally resemble an old-fashioned trolley or train car, with the passengers, who sit around a bar, facing one another. As many as 16 people can fit on the quadracycles, 10 of whom provide the power by peddling. An employed driver/bartender steers the contraption.
Most groups rent them for bachelor or bachelorette parties, birthdays and corporate events. The pedal pubs operate seven days a week, but only in the evenings on weekdays. Cost for the two-hour tours is $300 Sunday through Thursday and $400 Friday and Saturday.
Steve Lindsay, an engineer at Rolls Royce Corp., and Brian Lindsay, 32, an engineer for Toyota Corp. in Ann Arbor Mich., are partners in the business, though Steve is more actively involved. He and five others, either friends or co-workers, give the tours.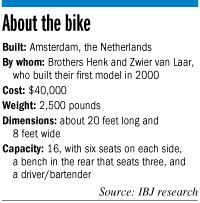 Steve Lindsay declined to reveal what he expects The Handle Bar to achieve in revenue this year, but said the business is exceeding expectations.
Profit will be invested back into the company, with plans to buy a third bike next year and to potentially expand into other cities, he said. No matter how big the business might become, the Lindsays have no plans to quit their day jobs.
The bikes weigh 2,500 pounds, measure 20 feet long and 8 feet wide, and run $40,000 each. That and the $7,000 in annual insurance costs are the Lindsays' biggest expenses.
Rides through downtown are enough to generate most of the business, save for some social-media efforts.
"It's 100 percent its own advertising every time we take it out," Steve Lindsay said.
Lindsay, whose job brought him to Indianapolis 2-1/2 years ago, first saw a pedal pub in Milwaukee.
The bicycle watering holes have popped up in dozens of cities, prompting tricky regulatory questions including whether to allow alcohol.
Indiana's open-container law applies to motor vehicles and bicycles. But it doesn't apply to pedal pubs because a designated driver is steering them. In addition, city statute considers a pedal pub a bicycle, so it's allowed to operate on city streets, Lindsay said.
Partygoers provide their own alcohol, making a liquor license unnecessary, and only beer and wine are permitted. Liquor is forbidden for fear riders might become too inebriated.
Still, that hasn't stopped some patrons from hopping off at a bar to grab a quick shot.
"It has happened when someone has been asked to get off the bike because they were drinking too much," Lindsay said.
Chris Gahl, Visit Indy's vice president of marketing, has taken The Handle Bar tour with friends and said it presents an interesting way to see the city.
"You can take the Cultural Trail," he said of the downtown bike path. "And now you have a bit of an anomaly to enter the marketplace."
Most of the bikes used in U.S. cities are manufactured in Amsterdam, the Netherlands, by brothers Henk and Zwier van Laar, who built their first model in 2000, according to their website.
Once ordered, it usually takes the bikes about six weeks to arrive. The only assembly required: attaching the wheels.•
 
Please enable JavaScript to view this content.