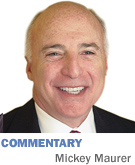 I just finished "Ripples in Opperman's Pond," a high-stakes thriller set in the world of big money medicine. It is the latest heart-thumping novel by local cardiologist Douglas Zipes.

Zipes graduated from Dartmouth College, Harvard Medical School and Duke University Medical Center. He is a distinguished professor, now retired, at Indiana University School of Medicine.

The author of 14 textbooks and more than 800 medical articles, Zipes has comfortably spanned the gap between the rigors of scientific writing and the imagery required of memorable fiction. "Ripples" is his third in this genre, following "The Whispering Heart" and "The Black Widows." It is his best effort—an exciting summer read. Pick this up after 9 p.m. and you'll lose some sleep.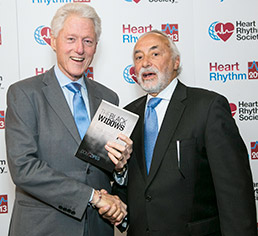 Doug Zipes discussing his last book, "The Black Widows," with a friend. That's Zipes on the right. (Photo submitted)
Zipes uses twins Daniel and Dorian Sloane to spin his yarn, but he lets us know that, although identical, the boys are not the same: "Growing up we were inseparable. We wore the same clothes, ate the same foods, and shared the same tubes of Brill Cream, Colgate, and Clearasil but Dorian squeezed from the top and left the cap off."

Zipes is not the first to explore the complex relationship of womb-mates. Bestselling authors Ken Follett and Pat Conroy also used this ploy to achieve remarkable drama. And let's not forgot the Bobbsey Twins. Daniel and Dorian are not the Bobbseys. The sibling rivalry in "Ripples" is more comparable to that in Alexander Dumas' "The Man in the Iron Mask."

The story is related in first person by Daniel, a renowned cardiologist and able diagnostician who just wants to save lives. Unfortunately, he spends most of his time trying to save his own. He is reminiscent of Hitchcock protagonists in "North by Northwest" and "The Man Who Knew Too Much," who were cast in treacherous situations not their own making and who must duck and dodge a host of characters while trying to determine what befell them and why.

Zipes, an internationally respected lecturer, aptly sets the novel on the world stage. The excitement and mystery pulses from New York City to El Doret, Kenya, to Moscow. But a careful reader will note that the author is a Hoosier. You will recognize references to Crown Hill Cemetery, the Noblesville courthouse, Fleming's steakhouse and Turner's restaurant at the Canterbury Hotel.

He also brings to bear his extensive experience as an expert witness in the depiction of key courtroom scenes. The admission/emission of DNA evidence is too racy for the gentle readers of this column. Enjoy these chapters in the privacy of your bedroom.•

"Ripples in Opperman's Pond" is available through iUniverse Inc. at www.iuniverse.com.

__________

Maurer is a shareholder in IBJ Corp., which owns Indianapolis Business Journal. His column appears every other week. To comment on this column, send e-mail to mmaurer@ibj.com.