Indianapolis Mayor Greg Ballard takes pride in the results of Rebuild Indy, the city's nearly $400 million infrastructure program that repaved 858 lane-miles of streets, fixed 53 bridges, and created 58 miles of bike lanes over the past three years.

"The scale in what we're doing is off the charts," he said.
A Beaty Construction worker cures concrete for an overlook on the White River Greenway, a Rebuild Indy project. (IBJ photo/Aaron P. Bernstein)
Rebuild Indy instantly doubled the volume of public works projects, and for engineering and construction firms, it became the largest business opportunity with the city in more than a decade.

The city had $372.7 million to spend on capital projects after selling its water and sewer utilities to Citizens Energy Group in 2010, and all but $20 million is spoken for.

More than two dozen engineers and other consultants landed contracts worth $1 million-plus, according to records provided by the Department of Public Works. The city has spent $121 million on street resurfacing alone.
IBJ.COM EXTRA
To see a list of city construction contracts,
click here
. To see a list of professional service contracts,
click here
. The documents are as presented by the Department of Public Works. Contract amounts reflect Rebuild Indy funds and other sources.
Ballard also secured a deep well of campaign cash. Major Rebuild Indy contractors—most of them engineers—poured at least $221,000 into his 2011 re-election bid, accounting for 10 percent of the $2.2 million he raised that year, IBJ found.

Last year, Rebuild Indy contractors accounted for at least 32 percent of the $499,275 Ballard raised.

Engineers commonly appear on candidates' donor rolls, giving to both sides. They tend to give more heavily to incumbents, but their ranks are remarkably thick in Ballard's camp.

"Once somebody gets to 20 percent of their contributions coming out of a particular area, you might want to pay attention to that," said Andy Downs, director of the Mike Downs Center for Indiana Politics at Indiana University-Purdue University in Fort Wayne.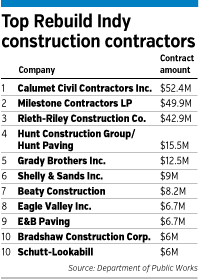 Donations mean access to officials, which gives engineers and other professionals a chance to influence the criteria for hiring, Downs said. Unlike at the federal level, Indiana places no limits on individual contributions.

Construction firms also give to campaigns, but the incentive isn't as great because they win jobs based on low bids, rather than qualifications.

The single-largest contract under Rebuild Indy—worth $16.5 million—went to American Structurepoint, one of the area's top two engineering firms. American Structurepoint was hired as program manager, essentially an arm of the Department of Public Works.

American Structurepoint couldn't be clearer in its support of Ballard. The firm's political action committee and top executives contributed $37,000 to the mayor's re-election in 2011, and CEO Willis Rick Conner gave another $13,000 last year.

The firm's PAC also gave to Ballard's challenger, Democrat Melina Kennedy, in 2011, but to a lesser extent: $17,000.

Ballard, who did not respond to a request to discuss ties between Rebuild Indy and his campaign, hasn't stated whether he plans to seek a third term in 2015. Regardless, the fact that he raised half a million in a post-election year ensures that he won't be treated as a lame duck, Downs said.


American Structurepoint Executive Vice President Greg Henneke, who manages the Rebuild Indy contract, canceled a scheduled interview with IBJ, and a spokeswoman said no one from the firm would comment.

To be sure, Henneke and American Structurepoint are well-known to city officials, even without the campaign money. Henneke oversaw transportation and public works under Mayor Steve Goldsmith. (In the 1990s, Goldsmith launched a $500 million infrastructure program, Building Better Neighborhoods that, like Rebuild Indy, addressed a variety of needs throughout the city.)

And American Structurepoint had overseen a major project before Rebuild Indy: the relocation of interstate on-ramps from Market and Ohio streets to Washington Street, a $22 million job begun under Ballard's predecessor, Bart Peterson.

Prioritizing infrastructure

Engineering firms support candidates who will make infrastructure spending a priority, said Brad Battin, a lobbyist who has represented several engineering firms, but not American Structurepoint, before the city.

"Indianapolis, they found a way to invest in infrastructure. That was a decision or policy the engineering community could get behind," said Battin, also a former finance director for the Marion County Republican Party.

Landscape architect Eric Ernstberger, who gave $350 to Kennedy but nothing to Ballard, thinks most architects and engineers are looking for direct results.

"Anyone who gives large amounts of money… is insecure about their own abilities to get the job with the work they've done and the qualifications they have," he said. "I mean, why else would you do it?"

Ernstberger's firm, Rundell Ernstberger & Associates, worked closely with the city as architect of the Indianapolis Cultural Trail—which did not use Rebuild Indy funds—and has worked on a few Rebuild Indy projects. All told, the city has directed more than $3.6 million toward the 20-person firm since 2010.

IBJ's figures are based on records provided by the Department of Public Works. Funding sources for the contracts include more than just Rebuild Indy, since DPW did not segregate those funds from other revenue sources, such as federal grants.

Back to work

Rebuild Indy rolled out at an ideal time for contractors, who'd seen private-sector work largely evaporate after the 2008 recession.

"It's a good thing it was there for us," said Kevin Green, president of Calumet Civil Contractors in Whitestown. "It was definitely a big part of our work."

Calumet Civil, which employs 19 people full time and up to 160 seasonally, cut its full-time staff in half and used 50 fewer seasonal laborers in 2011, Green said. The cuts would have been more dramatic if Rebuild Indy weren't under way, he said.

With $52 million in street repaving and curb work contracts since July 2010, Calumet is one of Rebuild Indy's top three contractors, along with Milestone Constructors and Rieth-Riley Construction.

Other road builders also said they kept more people employed than they would have otherwise.

"It was a good amount of business for us," Rieth-Riley Business Development Manager Jeremy Kashman said. "It came out at a time when you want to make sure you're putting people to work."

Rebuild Indy also boosted the portfolio of work that contractors could tout to future clients. Hunt Construction Group landed the single-largest job to-date, $13.5 million (including federal money), for turning Georgia Street into a pedestrian plaza in time for the 2012 Super Bowl.

"It was definitely one we had our eye on," Contract Manager Bruce Carter said. "We kind of looked at it as the welcome mat for the Super Bowl."

The Georgia Street project also called for an environmentally friendly storm water drainage system. It became a pilot project in Leadership in Energy and Environmental Design for site work and added to Hunt's already extensive portfolio of LEED-certified projects, Carter said.

Keeping funds flowing

Construction firms also have supported Ballard. Scottsdale, Ariz.-based Hunt was one of the larger contributors from the industry in 2011 with executive Michael McCormick and a Hunt affiliate giving a combined $7,000.

Green, whose firm gave Ballard $1,000 in 2011, said he's watched with concern as Indianapolis Democrats suggest spending Rebuild Indy money to hire more police officers instead.

"That money trickles down so much in helping the overall economy. Those tax dollars actually end up coming back," Green said.

Ballard this month unveiled a second phase of Rebuild Indy, which the city uses as a brand name for the Department of Public Works' entire program, regardless of the funding source.

With all but about $20 million from the 2010 utility sale allocated, Ballard unveiled a plan to continue paving streets, building sidewalks and improving parks over the next three years.

This time, most of the money would come from regular state and federal sources. With bipartisan support from the City-County Council, Ballard also plans a $135 million bond issue backed by Marion County wheel-tax revenue.

Keeping Rebuild Indy going means Ballard won't have to abruptly shut off the spigot of improvements in 2015. For the first time, the city will have repaved every street on its top-priority list, Ballard declared at a press conference.

"Indianapolis will not see the level of investment made possible by Rebuild Indy in their lifetime," he said.

Most politicians would see little gain in an array of improvements that are likely to be forgotten within the decade, said William Blomquist, liberal arts dean and political science professor at IUPUI.

"You don't get your name on a road you resurfaced," Blomquist said. "We remember the person who built a bridge, not who repaired it."

Still, Blomquist thinks Ballard will get plenty of traction out of Rebuild Indy because it enhances his reputation as a mayor who's interested in the nuts and bolts of city services.

For everything, a cost

Ballard has boasted multiple times in recent weeks that the Rebuild Indy fund leveraged hundreds of millions more in federal matching grants, so that as much as $800 million poured into the city's infrastructure. And, he adds, he's done it all without a tax increase.

But Rebuild Indy isn't free. Citizens Energy Group paid $262.5 million in cash for the city's sewer works, financed with a 30-year bond. Customers will start paying for that through their rates in 2014.

Citizens spokesman Dan Considine noted, though, that the price tag will be offset by savings Citizens finds by operating more efficiently—$112 million so far.

The city rounded up the rest with a bond issue backed by Citizens' future payments-in-lieu-of-taxes, which are scheduled to increase.

Mayoral Chief of Staff Ryan Vaughn said Rebuild Indy seemed like the best way to unload the city's heavily indebted water utility, along with impending rate spikes, while addressing $1.5 billion in unmet infrastructure needs.

"If we didn't take money out of the deal, water rates would be lower," acknowledged Vaughn, former president of the City-County Council. "We also knew investments in infrastructure in neighborhoods and our downtown spur economic development, in that they revive areas where people choose to live, which is important for income tax, and attracts companies."•