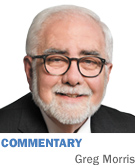 I've been donating money to United Way of Central Indiana via payroll deduction at work since my first year out of college. I was selling advertising for WIBC Radio, which was owned by Fairbanks Broadcasting at the time. Owner Richard Fairbanks and all top management made sure every employee knew it was important to give time and money to United Way.

All these years later, I'm still donating money through my workplace and I volunteer as a UWCI board member. What's different is that the need is so much greater today. United Way has over 90 agencies and serves more than 1 million people in Boone, Hamilton, Hancock, Hendricks, Marion and Morgan counties. Over $41 million was raised last year. While that is an amazing sum, there never seems to be enough to go around. More people than ever are in need of help—the numbers are staggering.

United Way helps people learn more, earn more, and lead safe and healthy lives by focusing on four priorities:

• Education. Ensure children have opportunities and acquire skills to succeed in school and in life.

• Income. Ensure people have the tools and support to create financial stability and independence.

• Health. Ensure people have the resources and support for their well-being.

• Basic needs. Ensure people have enough food, shelter and clothing as they strive for a better life.

So, it's that time of year again. The kickoff for United Way of Central Indiana's fundraising campaign is just around the corner. Labor Day week offers a couple of opportunities to learn more about the great work United Way does for our community and how you can help.

First up is the United Way television simulcast on Sept. 3. No matter what local station you're watching at 7:30 p.m., you'll see talent from every station speaking in support of United Way. Each station has generously donated a half-hour of its valuable programming time to help kick off this year's campaign.

Participating stations include WFYI Channel 20.1, WISH Channel 8, WNDY Channel 23, WRTV Channel 6, WTHR Channel 13, WXIN Channel 59 and WTTV Channel 4. In addition to the station anchors talking about how and why you can donate, volunteer and advocate for United Way, the stations will air stories of local people who've benefited from United Way and its supporters. Each station will have a specific story focus: Channels 59 and 8 will focus on health, Channel 6 on education, Channel 20.1 on income, and Channel 13 on basic needs.

Also included will be a short interview with United Way's CEO, Ann Murtlow, and annual campaign chairman, automotive dealership CEO Andy Mohr. Murtlow said of the TV station collaboration, "We don't know of another place in the country where competing television stations use their best talents to do what they do best—show how lives and communities are better when we all unite through United Way."

This is the 15th year of the collaboration. Please tune in. I think you'll be moved by the stories. Also, other media outlets have donated space in their newspapers and time on their radio stations to coincide with the TV simulcast.

The second United Way event Labor Day week is two days later, 11 a.m. to 1 p.m. Sept. 5, on Monument Circle. It's the campaign's official kickoff and it's being presented in conjunction with the Indianapolis Colts. This year's goal will be announced and there'll be plenty of fun to be had by all. More details are forthcoming.

So please give to United Way. You can do this through your workplace campaign. If you run a company and don't have a workplace campaign in place, I hope you'll consider starting one. It's easy, and the folks at United Way have great tools to help you all along the way. A simple phone call to United Way at 923-1466, or an email to community@uwci.org will get you started.

If you're a retired longtime supporter and want to reconnect with United Way, please donate or volunteer. You can donate easily online at uwci.org.

Good people and good organizations in our community need our helping hands. Please know your generosity is greatly appreciated.•

__________

Morris is publisher of IBJ. His column appears every other week. To comment on this column, send email to gmorris@ibj.com.