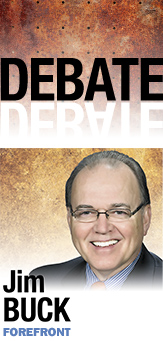 Question: What is the most important thing the General Assembly could do to improve prospects for economic development?
Answer: The answer is as old as the Bible: "Train up a child in the way he should go, and when he gets old, he will not depart from it." Likewise, we are all familiar with the idea that we will reap what we sow, and this is true in our educational system.
If we are to be a strong capitalist, pro-growth state, the General Assembly must educate our people accordingly and pass legislation focused on the principles described below. As Thomas Jefferson said, " … whenever the people are well informed, they can be trusted with their own government … "
Economic development always comes down to the training and education of its people and elected officials. Our curriculum must include the fundamentals of capitalism and economics if we are to continue bringing economic development.
The teaching of capitalism and economics is almost missing in education; therefore, how can we expect the principle of risk and reward to be embraced?
Why should we be shocked at a population that demands more services from government when it has not been taught that government gives only what it has already taken from others? It should come as no surprise that some people view businesses as a wealthy ATM.
This is the result of not being trained or educated about the extreme competition for market share in a constantly changing marketplace.
An important component of education is the knowledge that the three biggest killers of a viable economy are over-regulation, over-litigation and over-taxation. Granted, some of these measures are needed, but when do they become detrimental to a growing economy?
In almost every case where failure is occurring, an economist will have assured legislators at some point in the legislative process that their economy could handle the additional burden of more taxes, more regulation and perhaps more litigation.
Why is there such a difference of opinion as to what is the best economic approach for a viable economy?
The answer is that their philosophy and counsel are grounded in their educational bias. I believe there are three types of economists:
1. One who believes in a predominantly capitalistic economy.
2. One who believes in a more progressive or socialistic economy.
3. One who believes in a more controlled economy, such as communism.
Because there are so many different messages, education on the principles of capitalism and economics is mandatory if we are to flourish.
Indiana's future is tied to the methods we use to keep our people and attract people to our state. Art Laffer, a famous economist and adviser to President Reagan, stated, "Taxation is not so much a redistribution of wealth as it is a redistribution of population."
To prove this point, just look at the states that are losing population. Then look at the states gaining population.
It matters little if we have high wages and the highest cost of living. Indiana will have a thriving economy if we continue to strive for the highest standard of living at the lowest cost.
To reach this goal, the General Assembly and all Hoosiers must work together to understand and implement the principles of capitalism and economics.•
__________
Buck, a Republican state senator from Kokomo, chairs the commerce, economic development and technology committee. Send comments on this column to ibjedit@ibj.com.
Please enable JavaScript to view this content.