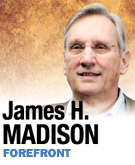 Which of our leaders ever talks with us about a good book she or he has recently read?
As school kids write their stories about what they did over the summer vacation, here is mine.
A three-week road trip included a stop at the John F. Kennedy library in Boston.
There, I had an epiphany listening to the oral-history interview Jacqueline Kennedy did four months after her husband was killed, the tapes only recently released.
Jack always read, she said, non-fiction.
"He'd read walking, he'd read at the table, at meals, he'd read after dinner, he'd read in the bathtub," the widow recalled.
Listening to Mrs. Kennedy, I judged myself guilty of too much beach reading.
I mended my ways.
I read "The Eve of Destruction" by James T. Patterson, who makes a superb case for 1965 as the hinge year of the last half century.
I read "Gettysburg: The Last Invasion," by Allen Guelzo, where on July 1, 1863, Indiana's 19th showed the courage that saved America.
Reading such big books required a summer sabbatical from the 24-hour cable news cycle. What a double blessing my summer was.
Good books can put your mind and heart in a different place, where the river runs deep.
Good books can offer humility in our age of vanity, wisdom in an age of 140 characters.
Thomas Jefferson read voraciously. His books formed the foundation for the Library of Congress.
So did Eli Lilly. His house on Sunset Lane still contains books he read, some marked by his comments, as are Jefferson's.
Some of our leaders read, and even write, books.
Matthew Welsh, Mitch Daniels and Bill Hudnut wrote books that provided insights into their times.
But what leader talks about a book in the midst of a campaign or in announcing a new proposal?
Who even quotes from a serious book?
On a sad night in Indianapolis in 1968, Robert F. Kennedy reached into his memory and recited Aeschylus. (Ray Boomhower's book tells the story well.)
Even children's books are worthy.
Reading to my grandkids Bill Peet's "Farewell to Shady Glade" brings home environmental degradation.
Ruth Stiles Gannett's "My Father's Dragon" lights the spirit with humor and courage.
Of course, not all books are equal. We can choose books from pundits.
Chris Matthews and Bill O'Reilly made the best-seller lists this summer.
Robert Dallek's biography of John Kennedy runs rings around Matthews' book.
A chapter or two in Bill Bartelt's book on Lincoln growing up in Indiana give more insight into the greatest American ever than all the Lincoln writings of Fox's talking head.
I'm not giving up fiction entirely.
Alan Furst's novels set in World War II are truer than the best James Bond.
Frank Bill's "Crimes in Southern Indiana" evokes more about those left behind than most policy analyses.
Reading a good book increases the impatience with leaders and pundits reciting the same old talking points.
We Hoosiers will need to read good books if we're going to think deeply about where we have been, where we are, where we are going as we sing happy birthday to Indiana in 2016.
We all have a chance to celebrate books Oct. 26, at the Indianapolis Public Library's Indiana Author Awards dinner.
It would be good to see our public leaders there, too, chatting about their favorite authors and the best book they read this summer.
Not without sin, I'll still read a George Pelecanos or Elmore Leonard mystery.•
__________
Madison, an Indiana University historian, is author of the forthcoming book "Hoosiers: A History of Indiana." Send comments on this column to ibjedit@ibj.com.
Please enable JavaScript to view this content.