Coffees. Pastries. A limited food menu stressing hot sandwiches. Art of widely varying quality on the walls for sale. You've seen this boho type before.
But what makes Foundry Provisions (236 E. 16th St., 543-7357) stand out isn't just its industrious name. It's the just-north-of-downtown location for this small but spunky independent—just one of the pioneering eateries we'll be visiting in this month's Dining columns.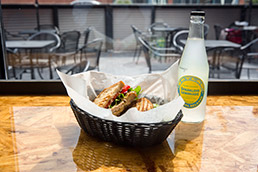 Presses (aka paninis) monopolize the menu in a former 16th Street gas station. (IBJ photo/Aaron P. Bernstein)
Located just around the corner from the Harrison Center for the Arts (making it an attractive First Friday stop), Foundry Provisions takes over what, in a former life, was a gas station—a structure type not known for roominess—and a Herron School of Art metal shop; hence, the name.
A limited menu for breakfast and lunch focuses on paninis (here billed as "presses"), grilled to an exterior crunch while only warming the innards. The Tarkington Press ($7.50) piles up smoked turkey, provolone, tomato and romaine given a shot by whole-grain mustard. The Auburn ($7.50) adds a smear of basil pesto and tomato to loads of fresh mozzarella.
Both messy. Both fine. Both with thick bread that we dipped into the daily soup ($4/$3) to extend the pleasure. On our visit, that soup was a potato/cauliflower combo that allegedly included bacon, but we couldn't find a trace either visually or via our taste buds.
Funky bottled sodas added a steep $2.50 to each meal. Pick two bottle tops out of a jar and a local artist will turn them into earrings for you for $5. I kid you not.
Circle City Sweets provides the grab-and-go pastries jarred on the counter. Goose the Market sources the meats in the sandwiches. Julian Coffee Roasters and Tea's Me craft the prime beverages.
Alas, none of the three folks behind the counter offered so much as a smile, which dampened the experience. It's something I hope management keeps an eye on. When you feel like you're putting the staff out, it's easy to go elsewhere next time.
That doesn't seem to dampen popularity, though. Just a few customers are enough to fill Foundry, making it tricky to nab a table (I still miss the spaciousness of the long-gone Mass Ave Abbey coffeehouse). When I arrived for a combination review/business lunch meeting, seats were difficult to come by and the laptoppers didn't seem to be going anywhere for some time.
For them, Foundry Provisions seemed a satellite living room or office—which, much more than food, is the prime requisite for coffeehouse popularity.•
__________
First in a month-long series of just-out-of-downtown dining reviews.
Please enable JavaScript to view this content.