Michael Huber is about to step out from behind the curtain.

Huber
As CEO of the Indy Chamber, he'll be the face of the metro area's largest business membership organization, rather than the brains behind top city initiatives.
Huber, 37, has spent the past year helping the Indianapolis International Airport generate more revenue. Working for Mayor Greg Ballard, he brokered two major privatization deals: the sale of the city's water and sewer utilities to Citizens Energy Group and a 50-year lease of parking meters to Affiliated Computer Services.
As chamber leader, Huber said, he'll try to connect with young entrepreneurs and advocate for a strong urban core. Below is an edited version of his interview with IBJ.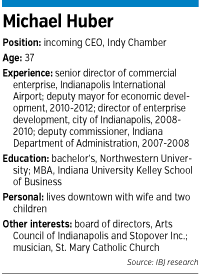 IBJ: Why did you want this job?
HUBER: You have this institution that's been around for over a hundred years and at various times in the city's history has been a major leader. I got excited about, how can you build on that institution but also evolve the model to capture this generation of new and emerging young leaders, for whom the chamber may not be as relevant?
Secondly, how can you use that platform in the business community to make the changes that need to happen to improve quality of life for everyone?
IBJ: What potential do you see?
HUBER: So, the chamber's got over 3,000 members. You've got significant financial expertise that resides within those businesses. Marketing expertise, engineering expertise. How could you use a motivated base of members to connect them with things that are transforming the community and putting more horsepower behind those things?
IBJ: What's transforming the community?
HUBER: Some of the arts and cultural entrepreneurs. People like Jim Walker at Big Car. Michael Bricker at People for Urban Progress. I think there's a marriage here somewhere between the traditional corporate entities … and our more grass-roots entrepreneurs. I think if we do that well, ultimately it will improve the profile of Indianapolis.
I say that because economic development is more and more about attracting talent and retaining talent in your community. It's less and less and less about simply tax-driven, incentive-driven policies.
Cities and metros that are really thriving … have got highly educated people. They retain the ones they have. They create more opportunities for low- to moderate-income folks in those communities. And finally, they then attract people from other cities. You kind of become known as a city that's got a lot of opportunity.
IBJ: You spent several years in the Mayor's Office trying to make Indianapolis more competitive with the suburbs. How do you adjust your mind-set to become a regional business advocate?
HUBER: The best way I can think about it is … you have to offer people a lot of choices to have a metro that thrives. You have to offer urban options, and you have to offer suburban options.
If we have a metro that offers people a lot of different education, transit options, and, obviously, employment in every municipality in central Indiana, we'll start to thrive.
Recent data suggests that, while the job growth in central Indiana has been fairly strong, given the recession, virtually all of it is happening in the suburbs. And we need to at least acknowledge that.
So I think one of my goals would be for our more suburban-oriented businesses, there's at least a recognition that the core of our city has to be strong.
My hope is that, as I become more immersed in the priorities of the suburbs, that it'll work the other way, and I'll be able to get our more suburban members to understand how important the core is, if they don't already.
IBJ: One of your main responsibilities is maintaining and building the chamber's membership. What's your pitch?
HUBER: I think there's a growing demand for I don't know what else to call it besides engagement.
A core function of the chamber [is] engaging the members and playing the role of connector to get them plugged into civic initiatives that are meaningful and really have the potential to transform the community.
IBJ: Can you give us an example?
HUBER: There's some really important work being done with Indianapolis Public Schools on [a] financial and operational review. That project is a perfect example of finding motivated members within the chamber who want to make a contribution and do meaningful work.
That also gives me as the incoming CEO a product I can sell. It's not a discussion of, "Please join the chamber and pay your dues." It's going to a company and saying, "You have expertise in your organization that could really benefit the community, and we have these five projects occurring right now where we could use your talented employees that really have the potential to make a change."
The businesses that participate, they also provide some great leadership-training opportunities and development opportunities for their employees.
This area of engagement is something I'm really excited about.
IBJ: Do you foresee taking a position on any controversial issues, such as whether Indiana should amend its constitution to ban gay marriage?
HUBER: It's too hard to predict until I really get in there. What I have heard, though, from the board is they would like a chamber that is not risk-averse and will step forward and do the right thing sometimes, even at the risk of turning members off.
So my sense is there's an appetite among the board for the chamber to be more strident.
IBJ: You've spent your career in government. Do you feel you can relate to the typical chamber member?
HUBER: My late father … when he'd talk about politics, he'd say, "Never vote for a man or a woman who's never had to make payroll." He had a real admiration for the person in business, especially small-business person. When you are supporting people's livelihoods, it changes you, for the better.
I'm excited about learning from the chamber members. My hope is I could forge a pretty strong connection there.•
Please enable JavaScript to view this content.