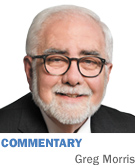 This week, rather than devoting my column to just one topic, I thought I would spread the love around a bit and hit several topics. There should be enough here to strike a chord with or aggravate almost everyone.
• What the heck do people in Michigan know about traffic flow and why would anybody have to turn right first in order to turn left? Of course I'm talking about that awful monstrosity that was built at 96th Street and Allisonville Road on the north side of town. This is the location of the infamous Michigan left. After careful consideration, I've decided this isn't a good plan, unless you never have to turn left. Just keep going straight and you'll be alright. Give me a roundabout, or I'll take the old stoplight and intersection, along with the backups, any day of the week.
• Why can't I buy a bottle of wine at Kroger without showing my ID? I'm old enough to get the senior discount at Bob Evans, for goodness sake. I made a quick stop at the grocery chain recently to buy a few items and decided to stock up on some wine. I probably had about $75 of wine in my cart, and when I went to check out, the cashier asked for my driver's license. I responded by saying that ridiculous law was repealed a long time ago. I was told this was corporate policy and everyone gets carded, even though it's not the law anymore. This policy allegedly prevents staff from being put in the position of trying to determine the age of customers. So, not wanting to encourage bad corporate behavior, I left the wine at the register and departed with my bread and milk. Card everybody? Really?
• While I'm on the topic of alcohol, why can't we buy cold beer at the grocery store or the convenience store at the gas station? And why can't we buy alcohol, warm or cold, on Sunday anywhere, including a package liquor store, except at local breweries and wineries? And why do we still have a bad law on the books which makes it nearly impossible to buy wine direct from your favorite out-of-state winery? What is it about Indiana that makes us one of the most backward states in the nation when it comes to liquor laws? Regarding many of these anti-consumer issues, the answer is simple. It's the powerful package liquor store lobby protecting their niche of retailers at the expense of the consumer. So, congratulations to the package liquor lobby for sticking it to us for yet another year. You're the best at what you do!
• Starbucks CEO Howard Schultz is "respectfully requesting that customers no longer bring firearms into our stores or outdoor seating areas—even in states where 'open carry' is permitted—unless they are authorized law enforcement personnel." I guess too much caffeine and guns don't mix. Since Mr. Schultz wants to step up his company's position on the contentious gun debate, one might consider kicking the Starbucks habit altogether. Besides, you can get a good cup of java at many other places for a lot less money. You'll save $5-$10 per day and can build up your nest egg quickly.
• I don't know about you, but I'm sleeping much more soundly now that I know an ex-KGB agent, Russian President Vladimir Putin, is in charge of U.S. foreign policy. This is a guy we can trust. Right? Just read The New York Times op-ed he wrote. In fact, Time magazine made Putin their "Person of the Year" several years ago. (That was the year I cancelled my subscription to Time and I've never picked up a copy since.) The way Putin swooped in and took control away from President Obama with regard to the Syria situation was a spectacle to behold. Would you agree our president got played like a piano? Come on; the most diehard Obama supporters had to find it hard to maintain the company line on this one. This is yet another example of why I question the president's leadership and worry about where our great country is headed.
Space does not allow me to comment on a lot of topics that keep me up at night. Many will dominate Washington over the next several weeks. The debt ceiling fight, the continuing resolution fight, the Obamacare implementation/defunding/delay fight, the immigration fight and a new Fed Chairman nominee all promise to make headlines. Let's hope and pray for the best outcomes possible.•
__________
Morris is publisher of IBJ. His column appears every other week. To comment on this column, send e-mail to gmorris@ibj.com.
Please enable JavaScript to view this content.