A former east-side shopping mall will soon be covered in solar panels, possibly the most transformative of property owner Alex Carroll's various redevelopment efforts.

New Generation Power of Chicago plans to start work this fall on a 4-megawatt array covering about 17 acres of rooftop and parking lot at the former Eastgate Consumer Mall, which Carroll purchased in 2008 to house Lifeline Data Centers.
Lifeline Data Centers owner Alex Carroll, 45, has a 15-year deal with New Generation Power of Chicago to install a solar array at the former Eastgate Consumer Mall. Carroll moved part of his data center business into the old mall after buying it in 2008. (IBJ photo/Aaron P. Bernstein)
Carroll's data-center business occupies just one corner of the 450,000-square-foot building, however, and his plan to convert the rest to high-security office space has been slow to come to fruition.

The anchor tenant in that plan, the Indianapolis Department of Public Safety's regional operations center, recently vacated the space over fire-safety concerns. Carroll disputes the alleged code violations and says he intends to sue the city for $600,000 his company spent on improvements that were the city's responsibility.

The solar installation is compatible with future development because the parking-lot panels will be mounted on high poles and steel rafters, creating carports. "It's essentially going to give future customers shaded parking," Carroll said.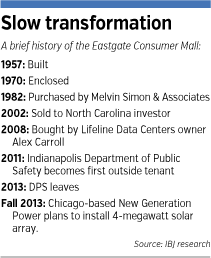 New Generation chose the Eastgate site, where it will spend about $3.5 million, because Lifeline is a big electricity user and it has enough space to accommodate the panels, Senior Vice President Michael Pontarelli said.

The Chicago firm also plans to install a smaller 1-megawatt array on metals recycler OmniSource's South Holt Road property, Pontarelli said. He said New Generation signed a 15-year power-purchase agreement with IPL after responding to a request for proposals last year.

IPL required that the site hosting the installation use the same amount of electricity as will be sold to the grid, Pontarelli said. "This is something that's very typical in the industry," he said. "We'll be seeing quite a lot more of this type of installation."

Along with the power-purchase agreement, New Generation has a 15-year lease for the Eastgate site. Carroll declined to disclose the value of that deal.

Neighbors have supported Carroll's plans, including the solar installation, because they represent such an improvement over the haven for drug use and prostitution the mall had become before Lifeline moved in, Eastgate Neighborhood Association President Sharon Tabard said.

The Eastgate solar array might be the most urban installation to come to Indianapolis. This spring, the Board of Zoning Appeals approved two solar farms covering 286 acres in Decatur and Franklin townships, over objections from residents from both areas.

The city's Department of Metropolitan Development staff recommended the June zoning change that allows New Generation to install solar at Eastgate but noted that it isn't compatible with the "village mixed-use" concept in long-term planning documents.

East-side residents accepted years ago that the defunct mall wouldn't be redeveloped for retail, said Norm Pace of the Warren Township Development Organization. Simon Property Group had positioned it as a discount center in the 1980s and '90s before selling it in 2002 to a North Carolina investor.

The building was slated for demolition when Carroll purchased it in 2008.

"Over the years, no one was stepping forward to do anything … and it was looking like it was going to be a pipe dream," Pace said.

Though neighbors embraced Carroll, 45, as a property owner, they've also been frustrated by the slow pace of exterior improvements and landscaping he promised, Pace said. Neighborhood volunteers and Keep Indianapolis Beautiful Inc. pitched in to plant trees on the east side of the 40-acre site, along Shortridge Road.

"We wanted things to happen quicker, so we got involved in it," he said.

Carroll said he's invested $20 million into the Eastgate site, but much of it isn't noticeable to passersby. Just this year, he said he finished re-roofing the building.

"The sluggishness of the market has definitely slowed down the exterior renovations we'd liked to have seen early on," he said.

Vast swaths of cracked pavement belie the success of Carroll's main enterprise, which started in 2001 and hosts data for a variety of regional companies and takes up 80,000 square feet in the building's northwest corner.

Carroll said there's no more space suitable for a data center, but that demand is strong enough that might put up a new building on the east side of the property, or expand Lifeline into another state.

"Just the fact the data center operates its 80,000 square feet makes it worthwhile to have the whole building," he said. "Everything else is just bonus."

Two years ago, Carroll was trying to acquire and renovate dilapidated retail outlots facing Shadeland Avenue, but he said he's abandoned that idea. And last year he talked up the idea of converting Ford's soon-to-be-shuttered steering systems plant, which is also on the east side near Shadeland Avenue, into an indoor farm. He said he dropped that idea because the city's code-enforcement department has become overly aggressive, driving up the cost of redevelopment.

Carroll said he's still pursuing "high-security" office tenants, which might include call centers or software developers that deal with sensitive information. He's installed concrete barricades around the entire perimeter of the building and is topping the low walls with spiked metal fencing.

"We always anticipated it would be data center and secure office," he said. "That's still the easy track that it's going to roll out into now."•