Thomson Consumer Electronics exited the consumer television business eight years ago, not long after closing its RCA factories in Indianapolis, Bloomington and Marion that once employed 8,000 Hoosiers.

The extinction of the RCA brand locally seemed complete when French-owned Thomson vacated its Americas headquarters near I-465 and Meridian Street. Thomson even ditched its name for that of its Hollywood subsidiary—Technicolor—and focused on broadcast hardware and services as Korean and Chinese television makers overran its old consumer business.

Kingston
But in a plot right out of Jurassic Park, Thomson/Technicolor's old brands such as RCA and Proscan have been revived from old DNA. They've been licensed to companies around the world including Indianapolis-based DTI Services LLC, which operates as RCA Commercial Electronics.

DTI is among about a dozen companies paying to use old Thomson brand names. A Canadian company is licensing the Proscan brand. A number of Korean manufacturers pay to use the RCA name on various sizes of televisions sold to consumers.

And it doesn't stop with Thomson's former U.S. brands, as Technicolor also licenses various names of former Thomson televisions that were exclusive to the European market.

At DTI Services' RCA Commercial Electronics, in Park 100, one gets a reminder of the once mighty RCA legacy in Indiana.

Managed by 30-year electronics entrepreneur Jeff Kingston, RCA Commercial Electronics has brought onboard a few former Thomson employees. The crowded, 35,000-square-foot facility even sports displays of the historic televisions and RCA posters that once adorned Thomson's Americas headquarters. Product brochures include images of Nipper and Chipper, the famous RCA mascots.

RCA Commercial Electronics has racked up annual sales of $30 million in the U.S. and Canada by designing and supplying commercial television sets for hotels, hospitals, schools, nursing homes and recreational vehicle manufacturers.

The company struck distribution deals with firms such as Best Buy for Business and industrial supplier W.W. Grainger. It now has satellite offices in Chicago, Milwaukee and Memphis, and is opening one in California.

The little-known RCA Commercial Electronics is ramping up for what its executives believe could be triple-digit growth by using a little American ingenuity: taking the LED backlighting components from its televisions and converting them to lighting panels that could replace the millions of fluorescent lights in office building ceilings.

Not only do the units use a fraction of the electricity, but RCA Commercial Electronics also has found a simple design it says costs hundreds of dollars less than LED lighting panels by General Electric and other big players.

Interest has been so strong that the Korean company that makes RCA Commercial TVs under contract might not be able to fulfill all the orders for lights. So Kingston said he'd like to bring final assembly to Indiana, if he can swing it.

"It's turned out to be a huge hit," he said of the lighting panels, recounting orders he's received from commercial office buildings to hospitals wanting to install them in operating rooms.

Without additional manufacturing, "It's going to be very hard to keep up with."

Licensing fever

Thomson would have loved to have had such demand prior to its switch in 2005 away from televisions and other consumer electronics to more lucrative business in broadcasting equipment and set-top boxes for cable and satellite television.

But Thomson—or should we say Technicolor—still owns the trademarks and intellectual property surrounding its former RCA and Proscan brand televisions, as well as a number of other brands in Europe.

About eight years ago it licensed the RCA television brand to Chinese company TCL Corp. Soon after, it licensed the Proscan brand to South Korean electronics firm ON Corp.

The latter venture still had a local connection in former Thomson executive Pat Deighan, who handled marketing out of his Indianapolis home. In 2007 alone, Deighan sold more than $50 million of Proscan flatscreen LCD televisions in the U.S.

Technicolor later licensed the RCA brand for large screen televisions to ON Corp. Technicolor then licensed Proscan to a Canadian company.

The DNA from RCA supported even more species around the world.

For example, another Korean firm, Digital Stream, acquired the license to produce and sell small-screen RCA televisions and other gadgets. In fact, some of those units are sold through a subsidiary of Carmel-based Arland Communications, a firm founded by former Thomson marketing executive Dave Arland.

Last year, Technicolor generated 20 million euros—or about $26 million—from its RCA trademark management arm, according to its annual report.

"Keeping track of all this stuff is like a jigsaw puzzle," Arland said of the worldwide licensing of former Thomson brands.

RCA brand cache

As for Kingston's firm, it received a license from Technicolor to sell RCA-branded commercial electronics four years ago.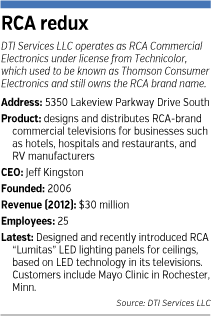 Kingston started out in 1978 as a manufacturer's rep for low-voltage products such as fire alarms. Kingston Sales later sold televisions to schools and businesses. Ironically, he once stopped by Thomson some years ago and proposed a deal in which he'd distribute the company's televisions to commercial clients. He was shown the door.

Kingston later sold his business to Fortune Diversified Industries. But he started DTI soon after, in 2006, at first selling to hospitals and the like sets made by Korean manufacturer LG.

He soon got to know former Thomson engineer Kirby Goedde, who had worked on Thomson's commercial television business in the final days. "You shut the lights off, right?" Kingston said to Goedde, who nodded affirmatively.

When Goedde came on board, the duo decided they could design better commercial sets than those on the market. Many of the units from other manufacturers had poor picture quality. They also were prone to theft, so Kingston's engineers came up with clever features such as software that causes a stolen set to display it is owned by the hospital that bought it. That would foil a thief trying to sell a set to a pawn shop.

They also concluded that the commercial firms such as hospitals and hotels needed better customer service. If an RCA commercial set malfunctions, DTI or one of its distributors ships out a new set the next day—no questions asked.

The business took off, with customers ranging from St. Vincent Hospital to Vanderbilt University Hospital.

The company recently inked a pact with Choice Hotels International, which has the potential of more than a half million rooms at its franchises including Clarion, Comfort Inn and EconoLodge. Kingston's firm has already received orders from Best Western and Holiday Inn.

Decent market

The annual market for hotel TVs is estimated at more than $250 million, of which RCA Commercial Electronics has about 6 percent.

The hospital TV market is smaller, at about $70 million annually. Here, RCA has roughly 20 percent.

Sales of flat screens into the hotel market last year in the U.S. and Canada rose 7 percent, to 1.21 million units, according to IHS iSuppli, a Colorado-based market research firm.

But demand moderated following a heavy round of investment by hotels following the conversion to digital TV in recent years. IHS iSuppli said the hotel market should eventually heat up again as hotels seek to replace LCD sets backlit by fluorescent bulbs with those using more energy efficient LED backlit sets.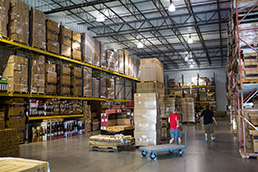 (IBJ photo/Aaron P. Bernstein)
Kingston said one competitive weapon RCA Commercial offers is the engineering of back-end systems used by hotels and hospitals to network their sets.

Hotels also want to be able to send messages to individual rooms, for example, and sets that are easy to program when installed. "No one in our industry can package this to a hotelier," said Kingston, who looks like a lanky version of Pink Floyd guitarist David Gilmour.

DTI's RCA Commercial Electronics also has received technical help from Technicolor in areas such as technology that improves the picture and with networking sets. For example, Technicolor-sourced software allows waitresses at client Oobatz! Restaurant, in Indianapolis, to use an iPad to control the 53 televisions Kingston's firm supplied to the restaurant.

It's in Technicolor's best interest that companies licensing its RCA brand provide superior products to the extent positive consumer perception protects and enhances the RCA trademark Technicolor owns. "They're a terrific partner. He [Kingston] is a top-notch guy," said Doug DeLor, Technicolor's director of global branding.

New products

DTI is busy developing its own new product applications, as well.

Its offices resemble the workshop of "Q," the scientist in the James Bond movies who makes exploding pens and BMWs equipped with rocket launchers.

An engineer from Hong Kong, one of 25 full-time employees, is working on a low-profile television antenna for recreational vehicles—an industry to which the firm also sells product.

A set tilted on its side has a touch screen so hospital visitors can find their way. Another unit allows customers standing in line at Grainger stores to view the latest and greatest product and to even initiate an order.

In another section of the building is a video wall that big retailers such as Target are considering adding to their stores—a potentially huge new product category for RCA Commercial.

Of course, the piece de resistance is a room with the LED lighting panels in the ceiling. The company makes them in various colors, from a warmer look for offices to bright white color for operating rooms. The branded RCA Lumitas ceiling lights already have been installed at St. Vincent, Cleveland Clinic and Mayo Clinic in Rochester, Minn. One big selling point is that the panels are sealed, so insects don't crawl into the lenses.

Kingston has had discussions with potential customers ranging from FedEx to the Do It Best hardware store chain, which could wind up selling them to consumers.

Curiously, RCA Commercial Electronics products might wind up in more than commercial applications. The company has received interest from Fort Wayne-based Do-it-Best, a cooperative of hardware stores that asked for a display at its next hardware convention.

"We believe that our current $30 million in annual sales could triple over the next three years, as hospitals and other institutions make moves to install more energy efficient electronics products," Kingston said.

While DTI's RCA Commercial Electronics is among many firms keeping the RCA brand alive, the former Thomson-turned-Technicolor hasn't entirely pulled up stakes here.

Albeit as inconspicuous as Nessie, of Loch Ness fame, an outbuilding of the former Thomson campus along U.S. 31 houses 302 Technicolor employees. They range from engineers designing broadcast equipment boxes to IT and component sourcing departments.

It's far fewer than the 1,500 who used to work at the Thomson headquarters, but "This is still a fairly significant operation," said DeLor.•