It would be foolish to go to the Eiteljorg Museum's "Quest for the West" show (through Oct. 6) looking for surprises. This is, after all, an invitational show focused on pleasing collectors of conservative western art who, in Indy for the show's opening, purchase most of what's shown.
 
"Cowboy Chatter" is among the new works on display—and for sale— at the Eiteljorg's "Quest for the West" show. (Images courtesy of Eiteljorg Museum)
As such, it's best to approach this annual exhibition knowing that most of the work will be variations on the familiar. It's not primarily about innovation, and it's not about engaging scholars or challenging critics. It's about finding that sweet spot where talent and commercial viability overlap.
Thankfully, for those of us not in the collection class, there are also plenty of pleasures…and a few surprises. And commercial work, as shown here, need not be dishonest or pandering.
Weathered faces are as iconic at western art shows as headdresses and Stetsons, for instance, but Scott Tallman Powers finds a smart balance of strength and sadness in the accordion player he depicts in the earth-toned "Hidden Memories."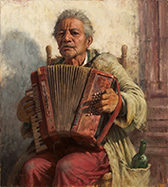 "Hidden Memories"
And Blair Buswell manages to find a way to make his "How Many More…" sculpture both specific and general, giving his subject penetrating, ultra-realistic eyes and an inner tension in which you can find a barely suppressed rage, a deep wound, a plan for revenge, or all three.
Implied stories helped pull me into John Fawcett's "Cowboy Chatter," which smartly lets a pair of dogs pull focus from the two riders. Robert Griffing captures a bustling meal prep time for a group of Native Americans in "Family." And George Hallmark raises intriguing plot questions in the worn walls of his "Sanctuary," approached by a lone figure and his burros.
Howard Post opts to partly mask his pair of horses by fence posts in "Corrals in the Country," giving some new life to the commonplace. And a bird on the wing looks different—but familiar—when seen from below, invigorating Tim Cherry's "Joy of Flight" sculpture.
Among the unexpected images: Michael Godfrey's "The Song of the Sea, Big Sur" reminds us via crashing waves that "the West" extends to the Pacific Ocean, Heide Presse's "Seeking" depicts a young girl with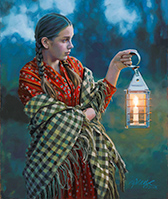 "Seeking"
a cryptically dispassionate stare, and Josh Elliott celebrates an unexceptional landscape with his "In Between."
For a more focused look at a single "Best of the West" artist, venture upstairs at the Eiteljorg for this year's Artist of Distinction exhibition "Honored Life: The Art of John Coleman" (through Nov. 17).
Coleman's work, a staple in "Quest for the West," here is showcased in a very different way. Packed into a tight space, the pieces are difficult to consider individually. Rather than a negative, though, it becomes a strength with Coleman's "1876, Gall—Sitting Bull—Crazy Horse" at the center of a makeshift tribe of other compelling personalities. The child in "Bringing the Buds to Life," rather than standing on her own, becomes tied creatively and spiritually to the "Mystic Smoke and Sacred Arrows" archer, the aged chief of "Glories Past" and the proud top-hat-sporting "Mr. Delegate."•
__________
This column appears weekly. Send information on upcoming arts and entertainment events to lharry@ibj.com.
Please enable JavaScript to view this content.