The biggest youth sports event in Indiana is not held at Lucas Oil Stadium, Bankers Life Fieldhouse or Victory Field. It's not held in a traditional sports venue of any kind.
Capitol Sports Volleyball Tournament, which draws 30,000 visitors, including 10,000 players, is held each March in the Indiana Convention Center.
The sprawling facility, with its 23-foot ceilings, accommodates a mind-numbing 110 courts, where about 350 college volleyball coaches come to scout teenage competitors.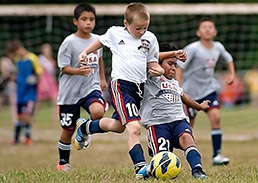 The Mayor's Latino Soccer Cup (top) and Capitol Sports Volleyball Tournament (above) are prizes in an increasingly competitive market for youth sports events. (Photo courtesy Oscar Salinas)
The growing event has a $21.5 million annual economic impact—bigger than the $19 million Big Ten Football Championship at Lucas Oil Stadium, according to Visit Indy, the city's tourism marketing arm.
Youth sports have become big business, and sports park operators and dad's clubs aren't the only players in the game anymore.
As the economic impact of regional and national youth sporting events ranging from basketball and volleyball to soccer and archery have skyrocketed, convention and tourism bureaus and city parks departments increasingly come to play—and score some of the financial bounty.
"A $20 million-plus economic impact is a big number by any convention standard," said Visit Indy CEO Leonard Hoops. "Youth sports has become big business for us and for a lot of communities."
There's good reason for the competition.
More than one-third of all tourism dollars now come from travel associated with youth sports, according to the Michigan-based Travel and Tourism Research Association.
Parents will spend $8.1 billion this year on just travel involved with youth sports, said Don Schumacher, executive director of the National Association of Sports Commissions.
And it appears to be somewhat recession-proof.
"Parents aren't going to tell their kids they can't go to a tournament they've qualified for," said William Knox, who promotes Hamilton County for youth sports. "A lot of these events are seen as a once-in-a-lifetime opportunity."
Youth sports events are known among those in the leisure travel industry as "two-for-one" events, but they might actually be closer to three- or four-for-one. For every child traveling to a tournament, there's a parent or two, and sometimes a sibling and some grandparents, Hoops said.
Youth travel sports is such big business that Visit Indy created a position five years ago to sell the city to organizations looking to place big youth sports tournaments, and to make sure the events that land here go off without a hitch. That position is currently filled by Schnette Queisser, who stays busy networking with youth organizations and attending conferences where sports associations and tournament organizers gather, Hoops said.
Those efforts appear to be paying off. In addition to the volleyball tournament, the city hosts JAMFest Cheer Super Nationals, a three-day cheer competition that attracts 20,000 people to the convention center each January and has an impact of $16.8 million, according to Visit Indy.
The FC Pride Cup soccer tournament, the third-biggest youth sports event Visit Indy is involved with, brings in 5,000 visitors each October with a $2 million impact. It is played at Lawrence Soccer Complex, a 21-field facility on the northeast side of Marion County designed a decade ago to bring in the region's and nation's biggest tournaments and best teams.
A big upside to the events is that "they're annual events that you don't have to continually bid for and are not usually on a rotation where you might only get it every five or so years like other events," Hoops said.
Filling corporate gap
Youth sports events are big financial drivers during weekends, when corporate travel is soft, said Brenda Myers, Hamilton County Convention and Visitors Bureau executive director. They also often are held during early spring and late fall—"shoulder seasons," when there is less corporate and leisure travel.
Not to mention an added benefit that should not be underestimated.
"These events give our city great exposure to tens of thousands of people at a young, impressionable age," Hoops said. "It's difficult to quantify what that's worth, but certainly this type of exposure to future corporate decision makers and community leaders has a positive impact down the road."
The growth of travel youth sports events has been so great that a trade show circuit has emerged in the last decade to serve it.
Four major organized gatherings for youth sports—and many smaller ones—are held annually. Representatives from more than 300 communities nationwide flock to the big meetings jockeying to attract the events those organizations host.
Many smaller cities and outlying counties, which struggle to compete with cities like Indianapolis for major conventions, are especially eager to capture a piece of the youth sports pie.
In 2007, the Hamilton County Convention and Visitors Bureau formed the Hamilton County Sports Authority in large part to go after travel youth sports events, and a year later hired Knox away from Bloomington's youth sports tourism initiative to promote the destination.
In all, 18 of Indiana's 92 counties have organizations or initiatives designed specifically to go after travel youth sports events. Columbus, Bloomington, Evansville and Fort Wayne—along with coalitions from the Lake County area, Hamilton County and Indianapolis—are among the biggest players. Knox said competition to attract "high-profile, high-impact youth sports events" has tripled in the last five years.
Downsides
But there are downsides to youth travel sports.
For instance, Hoops said the events often draw people looking for hotel rooms under $100 per night. Those travelers are more apt than corporate or other leisure travelers to put four people in a room, require roll-out beds, want breakfast included, and look for a pool and a liberal cancellation policy, Hamilton County's Myers said.
"They generally spend less per person, but it's high volume," she said. "They do have a different set of needs than a lot of travelers, but luckily we have hotels that understand this market."
Along with chasing after events themselves, it's important for municipalities to work with private organizations to maximize the economic impact, Knox said. The Hamilton County Sports Authority has developed "a detailed program" that helps county organizations bid for regional and national events, he added.
State officials are on board with the travel youth sports movement as well, setting aside $250,000 a year for area organizations to use to go after regional, national and international youth sports events. That money is administered through Sports Indiana, an organization made up of sports and tourism industry representatives throughout the state.
The Mayor's Latino Soccer Cup (top) and Capitol Sports Volleyball Tournament (above) are prizes in an increasingly competitive market for youth sports events. (Photo courtesy Denny Scott)
Florida, Michigan, Illinois and Texas also have state funds and organizations dedicated to drawing youth sporting events, but Knox thinks Indiana's heritage as a sports capital and its central location distinguish it from the growing field of competitors.
Indiana strong
"Not only have we built some of the finest facilities, but we've come up with revenue on an annual basis to maintain our facilities and keep them pristine," Knox said.
The efforts for Hamilton County appear to be paying off. Already, the annual economic impact of youth sports is more than $5 million.
That impact is fueled by regional and national events at Fishers Fieldhouse; Roundtripper Academy, an indoor and outdoor baseball facility in Westfield; The Forum at Fishers ice rinks; Billericay Park baseball and softball facility; and Field of Dreams baseball complex in Noblesville, among others.
Some youth events even draw international competitors. The Caba World Series held each July in Westfield this year drew teams from Mexico, Puerto Rico and Jamaica.
Youth sports' economic impact in Hamilton County is about to get a whole lot bigger as the massive Grand Park youth sports complex in Westfield is set to open next spring.
Wise investment?
Westfield has agreed to pour $42 million into Grand Park, which is touted as the largest youth sports complex in the United States.
It will have 20 baseball and six softball diamonds, along with 31 multipurpose fields that can handle sports ranging from soccer to lacrosse. Some of the fields have deluxe artificial turf and lights, and two central playing areas will have seating for 2,500 each.
Westfield officials say the facility is well worth the investment, projecting it will draw more than 400,000 visitors annually to the city just north of Indianapolis and score an annual economic impact of a whopping $1 billion, with about half of that being generated by people outside the area.
Westfield's projections are optimistic, said Liping Cai, a professor in Purdue University's School of Hospitality Tourism and Management.
"Given the size and scope of the facility, if they operate it right, the economic impact should be significant, but if they're able to meet their projections they'll be a real anomaly in terms of a youth sports facility," Cai said. "To maintain that type of economic impact on a long-term annual basis could be a challenge."
Whether or not Grand Park can meet its projections, the gold rush into youth sports is likely to continue, Cai said.
"It's especially popular with outlying areas that may not have the chance to draw big conventions, professional or collegiate sporting events and other corporate gatherings," Cai said.
Indeed, Hamilton County's Myers said sports amounts to the county's convention business, since it doesn't have a convention center.
While youth travel sports events are clearly increasing, Indianapolis sports marketing consultant David Morton worries that the number of facilities seeking to secure events is growing faster than the events themselves.
"When you start talking about the size and scope of some of the projects we're seeing, I think market saturation has to be a real concern," said Morton, president of Sunrise Sports Group.
Hamilton County's strategy is based on a number of factors, Knox said, including societal changes.
"What we've found is that families' travel habits have changed," he said. "Instead of using the entire vacation to go to Disney World, a lot of families break it up and do several sportscations."
Parks departments jump in
City parks departments, too, are jumping into the fray. In Indianapolis, IndyParks officials said revenue from such events is a great way to defray costs.
Tom Geisse, executive director of the United Soccer Alliance of Indiana, works closely with IndyParks to host three regional soccer tournaments here. He said the impact of those events is more than $2 million. He hosts additional events, he said, that have a $1 million economic impact on neighboring Hendricks County.
The biggest tournament Geisse helps operate, the Indy Burn Cup, draws about 250 teams and 10,000 people to area parks.
"With just one of my tournaments, [participants and spectators] spend $250,000 on hotels alone," Geisse said. "Heck, we spend $30,000 on referees. When you think about it, that's pretty amazing for a single youth sporting event."
Parks are primarily built for local residents, but the income from travel youth sports events can help them be more self-sustaining and less a drag on taxpayers, said IndyParks spokeswoman Jen Pittman, adding that sales from on-site concessions and merchandise "stack up quickly."
IndyParks' 21-field soccer complex on West 56th Street near Eagle Creek State Park brings in $1 million annually in visitor spending, Pittman said.
The number of privately run youth sports events is also growing. One such event, the Adidas Invitational, a basketball tournament held in middle- and high school gyms in Indianapolis and Hamilton County each July, draws 400 teams and about 5,600 youth players and coaches from around the country. Officials for USA Youth Hoops, which organizes the event, said the total draw is more than 12,000 people—including more than 400 college coaches who attend to scout players—with the event generating an economic impact of $5 million.
And travel youth sports increasingly extends beyond the traditional stick-and-ball and Olympic sports. In Cicero, the Hamilton County Parks Department is building an archery facility with plans to host a major youth tournament that is expected to draw 700 competitors.
"We're looking at all sports," Knox said. "This field just keeps getting wider and more diverse."•
Please enable JavaScript to view this content.