Seven years ago, state and local leaders took a $275 million gamble that Indianapolis' convention and meeting business would grow significantly.
Leaders wagered a big pile of tax dollars on expanding the Indiana Convention Center, adding 254,000 square feet of exhibit space, 63,000 square feet of meeting rooms, and 103,000 square feet of pre-function and registration space.
Eighteen months after that expansion opened, local tourism leaders are hailing the move as a success, pointing to rising numbers of hotel rooms and conventions booked years into the future.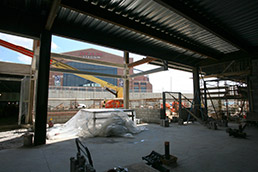 The most recent convention center expansion, which opened in 2011, catapulted the city from No. 32 to No. 17 in facility size. That includes 183,000 square feet in Lucas Oil Stadium. (IBJ file photo)
However, other figures suggest less reason to celebrate. Occupancy might be stagnating at a time the market is becoming flooded with new convention centers in other cities.
What is certain is that the promotion group tasked with landing conventions, Visit Indy, has its work cut out.
"We've made progress, but I'm never satisfied," said Visit Indy CEO Leonard Hoops. "I won't be happy until occupancy is 100 percent."
The expansion pushed Indianapolis' convention center rank to 17th from 32nd before it opened in 2011. The convention center itself has 566,000 square feet and nearby Lucas Oil Stadium has another 183,000.
Due to holidays and the time required to set up and tear down conventions and trade shows, total occupancy is unrealistic. An industry standard for a full convention center is 70 percent to 75 percent.
But even that goal is lofty now for Indianapolis tourism officials.
A PricewaterhouseCoopers study conducted for local officials concluded that 70-percent occupancy would signify the investment was scoring a reasonable return. That mark hasn't been hit.
In 2012, none of the 11 halls in the center had total occupancy over 65 percent, according to the city's Capital Improvement Board, which owns the facility. Five of the halls had occupancy under 60 percent.
Worse, occupancy in some of the halls that existed before the expansion declined after the expansion opened in January 2011.
In 2005, four years before construction on the expansion began, two of the center's halls had occupancy above 70 percent and another was at 69.3 percent. The remaining four were 64.9 percent to 67.9 percent full.
The three remaining ballrooms in the center have seen similar or even slightly larger occupancy declines since the expansion.
"It appears there was some level of robbing from Peter to give to Paul," said Heywood Sanders, a University of Texas at San Antonio professor and author of several studies on convention centers.
Tepid attendance
Visit Indy officials point out that, not only was the convention center expanded, but much more space is available in Lucas Oil Stadium than there was in the RCA Dome, which was demolished to make way for the convention center expansion.
But annual attendance figures compiled by CIB also show the hoped-for growth hasn't happened.
Overall attendance at the convention center and Lucas Oil Stadium has increased dramatically since the expansion, but the figures are influenced by the 2012 Super Bowl and other sporting events.
Attendance jumped to 2.4 million in 2012, the year of the Super Bowl, from 1.8 million in 2010, the year before the convention center expansion opened. Before the expansion, in 2005, 1.66 million were drawn to the center and RCA Dome.
But separating attendance figures for state and national convention business presents a fuzzier picture.
In the first year of the expansion, attendance for state and national conventions jumped 37 percent from the previous year, to 534,732. But 2010 was hampered by ongoing construction, tourism officials admit.
Attendance for state and national conventions in 2009, before the construction was in full swing, was 459,944. Attendance in those two categories in 2012 was 483,164, a slight increase from three years earlier—before the expansion.
Visit Indy officials point out that the Super Bowl, due to the length of the event and the fact that the NFL required them to hold open two dates for the big game, hurt convention attendance that year. The economic impact from the Super Bowl, Hoops said, more than offset the losses.
Sanders, who included a case study of Indianapolis in his book to be published next year, "Convention Center Follies," said, "Indianapolis is one of those interesting stories where the outcome of their convention center gamble is not completely clear. Once you get into the numbers, it's just not clear right now if the expansion has made a significant difference."
Overbuilt?
Filling the convention center was made more difficult by the recession. That steep downturn, coupled with a nationwide convention center construction boom, has left a lot of convention centers' occupancy rates languishing in the 35-percent to 40-percent range, industry officials said.
Since 2000, convention center space has grown 35.4 percent, but total convention and trade show attendance declined 1.7 percent, according to Dallas-based Center for Exhibition Industry Research.
"This business is more competitive today than at any time in my career," said CEIR President Douglas L. Ducate. "And I've been in the business since 1968."
The competition only promises to get tougher as the building boom—some say unwisely—continues. This year, convention centers in Nashville, Tenn.; Cleveland; and San Francisco have opened or are scheduled to open.
It's so cutthroat that cities across the country now hand out incentives to groups to hold conventions at their centers, including giving away space and throwing in hundreds of thousands of dollars for marketing and promotions.
The advertised rental rate for the Indiana Convention Center is 98 cents per square foot, but increasingly Visit Indy and CIB are agreeing to discount that rate if a show is big enough or if they are filling open space at a late date.
Success marker
Despite the bleak outlook, Hoops remains optimistic. He insists another important set of numbers must be examined to determine the success of the expansion.
"One of the most important things we're trying to do is drive business to other area businesses," Hoops said.
Pointing to "consumed" hotel room nights, Hoops said Visit Indy booked 491,225 rooms in 2010, the year before the expansion. In 2011, that number jumped to 643,657, and in the Super Bowl-fueled 2012, to 819,305. That's nearly double the number of nights Visit Indy booked in 2003.
"Those numbers don't include leisure travel or the hotel rooms sold by the hotels themselves," Hoops added.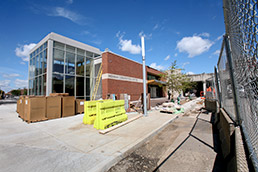 The expanded convention center includes a South Street entrance with an underground connector to Lucas Oil Stadium. (IBJ file photo)
Without relying on the Super Bowl, Hoops said Visit Indy is on target to book another 785,000 hotel rooms that will be consumed this year.
Hoops, referring to the industry-wide 1.7-percent drop in convention attendance since 2000, said Indianapolis hotel room bookings have grown 87 percent.
"That's a great stat right there," he said, noting that the groundwork for the success was laid through civic foresight to build hotels and connect them to the convention center long before he became Visit Indy CEO in 2011.
Bright future
Indianapolis also looks better from another angle—hotel room nights booked into the future, sometimes years into the future.
A PricewaterhouseCoopers study commissioned by local officials in 2003 concluded that the most recent convention center expansion could be justified if the city could book 645,000 hotel room nights into the future each year.
That year, Visit Indy booked 550,000 future hotel room nights. By 2010, the bookings had grown to 650,000, and with the expansion, to 735,000 in 2011 and 770,000 last year. This year, it will approach 800,000, Hoops said.
"We're beating all the consultant expectations based on the convention center expansion," Hoops said. "That's not been the case with all cities that have done convention center expansions in recent years."
But Sanders cautioned about counting on hotel rooms often booked five, 10 or more years out.
"They're not guaranteed, and some of them aren't converted into sales," he said.
Hoops pointed to more than a dozen big trade shows that have been booked into the expanded convention center, including Performance Racing Industry, which starts this year; Benevolent & Protective Order of Elks, starting in 2015; National Safety Council, starting in 2017; Seventh-day Adventists in 2020; and American Library Association in 2021. Estimated attendance ranges from 10,000 to 65,000 each year they are here.
Hoteliers for the most part are pleased with the progress.
"The convention center offers the flexibility to bring in a wider variety of trade shows and conventions in terms of size and scope, and I do think it's driving more business to area hotels," said Brian Comes, general manager of the Hyatt Regency downtown. "I think with the flexibility of the space, the [convention center] occupancy is only going to get stronger. That, with our overall downtown package, puts us in a good position for growth."
Victory Field's future
While Hoops is eyeing growth, he doesn't think the convention center will need further expansion anytime soon. Hoops added that the city's airport first needs more direct flights to key markets, including San Francisco and Seattle. That, he said, will help draw bigger shows, especially from the West Coast and global organizations.
"Are there conventions that are still too big for us that would potentially consider Indy if we could accommodate them? Yes," Hoops said. "Are there enough of them to warrant another expansion right now? Probably not.
"But at some point, it's inevitable. I don't know if it's in two years, five years or 10 years."
City officials have already preliminarily discussed where the convention center could be expanded.
Possible sites include the Pan Am building or plaza; the space occupied by parking lots and loading docks south of the most recent expansion; and Victory Field, home of the Indianapolis Indians minor-league baseball team.
Each site has problems. The Pan Am parcels are owned by private companies, using space to the south of the expansion might require removing railroad tracks, and uprooting the city-owned Victory Field would likely cause an uproar among sports fans.
"I would say Victory Field is an unlikely option," Hoops said. "Everything is on the table, so it's not a zero percenter. But I wouldn't lobby for it unless there were absolutely no other options. The Indians and that venue are great cultural assets in this city."•
Please enable JavaScript to view this content.