Indiana's transportation and warehousing industry employs more people now than before the recession, and observers think its growth will continue to outpace the nation's.
Employment has increased steadily since bottoming out in 2009. In August, it hit 122,400 jobs, 2.7 percent more than the same month in 2007 and 3.1 percent more than a year ago.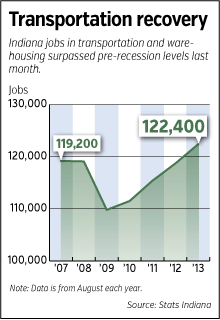 The vitality of the transportation sector helped Indiana post job growth of 4.3 percent last month in the larger trade, transportation and utilities category—the strongest performance of any state in the nation, according to the Indiana Department of Workforce Development.
"I'm not surprised that our job numbers are better. It's a function of really what Indiana has done from a business standpoint," said Mark Holden, a West Lafayette-based veteran of the logistics industry. He recently bought an Illinois firm, A&R Logistics Inc., after selling Prime Distribution Services in Indianapolis to Roadrunner Transportation Systems of Milwaukee.
Transportation is tied closely to manufacturing, which is highly concentrated in Indiana and also is adding jobs, Ball State University economist Mike Hicks said. Indiana's transportation industry picks up additional growth by virtue of the state's location between rail lines to Chicago and Memphis and ports on Lake Michigan and the Ohio River, he said.
"It goes beyond the license plate—we really are the crossroads of America," he said.
Trucking and distribution firms have benefited from growth in automotive manufacturing and the housing market's recovery, Holden said. He sees the potential for additional growth in manufacturing driven by the natural gas production boom, which provides cheap energy for manufacturers in some parts of the country and makes them more globally competitive.
Trucking executives have complained about their inability to fill jobs, even while the national unemployment rate stayed above or near 8 percent in 2012. (Indiana's unemployment rate fell in August from 8.4 percent to 8.1 percent but remains above the national rate of 7.3 percent.)
Indianapolis-based Celadon Group Inc. is overcoming the driver-supply issue with a new training school at its east-side headquarters that includes housing and meals, Chairman Steve Russell said. The company predicts it will add 500 jobs over 10 years, nearly doubling its local work force of 633.
"We're creating opportunities for people to change their lives," Russell said.
The trucking industry has always struggled with high turnover because drivers face long periods away from home, Holden said. Now, federal restrictions on the number of hours they spend behind the wheel at one time limits their productivity, he said.
Firms can't raise wages fast enough to overcome those inhibiting factors because it's difficult to pass the cost along to customers, Holden said.
"That's the economy at work," he said.
Indiana's growth in trucking jobs has been slow compared with warehousing, the latest detailed industry data shows. Trucking employed 50,622 people in the first quarter, up 1 percent from the same period in 2012. The average weekly wage had risen from $805 to $807.
Meanwhile, employment at warehousing firms grew 9 percent, to 24,291, in the first quarter. Average weekly wages actually declined from $726 to $705, probably because there have been so many new hires starting at a lower pay rate, Hicks said.
Transportation and warehousing are also closely tied to wholesale and retail trade, where many drivers and warehouse workers are counted. That includes Amazon.com's four distribution centers in the Indianapolis area and a fifth in Jeffersonville.
Central Indiana went into the recession with a huge supply of warehouse space—more than 6 million square feet was built in 2007, said Andrew Morris, head of industrial brokerage and a partner at Cushman & Wakefield/Summit. Most of it has been absorbed since 2010 because consolidating and streamlining distribution was a way for companies to save money, he said.
"All these tenants were coming here, even when the economy was awful and there was no job creation," Morris said.
Recent deals are fueled more by business expansion, he said. Those include Subaru of America's planned $18 million investment in a regional distribution center in Lebanon and Canadian auto-parts maker Spectra Premium Industries' move to Mount Comfort.
The region has 2.2 million square feet of warehouse space under construction, and Morris thinks developers will have no trouble finding occupants. Companies want a presence in the Midwest, and Indianapolis continues to have advantages in tax structure, real-estate costs and topography over its competitors—Cincinnati, Columbus, Chicago and Louisville, he said.
"I think it's going to go very well," Morris said. "We've been doing great these last four years without a strong economy."•
Please enable JavaScript to view this content.