This month, IBJ Dining has been exploring not-quite-downtown eateries. And while the City Way development is, technically, a part of downtown, the overpass still acts as a deterrent for lunch migration south. That might change, of course, as more retailers set up shop at City Way.

Filling in some of the dining void, the City Way-anchoring The Alexander hotel has opened its airy breakfast buffet Market Table (333 S. Delaware St., 624-8222) to the public, expanding it to include lunch ($20.95—"which includes beverages," the hostess stressed) as well as Sunday brunch (ditto). And while buffets might not be ideal for a business lunch where too much popping up and down can spoil the flow of the conversation, they can work well for staff meetings provided everyone loads up before tackling the business at hand.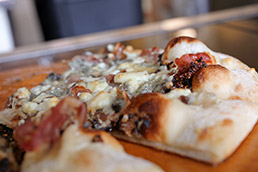 Straight-from-the-oven pizza proves a highlight at the Market Table buffet. (IBJ photo/Eric Learned)
Boasting "thoughtful foods for thoughtful minds" and emphasizing fresh produce and locally raised meats, Market Table crafts its dishes, for the most part, in open kitchen stations. The menu changes daily.

During a recent lunch, the stations were populated with amiable, helpful cooks and servers—although, as with most buffets, the servers have little to do except deliver drinks and make you wonder how much you actually should be tipping.

Unfortunately, this visit occurred concurrently with that of a convention group. While there's ample space in the dining room—which includes a glass-enclosed area for private meetings—things are tighter around the serving stations. The result: lots of standing around in uncertain lines.

A made-to-order pasta station served red-sauced pasta tossed in garlic, oil and tomatoes. Despite the lines, we avoided the rookie buffet error of loading up on our first trip and were rewarded with the chance to eat the simple but worthy dish while it remained warm. Alas, that didn't help our other entrees, which were barely above room temperature when we collected them. An exception: pizzas, including barbecue chicken, fresh from the oven.

I expected more from the salad bar, where the basics didn't even include a low-fat dressing option.

Redemption came at the gelato bar, with a myriad of flavors from subtle basic chocolate to inner-child-feeding birthday cake. There were toppings, too, to sweeten the deal. And a grab-and-go fruit display allowed us to snag apples for mid-afternoon office noshing.

The buffet offered better (and warmer) options on my guest's return visit for the Sunday brunch. Besides the usual breakfast fare, he reported that the offerings included an omelet bar, carving station, cold sandwiches and loose cheeses. Hot dishes included polenta and turkey chili. And his party of five was more than satisfied.

For the price, though, I couldn't help but feel let down. When the lunch tab tops $20, I want to at least find something that makes me crave more trips to the line.•

—Lou Harry

__________

Last in a month-long series of just-out-of-downtown dining reviews.