Dozens of boxes labeled with Richard Lugar's name fill the shelves of a south-side office.
They hold letters, records, even a black-and-white checkered bowtie from the Indianapolis 500 that shed light on the early years of the longtime Indiana politician's government career.
University of Indianapolis President Robert Manuel and Sarah Marcus, vice president of History IT, dig through records and artifacts Richard Lugar gave the college. History IT plans to hire 20 people locally as it sets up a Midwestern hub. (IBJ Photo/Aaron P. Bernstein)
Artifacts from his eight years as Indianapolis' mayor are among the first that History IT will digitally catalog under a new contract with the University of Indianapolis to build an online archive of Indianapolis mayoral records.
History IT expects to create 20 local jobs by the end of this month. The Maine-based startup's contract runs two years, but it plans to stay permanently.
Its Madison Avenue office, a block from UIndy's campus, will serve as a Midwestern hub as the firm searches for more customers in Indiana and surrounding states, said founder and CEO Kristen Gwinn-Becker.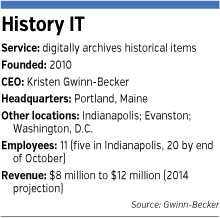 The business scans and digitally catalogs anything from historic artifacts that organizations want to share on a public website to accounting records that companies want to back up on their private computer networks.
UIndy is spending $4 million to collect mayoral records, scan and upload them to a public website, and to build a physical archive to store the hard copies.
About half the cost is creating the digital archives, though the parties did not say exactly how much History IT will be paid. Funding is coming from the university's own resources and a $2 million grant from the Lilly Endowment Inc.
UIndy has collected records from former mayors Lugar, Bill Hudnut and Steve Goldsmith. Bart Peterson will likely provide documents, university officials say. The collection also includes contributions from Keith Bulen, a fixture of the Republican Party in Marion County in the second half of the 20th century.
Through next September, History IT will digitally archive more than 1 million items the politicians provided. The company will spend another year assembling the documents into "features."
The public gets its first look at one of those features when the company and university launch a website Oct. 9 showing how Indianapolis lured the Colts from Baltimore in 1984. The online exhibit will include letters Hudnut sent to then-team owner Bob Irsay and photos of Mayflower Transit trucks delivering the team's belongings to Indianapolis.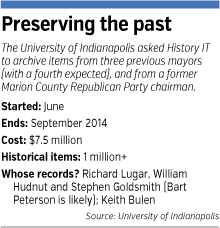 Once all mayoral records are uploaded, that website will have a search function to allow users to sift through information as they might Google.
That will make conducting research much easier than digging through brick-and-mortar archives, said Edward Frantz, a UIndy faculty member who oversees the historical collection.
"Before, that kind of thing would take place in a really advanced [physical] archive," said Frantz, who is planning to use the service in his history classes. "A lot of them would only be open to top scholars."
The relationship between UIndy and History IT goes beyond paying the company for its services.
The private school wants to set up a revenue- and cost-sharing agreement, though details are still under discussion, University President Robert Manuel said.•
Please enable JavaScript to view this content.