I'm honestly not sure what to make of "Exiles" (New Harvest/Houghton Mifflin Harcourt), the accomplished and infuriating new novel by Butler University's Allison Lynn.
The set-up is solid and smart: Nate and Emily—he a Wall Streeter destined never to be a big winner and she an ad exec disillusioned with selling snacks—realize that their New York lifestyle is unsustainable. Getting out while they (barely) still can economically means Nate's taking a duller job in Newport, R.I.
Arriving in Newport just at the start of a holiday weekend, their packed car is stolen. Canceled credit and bank cards coupled with not wanting to embarrass themselves by asking friends or family for help means, with their 10-month-old son in tow, they have to get by in their new town until Tuesday on the $84 in their pockets.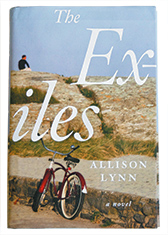 This might not sound like such a big problem. But when you are as materialistic, self-centered and uncommunicative as this pair—when one of your first choices is talking your way into paying later at an expensive hotel for the weekend (without checking rates) rather than making do in your
unfurnished new home—you create your own complications.
While the set-up seemed to imply a kind of reverse version of "The Out-of-Towners," in which a couple is the victim of a series of mishaps while strangers in a strange land, Lynn isn't terribly interested in humorous complications. Her novel gets more serious as it goes along as we meet Nate's negligent father, a famous architect who might be suffering from Huntington's Corea, a brutal heredity disease that has no cure.
There are other complications, too, including a difficult-to-buy plot twist that I guessed way too early. As the weekend progresses (and regresses), it soon becomes apparent that, rather than starting over, Nate and Emily have just dragged their baggage from Manhattan to New England.
"No matter where you go," said comedian Steven Wright, "There you are."
Unsympathetic main characters in fiction are nothing new. Literature is littered with them. In most cases, though, the author's view of these creations is clear. For example, I don't think anyone believes Shakespeare thought Macbeth's actions admirable.
But "The Exiles" spends most of its time in the mundane heads of Nate and Emily as they process—often redundantly—their woe-is-me lives. Supporting characters are thinly sketched—echoing, perhaps, Nate's and Emily's self-absorption.
While its sociological observations are often sharply observed, "The Exiles" doesn't have the kaleidoscoping vision of, say, "Bonfire of the Vanities." Lynn doesn't give us the escape hatch of other characters to divert us. We're stuck with Nate and Emily. How much you'll root for, forgive—or perhaps just tolerate—them might depend on whether you'd celebrate surviving a trip to the edge of a fiscal cliff with a $50 bottle of wine or some two-buck Chuck.
Other recent additions to the Indiana bookshelf:

• Frank Bill's "Donnybrook" (Farrarm Strays and Giroux), set in southern Indiana, focuses on a bare-knuckle-boxing tournament.
• Rabbi Sandy Eisenberg Sasso's latest, "Creation's First Light," is due this fall.
• Wabash-born Colleen Coble, CEO of American Christian Fiction Writers, penned the Texas-set "Safe in His Arms" (Thomas Nelson Inc.).
• On the brink of opening her second shop in the Chicago area, Indiana native Paula Haney releases "The Hoosier Mama Book of Pie" (Agate Publishing) filled with tips, recipes and more. Pulled Pork Pie anyone? (OK, maybe not for Rabbi Sasso.)•
__________
This column appears weekly. Send information on upcoming arts and entertainment events to lharry@ibj.com.
Please enable JavaScript to view this content.