The debut of popular meteorologist Angela Buchman at WTHR-TV Channel 13 last month coincides with its newscast ratings' soaring like a cumulonimbus cloud on a hot afternoon.
The NBC affiliate posted double-digit ratings gains in all newscasts during September except at noon, versus the same month in 2012. Buchman first appeared Sept. 3. She reports the weather weekdays at 5 p.m., 6 p.m. and 11 p.m.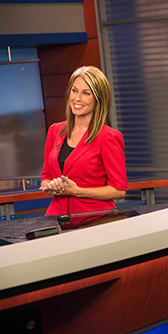 Terms of Angela Buchman's WTHR contract are undisclosed, but chief meteorologists in a major TV market often make up to $400,000 a year. (IBJ photo/Aaron P. Bernstein)
At the same time, the station's ascension triggered rain on competitors including WISH-TV Channel 8, from which WTHR hired away Buchman last year.
For example, at 6 p.m., WTHR's ratings rose 14 percent over September 2012—while WISH's ratings tumbled 31 percent.
WTHR had a viewer rating of 10.3 percent of all TV households at 6 p.m., while WISH was second at 3.4 percent.
Buchman left WISH in August 2012 and had been off the air for just over a year, per a non-compete clause of her WISH contract.
"They [WTHR] were able to strong-arm WISH. Now it is paying dividends," said Bruce Bryant, president and creative director of Promotus Advertising.
"I would say that, with the reaction they've gotten so far, I would expect to see even more of her on the air. It appears to be working," said Bill Perkins, of local media-buying firm Perkins Nichols Media.
The observers, and even WTHR officials, say it's hard to tell exactly to what degree Buchman buoyed WTHR's ratings.
"There is certainly some room to assume that Angela is part of that growth. But there are so many factors that go into ratings," said Rick Gevers, a former television news director and CEO of media talent firm Rick Gevers & Associates, in Zionsville.
For example, Gevers noted that WISH has a new show from 4 p.m. to 5 p.m., a talk show known as 'Bethenny,' "and its ratings are awful. That impacts the 5 p.m. to 6:30 p.m. news block" at WISH, he said.
September was also the start of the television networks' new prime-time shows, and viewers are still sampling CBS' lineup, said Scott Hainey, director of creative services at WISH.
"It's still too early to say there's a trend" in ratings, he said.
Viewer reaction to shows preceding local newscasts often determines whether they stay tuned for news, weather and sports. Fortunately for WTHR, NBC has a strong lineup this season that includes a return of the top-rated "The Voice," as well as new shows that were quick hits such as "The Blacklist."
"All of a sudden, we have fantastic network numbers," said Larry Delia, president and general manager at WTHR. Until recently, Delia held a similar post at WXIN-TV Channel 59.
"Now you have a network foundation that will help" everything else, he said.
Long-term investments
WTHR has enjoyed strong newscast ratings even in years when NBC has languished in prime-time ratings.
Delia contends WTHR is reaping the benefits of years of investment into local news programming by the station's parent, Columbus, Ohio-based Dispatch Broadcast Group.

That's included pouring money into resources to generate investigative stories, which WTHR has produced on a consistent basis compared to some competitors.
For example, last year WTHR won a Peabody Award—the most prestigious award in broadcast news—for a six-month investigation into Internal Revenue Service mismanagement that resulted in millions of dollars in fraudulent tax refunds and tax credits.
At a time media chains generate profits by slashing staff and expenses, family-owned Dispatch also has shelled out big money so WTHR could send a reporter and photographer recently to Sochi, Russia, to file a report in anticipation of the 2014 Winter Olympics.
"This is not a cheap trip," Delia said. "This company ownership has such a commitment to broadcasting. This is about your local commitment to the community."
Paying for top talent
Just how much WTHR invested in Buchman isn't clear. Industry sources said a top-rated chief meteorologist in a bigger market can make upwards of $300,000 to $400,000 annually. That Buchman was a treasured asset to WISH suggests the station had to pay a premium to lure her away.
When Bryant heard WTHR was hiring Buchman, "I said, 'Man, they're really going out on a limb here,''' he recalled, noting that WTHR already had top ratings and a star in chief meteorologist Chris Wright, whom Buchman displaced.
Wright turned down a lesser role at the station and resigned, a move that's resulted in a backlash among some WTHR viewers. Months later, they're still commenting on websites that Wright was done wrong and that they will no longer watch WTHR.
"That was a pretty gutsy move" hiring Buchman, Bryant added.
Delia denied that WTHR was out to hire a celebrity in the local media market just because it could.
He said the station has been dominant in the ratings in part because management has been committed to hiring "the best people we can to work here. … That's why we've been dominant in the last 15 years."
Other local stations may beg to differ, of course.
For example, the once-dominant ABC affiliate WRTV-TV Channel 6 has some of the city's most seasoned veterans, including Jack Rinehart, Norman Cox and Kevin Gregory. The station languished in later years under the penny-pinching ownership of McGraw Hill, which finally sold the station in late 2011 to the Scripps media chain.
Scripps has started pumping money into the station to add more newscasts and make other improvements, although it's likely to be in a rebuilding trajectory for a while longer.
Buchman payoff?
As for whether WTHR will sustain its news-ratings dominance over such competitors is yet to be seen. To some extent, WTHR's September ratings reflect viewers' tuning in for what Gevers calls the "curiosity factor."
"They've not seen her for a year. They wonder about her hair," an executive at a rival station said sarcastically.
WTHR markets Buchman on its website and in television commercials that play up her childhood roots in central Indiana. Delia ran down a list of other on-air talent who grew up in this area, saying viewers appreciate the local connection (ads touting chief sportscaster Dave Calabro, a Ben Davis High School graduate, are next on the list).
Top talent and good marketing have been paying off for WTHR, Bryant said, although not necessarily drawing new advertisers—ads from car dealers and hospitals are the staple of newscasts.
"But you are going to be able to charge a little more money" on ad spots, he said.
Not only that, a highly rated station can also justify raising ad rates for commercials on programs that lead into newscasts, he said.
If anything, complacency could pose the biggest threat to WTHR's ever-more-dominant position of late.
"The one thing we won't do is sit back and feel comfortable that we're at the top," Delia said.•
Please enable JavaScript to view this content.