It's refreshing to find a restaurant that seems to know exactly what it is and wants to be. An eatery where the décor and service seem at one with the food it creates. A place whose name gives you a clear idea where its priorities are.
That's what I found at Crust Pizzeria Napoletana (12505 Old Meridian St., Carmel, 810-1777), which recently joined Brockway Pub and a Stacked Pickle as anchoring dining spots at the Providence at Old Meridian development.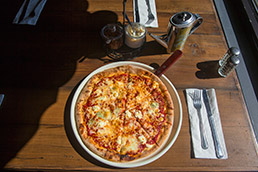 At Crust, the pies, above, bake in a 700-degree stone hearth oven. Meatballs, below, come as a topper, appetizer or sandwich. (IBJ Photos/ Aaron P. Bernstein)
The locally owned Crust finds a sweet spot between neighborhood pizzeria and high-end pizza joints. Sure, the delivery chains are cheaper and you'll get bigger slices out of the pies elsewhere, but you'd be hard pressed to find a better pie in a classier place where the owner is likely to be the guy sliding the pizza into the oven.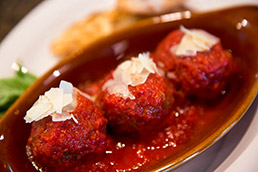 That oven, by the way, is a stone hearth one, kept at a blistering 700 degrees. That could explain why our pizza entrees arrived hot on the heels of the delivery of our appetizers—a service annoyance that, I hope, will be cleared up in time. Timing, in dining, might not be everything but it's certainly something.
We started with the Soup of the Day ($5), a bowl of butternut squash the consistency of melted butter. Homemade Calamari ($9) showed clear signs of care as well, but the winner in the dish wasn't the squid but the sauce. I selfishly clung to the delicious sample of the house-made marinara as our pizzas arrived, the better to dip the crust into.
While there's an option to Make Your Own Pizza ($10 plus $3 per extra topping), we tried the Meatball ($15), featuring fresh mozzarella and Italian porcini mushrooms, and the Quattro Formaggio ($14). The former featured ample-but-not-overwhelming portions of its added ingredients while the latter carefully balanced mozzarella, parmesan, gorgonzola and ricotta. I've had far too many versions elsewhere where the ricotta nudges the others out for dominance. Here, though, was cheese harmony.
Both pies benefited from the restaurant's made-daily crust, not as irregular as that of Napolese but with more character than we're accustomed to here. Dipped in the salvaged sauce, it was heaven.
Crust also knows its way around a Calzone ($11), although it would benefit from more choices or an explicit-on-the-menu, make-your-own option.
Crust also serves Paninis and other sandwiches (sided with seasoned fries) and a quartet of salads. Lunch specials are offered daily with most consisting of sandwiches, a side and drink, circa $9.
While the price point may keep this from being your go-to-in-a-pinch pie shop, with a commitment to fresh ingredients (locally sourced when possible, including chicken from Indiana's Miller Poultry) combined with friendly service and attractive atmosphere, Crust already belongs with the upper crust of local pizzerias.•
—Lou Harry
__________
Third in a month-long series of reviews of restaurants in recently rehabbed spaces.
Please enable JavaScript to view this content.