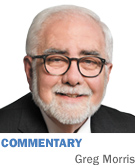 Well, we saw the big headlines. The government shutdown ended, the debt ceiling was raised to avoid fiscal default, and Obamacare wasn't defunded. It appears the law, formally known as the Affordable Care Act, survived and enrollments are moving forward. I'm shocked. You?
Health care has been at the core of the dispute. There's little middle ground on the topic. Either you're a supporter of the president's efforts or you think his plan is the beginning of the destruction of the best health care system in the world.
I have to admit I'm in the latter camp. However, I've been trying to ignore the partisan bickering and think about health care from a personal usage point of view.
To date, I've been fortunate to be an infrequent user of the health care system. I've never had any major health issues. I've got the family genes for high blood pressure and see a great heart doc who helps me keep that under control. If I have an occasional need for something, I usually hit an immediate care clinic somewhere. I've averaged less than one sick day at work every year for 35 years. And, I've always had excellent health insurance.
That's not to say I haven't been involved more deeply in the health care system with family, loved ones and friends. I have. My experience in these situations leads me to believe we have some of the best health care available anywhere right here in central Indiana. You can rest assured you live in a city where you can expect to receive world-class care from highly trained professionals using the latest technology in state-of-the-art facilities.
However, I know the time is coming when I'll need to become a more frequent user of health care services. A lot of us will be heavy users as we age. It's not a matter of if, but of when and how much we'll need. And with the direction we seem to be headed, I worry that the world-class system we enjoy now won't be there when I need it.
I've paid more into the system than I've received most of my life so I feel like I've contributed my fair share. In the future, I'm hopeful I'll be able to see a specific doctor of my choosing in a reasonable time frame and that I won't have to wait months for a needed surgery. The thought of it all is unsettling.
More and more people say they're having trouble finding a doctor. The population is getting older, so there's a greater need for primary care physicians. At the same time, physicians are getting older and they're retiring earlier. It's been reported nearly half the nation's 830,000 physicians are over age 50. And, next year about 30 million of the formerly uninsured folks will need to be absorbed into the health care system. If you haven't given it much thought, think about what that will mean for an already stressed system.
From the AARP Bulletin—"Where have all the doctors gone?": Today, the United States is short about 16,000 primary care doctors — the very doctors (family practitioners, internists and pediatricians) who offer the treatments and preventive screenings that save lives and head off expensive emergency room visits and hospitalizations.
Why the shortage? It starts with huge medical school debts and ends with a doctor who is often overworked and underpaid. While students may enter medical school wanting to practice primary care medicine, they graduate saddled with heavy debt — $250,000 is not unusual — which prompts them to switch to a more lucrative specialty. The starting salary for a primary care physician is $150,000 to $170,000; a radiologist or gastroenterologist can make two to three times that. Only one in five graduating internal medicine residents plans to go into primary care medicine, the Journal of the American Medical Association reports.
The numbers just don't add up. And I'm sitting here today without a primary care physician. Over the years, two of my doctors have died, one retired, and one went to an expensive boutique practice where you pay upfront for preferred access. I'm feeling pressured to find a new primary care physician relationship immediately, before it's too late. And I feel like too late is sometime in the next few months.
The bottom line is, we all need to take care of ourselves and be well. The alternative could be a scary proposition.•
__________
Morris is publisher of IBJ. His column appears every other week. To comment on this column, send e-mail to gmorris@ibj.com.
Please enable JavaScript to view this content.